This is December, guys! Can you believe it? This year really flew by.  For us bloggers, online marketers and entrepreneurs it's time to evaluate what we've done so far, and what we want to accomplish next years with our online business.
For me 2012 was definitely a turning point and I kind of made a 180° degree twist to my online business.  Until July of last year I was still very much involved with affiliate marketing,  while I was already working as a freelance writer.  However, my blogs were kind of neglected because I was mainly focusing on selling my affiliate products using those blogs as selling platforms rather than targeting faithful readers by building relationships, especially with other bloggers.
As a matter of fact, I had no connection with other bloggers until July of 2011.
5 Blogs Gone 3 Remaining
Toward the second half of 2011 I decided to totally rethink my blogging strategies, and that meant making the choice of getting rid of 5 of my 7 blogs. The choice was easy, I had to keep my writing/online marketing blog which is the very blog you are on right now (my Freelance Writing platform).
Then, of course I had to keep my personal development blog which is the platform where I promote my knowledge in this area, giving weekly personal development advice.  And of course, there's my traveling blog where I like to write about home, travels, recipes and other related topics.
In 2012 My Blog Traffic Triple
My writing blog went from around a dozen comments per post in the second part of 2011 to over 30 – 40 on a regular basis and over 60 to 100 in some cases. I would say that's an increase!
Then, second comes my personal development, which is still way under estimated if you ask me with only about 20 comments per post. To tell you the truth, I know what I should be doing to increase the traffic of this blog, but haven't got around it yet.  This is one of my goals for 2012.
My travel and food blog's got noticed as I received guest post invitations and guest post request which hopefully will help to increase my traffic for this one which gets under 20 comments in most posts.
So to sum it all up, am I happy with my blogs interaction's yet? No.  Heck no! I want way better than this! But I'm doing better, and I shall be content for this at least!
Earlier this Year came New Looks and New Header
In January of this year I decided that I had to adopt a more professional look for all my blogs, so I purchased a thesis theme that I installed on all three of them.  In February I decided to purchase a custom made header for this blog while I changed its name from Persuasive Article Marketing to my "own band name" as you can see.
By the way, the guy who created my header, Steve B, is very good at what he's doing and very easy to work with.  I'll recommend him anytime. He did the header of this blog, my personal development blog, my coaching business widget and the cover of my free eBook right here.  If you want a talented guy who can understand what you want right away, he's the guy.  I met Steve through my blogger friend Barry Well who had told me good things about his work and the way he dealt with him.  If you want to contact Steve though my own affiliate link you can do so right here.
This is what my blog looked like less than a year ago!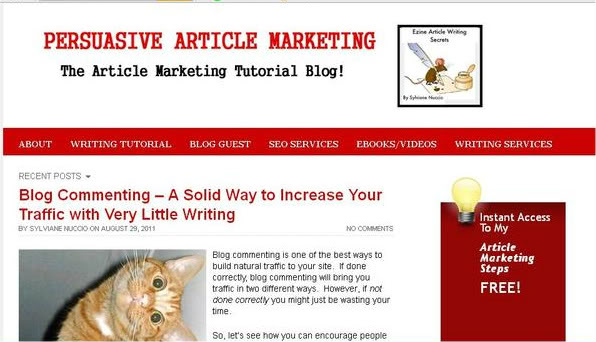 Overview of my 2012 Posts
I have gone through all me 2012 posts and made a list of my most read posts; the posts that I think didn't get the traffic they deserved; the interviews I've conducted on all three blogs, and my guest posts on other blogs.  You can see them all bellow!
My Most Read Posts!
The Posts I Think didn't Get the Attention they Deserved
Interview Posts
 My Guest Posts on other Blogs for 2012
So, what about you, tell us about your blogging/marketing story  for this year 2012 and your plans for next year!