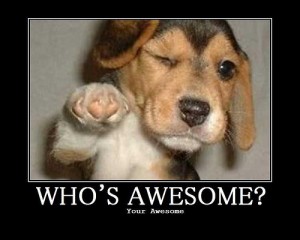 OK, we made it! This is the last chapter of my series on how to turn a browser into a reader.
If you've just landed on this post I suggest that you read part one and part two first, and then come back here for the final part of this series.  If you have read them already, let's continue then…
Now that you have attracted your reader with a very attractive title, and kept them reading because of your high quality content while making sure you played the emotion; what else should do to make your reader comes back time and time again?
I am sure you that sometimes you've landed on someone's blog knowing that you were going to come back, and sometimes knowing that you were not.  Why is that?  Why are we more attracted by some blogs than others?  Is it the article itself? Is it the blogger themselves? Is it the topic?  Interestingly in many cases it's none of these three.  So, what is it?
Let's analyse 3 areas that you can use to attract your reader to come back over and over.
Be Yourself
The great advantage of being yourself as a blogger or writer is that we are all different.  As a person, outside of blogging, you are different than anyone else, and I am sure that sometimes you have even been told how different you are.  The important thing is not to try to be someone else.  The more your blog will show your own personality the more people will be attracted to you.
Do not try to be politically correct
Do not try to please everyone
Do not refrain from using words that may shock some people as long as you do it in life
Do not be afraid NOT to agree with everyone and have everyone agree with you every time
Do not be afraid to be who you really are
You are an amazing being and you are unique.  Sounds "cliche"? well, maybe, but it's true. There is no one else on the whole wide earth like you.  The main reason why this is fantastic is because it's true.  Remember this and use it in your writing.  Let this be the first thing that you will give to your writer.
I know, I had trouble being myself for a long, long time, that why I thrived when I was acting and playing someone else years ago.  Some people may take it for granted, but sometimes being yourself is a very hard thing to do.  But get the courage to be yourself, and do not try to please everyone.  Those who do this are the most successful bloggers.
Don't Ever Take Your Reader For Granted
Do you take your readers for granted?  I know some bloggers who do.  I know some bloggers who have a large amount of readers and don't really care about one more or one less. This would only be fine if they didn't need to make another sale ever again.  The funny thing is that they do.
My point is that if you are online it's probably that you are selling something, even if it's only your adsense ads.  This means that you should never take a single reader for granted, because you will lose them.
How do you take a reader for granted?
By not replying to their comments or questions
By not visiting their blog after they visited yours
By showing a cold and none inviting persona
Are you kidding, do such bloggers even exist?  Yes, they do.  As sad an unprofessional as this may sound, bloggers like this do exist.  Even though they may have a large amount of readers, I do not see how they can last online in the long run.  You've got to acknowledge each one of your readers.  It's a MUST for the sake of your business.
To give you an example, about 8 month ago I started following two blogs about the same kind of niche at about the same time.  One hosted by a talented, yet rather cold female blogger while the other by a warm and very personal one.
Over time I found myself less and less attracted by the cold blogger and now that I have so many blogs to visit and comment on I rarely visit that blog anymore.  What makes this interesting to know in this case is that's a blog that I use to visit like 3 times or more a week, but the coldness of this blogger got the best out of me.  I will never buy anything from that woman if I can avoid it.  Yes, that's that bad!
Now, she might not need me you may say? Wrong, she does!  Her blog is full of click here and click there, so, yes she does need me and you.  She just doesn't know how to attract people.  As my mother liked to say, you don't attract flies with vinegar.
The other blogger that I met at around the same time was Adrienne Smith.  Who doesn't love Adrienne?  One of the main reasons why people do is because she is very warm and personal and doesn't take her readers for granted.  If you post a comment on Adrienne's blog (unless you're just a spammer) she will visit your blog back and become one of your most loyal visitors.  This alone really pays off for her.  If you don't believe me, just ask her.  I am sure she will tell you.
So, out of these two blogs that I started visiting at around the same time, one lost me and one got me, because one totally took me for granted and the other one didn't.  Which one are you?
Give People What They Really Want
Recently, I was reminded by one of Nicky Price's posts of a great marketing book that I read few years ago called Magnetic Sponsoring, by Mike Dillard.  An incredibly interesting statement I read in the book was by Perry Marshall and I never forgot it.  It goes like this…
Nobody who bought a drill actually wanted a drill.  They wanted a hole.  Therefore, if you want to sell drills, you should advertise information about making holes – Not information about drills!
How true that is!  This book was created for network marketers, mostly, but it can serve anyone in any business.  Nobody cares about your drills even if they are great drills, people want to know how to make holes.
What does this mean?
When you write blog posts or articles, teach people how to do something. Show them the way, show them how it's done and how you did it yourself.  Write something that they can apply.  Don't just tell them that you did it.  That's great, but what's in for me?  What is the reason that would make me want to stick around and come back for more?
If you write to inform and teach people how to do something they want and need to do, and if you do it by writing in a clear and simple manner or by adding a video that can even make it better in some cases, you are teaching people how to make holes, not what type of drills they should be using. That's what is going to turn a browser into a reader.
Turning a browser into a reader, and better even, a loyal reader, takes a lot of different actions and behaviors.  This series of 3 posts was my way of showing you how it can be done.  However, you might want to add to this in the comment area.  So, bring it on!  I love comments and I do not take my writers for granted.  Never!