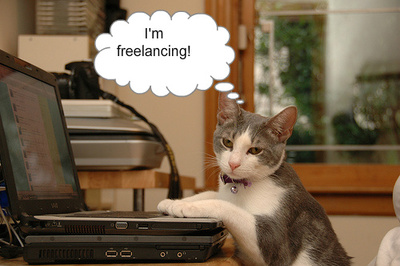 Believe it or not a lot of people with online businesses are not writing their own content.  Therefore, the market for online content is huge.  Some of the reasons why people are hiring someone else to write their online content may include…
Not having the time
Not having writing skills
Not being interested in writing their own content
Having too much to write and selecting a writer to write some of their content only, and many some other reasons.
In any case, freelance writers are in demand.  However, the questions are, are you up to the challenge to please your client before, during and after your deliver them your content to them?  What is the type of information that your potential clients like to see, and what will keep you working for them well after the first draft has been submitted?
Be as Specific as Possible About your Services
On your site or sales page try to be as specific as possible went it comes to the most important pieces of information that you know your potential client might be looking for.  If I want to hired any one for any online service the first thing I want to know is the price.  Then, I want to know what I will be getting for such price, and how long would I have to wait in order to get my finished product.
Price
Service
Turnaround
NOTE: Now, before I continue I want to specify that there is another brand of writers which won't post any of this information on their Freelance Writer's page.  As a matter of fact, I am one of them, but I will explain why later.
Now, there are other type of information that your potential client might want to know, such as, keyword density, SEO methods you use, if your are flexible for revisions and corrections, type of contract you are using, and any extras you might be thinking of.  However, ultimately, it may come down to a specific agreement with each client while you keep your basics in check, not letting the client take over your slice of the cake.
What Type of Writers do Clients Like to Work With
 Reliability
I know we are all humans and, therefore, life happens to all of us.  We may get sick and other things may happen that will prevent us to meet our deadlines.  However, the list of excuses that some of my clients have heard from their writers is really outrageous. Excuses such as, my computer blew up, I've lost my internet connection, my husband died, my dog died, I was rushed to hospital… Of course, if you look at each of those excuses they are all valid, but when a client tells me that he heard them all and some, really, how much of all that is really true?
If you can't commit to your orders, maybe you should do something else.  The first and foremost quality you need to have as a freelance writer is to be reliable and trustworthy.
Article quality
You need to write for what you are paid for.  Once in a while I have someone asking me to write articles for them for $1 per article.  Of course, my immediate reply to such offer is that I'm not the Salvation Army.  I do not write for a buck, but if you pay a buck for an article you will get what you paid for.
On the other hand, when you are paid a decent price (the price you are asking for) to write an article, deliver the quality that you have been paid for.
Article quality includes, misspells and grammar error free.  Quality consistency (meaning, your articles quality won't decrease over time), and of course one hundred percent originality.
If you keep up with those three quality features you will keep your clients.
Stick to your deadline
Once you've promised a deadline to your client, stick to it by any mean.  Your reputation as a reliable writer will rest on this quality alone.  Writers who can't stick to their deadlines are viewed as unreliable.  Even if your writing skills are excellent, but you're not reliable, no one is going to want to deal with you for long.
If for any reason you can't deliver the work when promised, make sure you send an email to your client, apologizing and giving them another date at which the work will be completed.  Then, make sure you stick to that one.  If you can, offer a discount for the delay.  This way the customer will not see you as someone unreliable, but as someone who happened to have some type of circumstances that prevented them to do their work on time.  And someone trying to do their best to repair the damages, in the most amicable and professional manner possible.
Be flexible
One of my clients recently asked me if I could write 15 articles by the end of that month.  The thing was that we were only a few days from the end of the month.  However, I said OK.  Once I say yes, I make a point to keep my word, and I do my very best to meet the dead line.  It was tough considering that this order wasn't the only thing I had to do, as you can imagine.  However, I wanted to be flexible and show my client that I was willing to work with him.
Writers Who are Using Another Method
Now, as I mentioned in my note above, there are some writers that will not give any specific information such as mentioned above, like price and turn around. So, who are those writers and why can they get away with this?
The writers who usually don't advertise their price, service type and turnaround are writers who advertise their business by branding themselves through guest blogging or by knocking the doors of the potential clients themselves.
In such cases, most of their business is coming from the writer's own actions.  After spending sometimes advertising my writing service the regular way, I decided to start using the second method which I've learned from blogger and writer Onibalusi.  However, this might not be for you.
It's up to the individual writer to decide if they want clients to contact them or if they are willing to contact the potential clients themselves while advertising their services with content that they supply for free to popular blogs.
If you enjoyed this post, if you have comments or questions, please, shoot them below in the comment area!