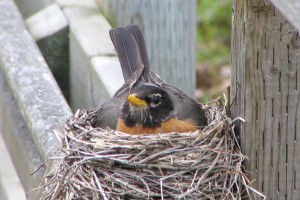 Few weeks ago I've noticed a bird's nest sitting on the curve of the gutter next to my entrance door.  The next time I looked at the nest, a mother bird was sitting on it.
As I have been observing that nest every day, I have learned few blogging lessons that you might be able to take advantage from as well.
Here are the five blogging lessons that I've learned watching a mother bird.
Mother Bird First Prepared the Place
Before anything happens, before she laid her eggs, the mother bird prepared a nest in a safe place that was protected from the element.
Before you start anything online, you should "prepare" a blog.  Whatever you may be selling or promoting online, having a blog puts you on the map of online marketing as a professional that is not shying away from giving valuable free information.
In order to start a blog you need to have a good domain name and host it in a safe place.  My blogs are hosted with Hostgator.  And yes, this is an affiliate link.  I love Hostgator because they will answer your questions 24/7 and help you with any technical issues you may have. Since I am not a technical person, I really need a type of service that basically will do everything for me if and when I need it.
The best platform you can use to blog professionally is with WordPress.org which is free. You can install your WordPress blog directly through your Hostgator panel.  If you don't know how it's done, you can contact me and I can give you the step by step for free.
Only when the nest was ready, did mother bird lay her eggs. Only when you blog domain name and platform are ready and set, should you start blogging. Do not make the mistake of starting your blog on some free platform thinking that you will upgrade later.  That's bogus, and you will only be wasting your time in the process.
Mother Bird Laid her Eggs
Once the nest was ready, it was time for mama bird to lay her eggs, and sit on them religiously until the chicks were ready to come out of their shell.
Now that you have your blog ready, you need to "lay your eggs".  You need to start writing for your blog.  Do it like mama bird; do not get distracted, just write as many posts as you can, as good as you can. Do not look for traffic at this point, just get knowledge and write about what you've learned and experienced until you're ready to come out of your shell.  Sit on your blog for a while; like mama bird sat on her nest until the her chicks were ready to come out.
Baby Birds Came Out of their Shell
Because mama bird did such a great job, the baby birds were ready to finally come out of their shell, and they did, indeed.
When you've sat long enough on your blog, polishing super posts, it's time for you to come out of your shell and meet other bloggers, officially introducing your blog to the blogging community.  In order to do this, you can search for blogs in your niche and comment on them.  You can also look for blog commenting groups where blogger exchange comments on each other's blog.  If you need help finding them, shoot me a note through my contact page.
Before you start commenting on other blogs, however, you need to be aware that there are basic rules to follow to comment the right way, so you don't annoy the owner of the blog with your comments, but rather attract visitors to your own blog.
However, this is not the end.  No.  That's only the beginning, really. When the baby birds were born that's when the real work started for mama bird.
Mother Bird Works Hard Every Day to Bring Food to her Chicks
Now that her babies are born, mama bird has to look for food and bring it to them constantly.  She spends her days going back and forth looking for food and bringing it to her chicks. Baby birds are always hungry and show a very large open beak. At this point they are really eating machines waiting to be fed.
You're blog is a lot like a baby bird, it's a eating machine too, but instead of worms and insects it eats content.  Lots of it.  Just like mama bird, you are going to have to go look for content every single day to feed  your blog.  Now, when I say look for content, I don't mean to go fetch someone else's content, no, I mean go look for knowledge and ideas and train yourself to get writing inspiration in everything, like I did from this mother bird near my entrance door.
Even if you don't post every day, that doesn't mean that you're not looking and thinking about what you are going to write next week.  Like mama bird that is constantly on the lookout for food for her little ones, you need to be constantly on the lookout for content.
Mother Bird Rinse and Repeat
Of course the babies of the mama bird will come to be big enough and fly away from the nest, very soon, as a matter of fact.  So, what mama bird is going to do?
Well, next year she will build another nest, lay eggs, wait until the eggs hatch and feed her chicks for weeks until they are ready to fly and feed themselves.  Nature rinses and repeats from the beginning of times, and that's what you have to do with your blog. Find the best way to create content, and bring traffic and keep doing it over and over. This is called rinse and repeat.
Now, express yourself in the comment area. Comments are free, you know!