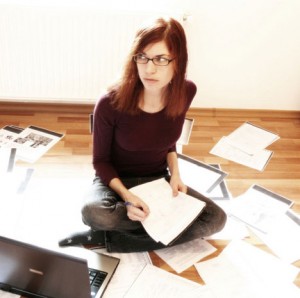 Almost every time I've got someone ask me for help with their affiliate marketing, article marketing or blogging business, they had one thing in common they needed to fight with. That one thing is distraction.  Unfortunately when you work from home at your computer, distraction can be a killer. How can you fight distraction when working online?  This will be the discussion of this post today.
Define the List of your Distractions
Everyone has different circumstances and different types of distractions, so the first thing you need to be aware of is what type of distractions are you facing on a regular basis.  The better you will be able to pin point the problem, the more you will be able to fix it.
Take your Online Work Seriously
Taking your work seriously is the most important reason that is going to help you concentrate on your online work and limit distractions.  If you do not take this business seriously enough, you are always going to find ways to get distracted, because that's really easy to do.  The few very important questions you need to ask yourself are: How much do I want this, and why do I want this?
How Much Do you Want it?
What was your motivation to want to work online in the first place?  Was it just to make extra money from home or was it to be able to quit your job and live the life you've been dreaming about?  If you started an online business just to make a bit of extra money, you might feel that you don't need to put too much work in, and therefore, be tempted to get distracted easily.
The problem is that even if you wanted to make that little extra money online it would take a minimum of efforts on a regular basis.  The only difference is that you may not need to work as many hours as you would if you wanted to totally replace your income, but the dedication to your online business should still be the same.  If you dedicate two hours a day to your online business, give it all your attention for those two hours. No exception.
The human brain can be tricky.  Sometimes, you may think, consciously, that you want to do something, but how much do you really want it?  You need to be honest with yourself and try to answer this question.  If you let distractions take you away from your writing, networking, blog reading and other steps that you need to take on a daily basis, it could be a sign that even though you have convinced yourself that you want to make money online, there are some underlying issues that seem to get in the way.  Trying to find out what such issues may be can totally free you and help you start anew.
Why do you Want to Have your Own Business on Line?
If you have been hanging out with online entrepreneurs, even for a little while, I'm sure you've heard the question. What is your WHY? Why do you want to do this?
I don't have to tell you that the stronger your WHY is the more likely you are going to be focused.  If your why is just, leaving your job, that might not be enough to be able to focus 100% on your online business few hours a day, every day.
The reason why I'm saying this is because I can see the proof of that all the time.  Your WHY is not something anyone can decide for you. So, ask yourself this very important question. Why do I want to do this?  The answer, however, better be better than good or it might not work for you.
Bullet Proofing Yourself Against Distractions
Once you have answered all those questions and have decided to stick with your online business, you need to make a quick list of what is going to help you focus and concentrate on your tasks.
Decide what time of the day is better for you to work
Especially if you have another job or if you have children, you need to set aside the best time for you to be able to concentrate on your online work.  If you have small children, chances are that you will be distracted and won't be able to work much when they are around, this means that while they are at school or asleep should be the best time for you to work.
If you have another job, you need to set aside a SPECIFIC amount of time that will allow you to work. If you have a family, you need to inform them that this is not an option and they need to leave you alone during that time.  Once you're done give them all the attention they need.
Cut your Online Distraction by 80%
It has been said many times how people trying to work at their computer can get distracted by emails and the internet.  There are two easy fix for such problems.
1- Make sure you cut your email alert if you have one, and schedule specific times to check your inbox.  Do not check it under any circumstances between those times.
2- In order not to get distracted by the internet I use Google Chrome.  For the longest time I was reluctant to use this browser without even knowing why, but since the day I started using it, I absolutely love it and do not use any other browser.
The great thing about Google Chrome is that it's distraction free because it's basically blank with not news, photo or advertising to grab your attention.  So, if you need to go online, only go to the site you need to go to, and leave it at that. Google Chrome can really help you with this.
Take your Excuses for What they are
That's right; take your excuses for what they really are, which is just a bunch of excuses.  Of course, we all have things that will distract us at one time or another. We all have circumstances that may be disrupting our online work and focus once in a while, but we can't allow ourselves to find daily excuses for why we haven't done the work that we were supposed to do.
So, now it's your turn. Are you finding distractions hard to resist? Why do you do not to get distracted?