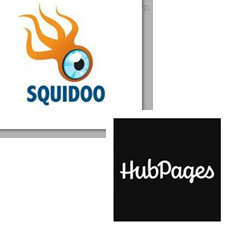 Are you writing on other platforms besides your blog?  When I was an affiliate marketer I was actually writing all over the places, and it's only later that I started blogging more seriously.  As a matter of fact, I used to use my blogs more like selling platforms where people landed from my online articles.
Today I write more for my own blogs, of course, but that doesn't mean that I won't use other article platforms to spread my wings a bit more.
Today I wanted to give you my own review about two article platforms that I've been using for years.  Yes, I am referring to Squidoo and Hubpages. I've known and used them for some time now, and I totally changed my mind regarding their value since then.  So here is what I've found.
Squidoo
I've used Squidoo from early 2008 to early 2011.  Out of the some 80 lenses that I've created for my main account (I had a few others) where I used my real name, only 45 lenses are now featured, because when Squidoo changed their rules they either blocked some of them, or they were so picky with the ones that they had put on hold for me to edit, that I ended up deleting them myself.
As a matter of fact, I even had a lens about bullying that was absolutely not intended to sell anything with pure original content that they ended up blocking as well.  To this day, I've never understood the reason for such action on their part, and when I tried to get an answer by contacting their Help Desk, it was very similar to trying to talk to the walls.
You Can't Figure Them Out!
I totally understood why they had to put a brake on lenses (that's how articles are called on Squidoo) that promoted affiliate links and making money online programs.  Granted some abusers had totally messed it up for the rest of us, and it was a big low quality article mess. But I couldn't understand why in the world they would delete a social issue article which was one hundred percent original content, of course, and sold nothing but a couple of Amazon books.  It made no sense at all. But yet again, Squidoo makes no sense for a lot of people anymore.
Another very annoying thing about Squidoo is that they are very hard to figure out, and I had to really pounder and shake my head as for what is a "good lens" to them.  I've seen them rewarded lenses that I didn't feel deserved it.  Frankly.  And I've created some very good pieces that never got the recognition they deserved.  That alone discouraged me to keep on wasting my time publishing original content for Squidoo.
Do they even Rank Anymore?
Another very weird thing is that when I type on Google "Squidoo Sylviane Nuccio" what I am finding on the first page is mind bugling.  What I mean is that the none of the 10 first results even include anything I've ever written on Squidoo, but other sites where I've written about Squidoo.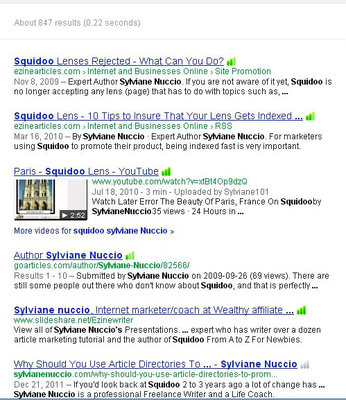 First two results are EzineArticles
Third result is YouTube
Fourth result is GoArticles
Fifth result is SlideShare
Sixth and Seventh results are my own blog right here
Eighth result is MySpace (how on earth!)
Ninth result is Blogger (can't believe that one)
And tenth result is Linkedin
That tells you something here; doesn't it? Where is Squidoo?  I have to go on page three to find my first Squidoo lens result.  In my book, this means that Squidoo doesn't rank well.  Some might say that it's because I haven't updated my lenses in over a year.  Yes, that's true, but when was the last time that I did anything about MySpace or Blogger?  I can't even remember, but it's been a few years.
My Conclusion about Squidoo
I'm sure they probably mean well, and like any other article platform they are looking for valuable content, but they are the most confused content place I know.  They don' t always reward good content, while some not so good content still slide in.
They are impossible to communicate with, and that's not only my observation, but many people I know as well.  And last, but not least, they don't seem to rank well anymore.  So, my conclusion about Squidoo is I won't use it for quite some time, unless they get their act together.
Hubpages
I have used Hubpages in the past using a username instead of my name, and if I Google  "my username hubpages" it's the first result.  I haven't edited any of those articles for years either, yet it's ranking perfectly all right.
I recently started using Hubpages again (on a new account) using my first and last name as username since my name is an important keyword as far as I'm concerned.  If I type "my name hubpages" in Google search I come up in first position with the oldest page I've created on this account (which is about 3 weeks old) on second position right after my profile page.
Unlike Squidoo, Hubpages results make sense.
Hubpages' got More Common Sense
Another advantage I find about Hubpages over Squidoo is that they are easier to figure out.  What "I" think is a good hub (article) seems to be good to them too.  They don't seem to decide what's good or not out of the bottom of their hat.
On top of that, back then when I was trying to sell more with my articles I wasn't receiving very good feedbacks form other users, but now that I share only one hundred percent information articles, people seem to love it, and my score is already in the 70's and growing after less than a month using it.  I also have been positively surprised with the amount of comments that I'm getting.
My Conclusion about Hubpages
I am glad I decided to rekindle with Hubpages few weeks ago, because I really like what I see, and I feel that it's an excellent nest to get more traffic to this blogs and business.  Hubpages and Hubages users seem to like what I contribute there, and that's what I'm looking for.  I would have no problem encouraging you guys to use Hubpages in your spare time to expand your wings and put your business in front of more people.
So, what's you're thought on that? Do you have any type of experience with Squidoo and Hubpages you'd like to share. If not you can still tell us what you think about the whole thing!