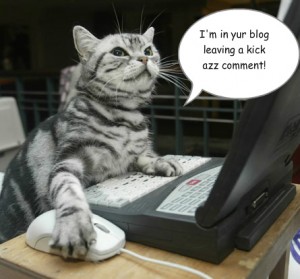 It's quite amazing to me that some people still lose their time trying to leave useless and meaningless blog comments that will never be approved.
There is actually a very easy way to leave comments on other blogs that not only will be approved by the blog owner, but attract readers of such blog to click on your own link and help you build valuable back-links to your site.
Here are five golden rules that you need to implement in your blog comments to make sure that you and your site will benefit from it to the maximum
1. Search for Comment Friendly Blogs in your Niche
Even though you want to make sure that you leave valuable comments on other blogs, you also want those blogs to be comment friendly. If the blog doesn't provide for you to leave a comment easily, you might as well go to the next.
Personally, I don't want to lose my time to become a regular on blogs that don't give something back to their readers by providing a friendly comment area where I can link back to my own blog.
Blog commenting should be a give and take.  I benefit from your comment and I give you back by allowing you to link back to your own site.
Once you have found a nice list of blogs that offer the opportunity to comment on their posts, you need to do the next best thing before you start commenting on those blogs.
2. Read the Post Before you Leave a Comment
This might sound a lot to do for some, but the next thing you need to do once you have found a blog to comment on is read the post.
Really, think about it for a minute, if you can't be bothered with reading the post that you are going to comment on, why would the owner of the blog be bothered with reading your comment, approving it and even replying to it?
I am sure that you can see why reading the blog post is really a MUST if you expect your comments to be published and give valuable back-links to your own blog.
 3. Write an Intelligent Comment
What is an intelligent comment? To start with it's not a comment that says "great article" "Good stuff, thanks" or "thanks for sharing".  Bloggers hate this type of comments, because they usually prove two things.
a) You probably didn't read a word of the post; therefore, you're not able to say anything about it.
b) You are probably there only for the back-link.  No blogger wants to be bothered with this type of comments and certainly not the high ranking blogs that you want links from.
There is no such thing as something for nothing; if you want the link, the traffic and gain in popularity, you need to do your part. This means reading the post, leaving an intelligent comment that brings value to the post.
In order to post a comment, you don't have to always comment on the blog post itself either.  You can also reply to or answer questions from another bloggers' comments or you can ask questions yourself.
Make sure you know the name of the blogger and use it in the comment.  This shows at least that you know who the blog owner is.  If you comment on a guest post, make sure you know that too.
I see people sometimes, addressing the blog owner when they are really commenting on someone else's post (a guest post).  Not only this shows that they are not paying attention, but it's a bit rude for the person who spent their time and energy writing the post and not being credited for it by the person leaving a comment.
4. Spelling, Grammar and Structure
It's not because it's just a blog comment that you shouldn't pay attention to your writing.  Once you've written the comment it's time to edit it just like you would edit an article.  Make sure it's spelling error free, that your grammar is correct and that you write in paragraphs if your comment is more than 5 sentences long.
The more your comment sounds and looks good the better it will be for you in the end.  If you leave messy comments who is going to want to click on your link anyway?
5. Use an Avatar of  your Own Face and Use your Real Name
I know some people who have always insisted in not using a real picture of them as avatar or don't want to use their real name.  This is a big mistake if you are a blog owner.  People want to see that you are a real person and that you are not trying to hide behind a fake name.
Cartoon avatars may be cute and fun, but you will never be taken seriously as a blogger if your picture is a cartoon.  Honesty always pays off in the end.  I can't find any reason why you would want to hide behind a fake name or image, unless, you are not looking for success.
If you follow these five golden rules each time you leave a comment on a blog.  Your popularity will increase and your blog will reap all the benefits and rewards you can expect from it.

Do you Want more article marketing success? Just fill out the form below and get my FREE article marketing eCouse!

If this article was helpful to you, or if you have any thoughts about it, don't forget to leave a comment and link you own blog or post to it!