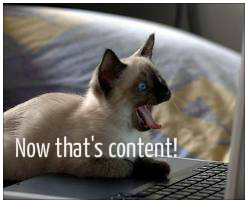 This is the part two of this series of three posts to help you turn those online browsers into readers.  If you've missed part one about headlines, make sure you read it first.  If you have, let's continue on this post with the next topic, content.
Once you've attracted people to your post or article with your great headline, you need to deliver on the promises.  As important as headlines are for clickthroughs, if your content doesn't deliver, you will lose your reader very quickly.  And what's more you will be remembered as someone who writes great titles, but disappointing articles.  This is NOT what you want to accomplish, right?
So, here we are going to analyze what will help you create great content so you won't lose your reader who has landed on your page and make them so happy that they will love what you have for them and come back.
Write for the Reader's Needs
One of the same rules that apply to content as well as headlines is that you need to play the emotion card with your content as well.  People always respond better to what make them "feel".  Feelings are a very strong key in human life.  We are "feelings" beings and pretty much ruled by it, whether we are aware of it or not.
Your reader is no different, and he wants to…
Feel that they are not alone having those types of issues, etc…
Feel that there is some hope for the problem that they have
Feel that you can help them
Feel that they can do it
It can be very  hard to describe exactly what makes an OK content, and what makes a GREAT content, but the rule of thumb, as I learned it from professionals and successful writers is that the more you make your reader "feel", the more you know how to play with words that trigger the reader's emotions the better your content will be.
Once you've understood this golden rule, you can apply other basic common sense writing rules, and your content should take a life of its own, attracting readers every time you write a piece and publish it.
Clear and Simple
This should be a given, but it's still worth it to mention again.  Your writing should be clear and simple.  Do not try to use fancy words, fancy writing style, or being simply too wordy when your write.  When I write a blog post or an article, I tend to be too wordy on my first shot, and always have to take  unnecessary extract words when I edit.  A lot of people have this problem.
A good rule of thumb is to write in such a way that a 6th grader could understand you without any problem.
Have you ever started to read an article when after the first paragraph you were still not able to figure out what the article was about?  I know I have.
When you write, it's very important that you make sure that the reader knows what your article is about right from the get go.  Don't make your reader having to guess.  Let the reader know what your article is about as soon as possible in the clearest and simplest way.  This is your duty as a writer.
Avoid General Topics
No one really cares about general topics.  The reason number one why this is the case, is that general topics do not trigger's anyone's emotions.  As I mentioned above, we know how important this is.  People are interested and touched by specific topics that talk to them.  No vague and general topic can do that. Ever.
Here is an example!
"Once upon a time there was a famous writer who had so much talent that he could write page after page all day long.  Some of such pages created one of the most famous stories in the world".
Is that exciting to you? Probably not! Does that even sound like a true story to you at all? Probably not either.
Now, let's rewrite that little story again…
"Famous French writer Victor Hugo had so much talent that he was able to write page after page all day long.  Such pages he numbered and threw above his shoulders when full.  At the end of the day, he would pick up the pages from the floor, gather them together and put them in order.  It was in this way that 'Les Misérables', one of the most famous stories in the world was born".
Now, which one of the two stories attracted your attention the most? Which story touched you emotionally the most?  Which story could you visualize the most? Are you now more convinced that it's a true story? I think that the answer is obvious.
Specific statements always work better than generic statements.  Exact facts works always better than vague facts.  This is one of the golden rules of writing to always remember.
Break Your Topics with Sub-Headings
I don't think very many people reading this don't know it already, but it's still worth repeating, just in case.  Do not write big bulky articles with no room to breathe.  In most cases, you article will have more than one topic.  Each topic should have its own sub-heading.  This really helps your writing to flow better and helps your reader to follow along very easily.
People have a very short attention span, and yes, that goes for adults too.  When you cut your article with sub-headings you help your reader short attention span to move along more easily.  Their brain is telling them, alright, I can do this at least up to the next subheading.
When you write a long piece without much breaks in it, you are defeating your reader, right from the get go.
What's In It for Them?
Now, the "plat de resistance".  What in it for the reader?  What are you offering to them?  Is it valuable information? Tips? Is it a free incentive?  Especially if you are writing on a blog, every week, what is the reason why your reader should come back?  We are going to analyze this area of writing in the final part three of this series.
In the mean time, please, leave your thoughts and inputs in the comment area below…