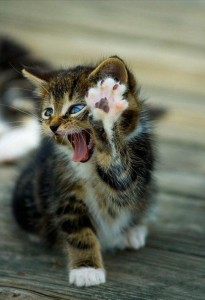 One of the toughest challenges of owning a blog is to create excellent content on a constant basis.  Yet, creating superior quality content is vital for your blog success and popularity.
We are all humans, and once in a while we may be running out of ideas to write about. However, there are different ways to come up with creative content.  In this post I am going to show you 5 different channels to create excellent content for your blog every time.
1 – How-to Posts
How-to posts are the most popular type of posts.  The trick to be able to write how-to posts is to get well educated in your niche.  The more you learn and know things, the easier it will be to write how-to posts.
If  you run out of ideas it's time to browse some information and learn. The good all trick in order to be able to write it's to read.  By reading, you discover, you learn, you practice what you've learned, and then you write about it.
When you write how-to content you want to make sure that you are an expert.  The more expertise you have in your topic the higher the level of quality of your post.
Another great way to write high quality how-to posts is to look for problems that people may have and try to solve such problems.  The more value you provide to your reader, the higher the quality.  It's even likely that your content will go viral.
We all know that it's becoming harder and harder to come up with 100% fresh unheard of topics, but you can still try to dig some out by using your imagination and talk about any subject from YOUR own perspective which will ALWAYS be unique.
You can also experiment with the length of you posts.  Try writing longer and shorter posts and see what works better for your audience.  According to SEO experts, longer posts work better with search engines, but what about your audience? What do they seem to respond better to?
2- Review Posts
We've all seen those fake review posts on class-B kind of blogs which are actually not real reviews to inform you, but rather, reviews that are design to make you buy the product they are reviewing. I think that I needed to clarify this before I speak about the review type posts.
A real review type post would be a post where you gather 5 to 10 items that you know well or at least have used, and tell your readers if such items are worth their time or money, or both.
For example, Ana Hoffman at Generation Traffic Café does that very well.  She would really tell you what's worth or what's not in her review type posts. When such reviews are genuine it really makes these types of posts valuable and, therefore, create excellent content for your blog.
3- Interview posts
Interview posts are really hot these days.  What better way to create great content than interviewing an expert and try to suck the knowledge out of them.  All you have to think about are smart questions that will make the person you are interviewing reveal some of their best tips and secrets.  You readers will love you for that.  This type of post creates instructive, high quality, and original content.
In order to be able to create an interview, think of a blogger that you've been following and like, and request an interview.  Most of the time, they will say yes. I they say no, don't worry, there's a lot of fish in the sea.
4 – Challenge Posts
Another very hot post topic is a good challenge.  Just about every blog that I visit these days have got some kind of a challenge going on.  Before you start a challenge on your blog it would be better if you'd already have a decent audience, because it would be useless to present a challenge with one to participate in it.
It's also important that you create an incentive for the winner of the contest with some kind of giveaway.  If you are limited with your resources, you need to be creative and find another way to reward the winner.  If your challenge doesn't include any kind of reward it would be hard to find participants to your contest.
So, before you decide to run a contest on your blog, make sure you have thought it out all the way through.  When you have, it will allow you to create some exciting content around that contest for a few weeks.  If your contest involves guest posts, you should be free from writing on your own blog for some time.
5 – Infographic Posts
I have never created an infographic post, myself, because I am kind of partial to writing.  However,  a lot of people don't like to read or don't have the time for it;  infographic posts may attract that kind of crowd.  They are also some readers who would love to have a visual of what you are discussing on your post.
Even though I love to write, I am thinking of creating an infographic post in the future.  You can also create an infographic post along with written content. A mixture of both.
If you apply these five different channels to write on your blog each week, you will be able to create excellent content on your blog every time.
Now, it's  your turn. What type of blog post have you used and what is your favorite? Please, do tell us in the comment area.