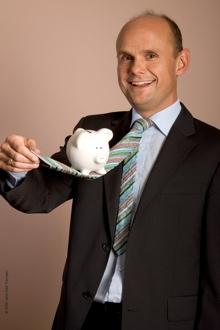 Today I am honored to present you with an interview with Oliver Tausend.  This is the second interview I conducted on this blog.
I met Oliver through blog commenting, and since then I had the pleasure of getting to know him better through a long conversation over Skype last week.  One of the few ideas that came out of that brainstorming was an interview of Oliver for this blog.
As you may or may not know I'm from France and Oliver is from German.  Both of our countries have a long history together, good and bad.  But no matter what, because of geography, we have always been neighbors.
I hope you will enjoy the very deep and interesting answers  to my questions from Oliver.
 Sylviane: Oliver, please, introduce yourself… Where are you from, and what do you do online and offline?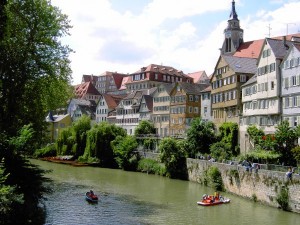 Oliver:  I am the dad of two wonderful girls (11 and 7 years old) and married to my best friend. We live in Tüebingen (South Germany) and I am a professional network marketer and mentor helping people creating extra income from home, with online and offline methods. You know how, most people do network marketing every day; they just don't get paid for it.
Sylviane:  In one of your most recent videos you are speaking French, which you are speaking pretty well, by the way. Where did you learn French?
Oliver:  Thank you. I learned French in school and after two years of struggle, I had some aha-moments and my breakthrough. Reminds me of business building. Some say I'm talented for languages. Alright, not the worst talent. But even with talent, it still works. And practice. Reminds me of business building.
Sylviane:  Is French easy for a German guy, because even though I do not speak German I know that it's very difficult as far as the grammar is concerned?
Oliver:  German isn't an easy language because it has three articles which is an overrated challenge though. French has only two articles but the gender (and quantity) of a noun influences the entire sentence.  For example, the adjective and the form of the present perfect (passé composé). While this is still no problem in spoken French because you don't hear the mistakes, it can be a challenge in written French. I am not 100 % sure but French is the only language originating from Latin where you don't hear certain things such as the endings. Just imagine the present perfect and the infinitive of a verb sounding absolutely the same. But they're written differently. This requires a deep understanding of a text and its meaning.
Sylviane:  Now, I also know that you've been traveling to France a lot… what is your favorite place there?
Oliver:  That's difficult to say. One thing I love about France is its diversity. France has absolutely everything without being as large as the US.  A reason why so many French folks spend their vacations in their country. High mountains, beautiful beaches, dramatic scenery, boring plaines, the gentle Mediterranean sea, the rough Atlantic ocean, isolated villages, huge modern cities, great food, great wine, etc. Outside its cities, the population isn't very dense. It's bigger than Germany, but with fewer people. One of our favorite places is certainly the south ("le Midi") with its hot, dry and reliable summers – nothing compares to it.
Sylviane:  Have you always have a taste for travel and are there other European countries that you know and like?
Oliver:  I had the taste for travel, but I didn't allow it to myself because I was "too busy" in my former business. This is something I am changing slowly but surely. Germany itself is beautiful (without the reliable climate in summer), but also Switzerland and Austria. Not to forget Northern Europe with Sweden for example. I am also attracted by Eastern Europe.
Sylviane:  Here in the US, the French have a reputation of being rude, what are your thoughts on that, since you have actually BEEN there many times?
Oliver:  They are just as kind and rude as everyone else. An issue is the language barrier. They are very proud of their language traditionally. Consequently, their knowledge of other languages – especially English – is under-developed (and sometimes their willingness to learn them too, to say the least). It's changing slowly, but the French language is kind of officially protected by the government. Chances are most people from the US speak only one language as well, but it's the only language most people in the world understand. In addition to that, France is rather expensive (sometimes outright over-priced), especially in tourist areas. And you don't always get the service and quality you expect compared to the pricing. I met French people doing skiing in Austria who said they prefer the Austrian Alps to the French Alps because Austrians are more welcoming. And it's less expensive.
Sylviane:   In what way France is similar to Germany?
Oliver:  Well, we are all Europeans and we love governments. We do not love our governments, but we expect our governments to solve our problems. And they usually promise to do so which creates a mess, inevitably.
Sylviane:  In what way France is very different from Germany?
Oliver:  In many ways, France believes even more in governments than Germany does. They have a higher birth rate compared to Germany's tiny one and they spend the most money on average for food whereas Germans spend very little for food on average. In Germany food has to be cheap, in France it has to be good – and they know that good food has its price. That's why we buy a lot of food when we are in France.
Sylviane:  What would you say is the main difference between French and German people?
Oliver:  Very difficult question. Chances are the French and Germans didn't like each other in former times because they were actually more alike than they thought they should be.  So little differences got over-stressed.  But that's just my personal take.
Germans have a more relaxed attitude towards their language; we hardly translate anything that comes from the US or the English language in general whereas the French take the effort (and sometimes the pain) to translate pretty much anything, even in abbreviations. For example, the NATO is the NATO in Germany, in France it's "l'OTAN". AIDS is AIDS in Germany, in France it's "le SIDA".  Sometimes the "Denglisch" (contraction of 'Deutsch' and 'Englisch') is ridiculous, sure. But the forced and officially encouraged translation of pretty much anything is ridiculous too, isn't it?
Sylviane:  This is way before our time, but French and German people have not always liked each other, how do you feel the relationship between the two countries is today?
Oliver:  Well, I have never felt any resentment which is certainly also due to the fact that I speak French.
My wife is quarter-French because her grandmother on her dad's side (she passed before we met, unfortunately) was French and came from Lorraine, the part of East France that went back and forth between France in Germany in those days.
My in-law's families used to live in the Saar area that was attached to post WW II-Germany after a referendum back then. And my father-in-law's dad was basically married to the enemy, OMG.
This was completely normal though which makes these insane wars even more detestable. Wars are battles between governments and not between the peoples "ruled" by these governments. Governments abuse "their" peoples and they have them pay for their shortcomings.
The relationship today? Sometimes it's like an old couple, they don't really love each other, but they can't live without each other either. There are people in both countries living only 15 minutes from the border and never crossing it. Others on the other hand go to France (the Alsace!) to eat there, taste wine, buy food etc. Whereas some French people come to the German border region to do same. Neighbors' grass is always greener, isn't it?
Sylviane: Danke, Merci, Thank you, OLiver, for the great insight you are giving us about Germany and France, and the relationship between both countries. 
Notice how easy it is these days to cross from Germany to France Nearby the Switzerland border!
If you enjoyed this interview, guys, or have any questions for me or Oliver, make sure you do so in the comment area.