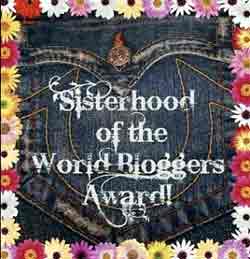 A couple of weeks ago I was awarded with the Sisterhood of the World's Bloggers Award by Harleena Singh, fellow blogger and freelance writer.
I have to say that I was surprised and didn't expect it.  Then, leave it to me not to know the rules, I just found out from my fellow blogger Ilka Flood that I was supposed to share that with my readers, pass the award along to 7 other bloggers and tell you 7 things about myself.
I think that this comes handy because a lot of people have been asking me about what I do lately.  It seems that either they haven't been to my blogs or my about,  hire me or portfolio pages.  So, I'm going to include what I do in the 7 things about me as well as some things you probably don't know yet.  So, here we go…
7 Things About Me
1 – My Work
I am a freelance writer, and interpreter/translator, and a life coach.  I write about anything under the sun. I've been asked to write about electronics, technology, diet, marriages, relationships, weddings, pornographic addiction, inventors, diseases, celebrities, and more.
As an interpreter in Spanish and French, I mostly interpret in clinics and hospitals for Hispanic people who can't speak English. As far as the French I mostly interpret for Africans from French speaking countries such as Congo, Senegal or Ivory Cost.
As a life coach I help people understand what's going on in their subconscious mind, what is the law of attraction and how to put it all together to better their lives.
2 – English is not my first language
I'm sure most of you know that by now, but for those who don't; English is not my first language, and I had to learn it from A to Z as an adult.  After years of speaking, reading and writing in English every day I still can count much faster in French.  Even when I have to count my change at the grocery store I do it in French in my head. But shushhh, don't tell anyone.
3 – I'm a cat lover
Cats are a big passion of mine. I love cats since I was two and it's like they know it. I have chocked people seeing their supposedly shy or mean kitty come to me as if they'd known me.  One of my big dreams is to have a special shelter for cats one day.  I'm sure there will be some dogs too.
4 – I was in an elevator with Tom Cruise once
One day in New York I found myself in an elevator with Actor, Tom Cruise.  He was with his adoptive daughter Isabella who was then a toddler.  It was at the children's museum where I was taking the kids I babysat.  I was right in his face in the elevator with only him and three kids, but he never knew I recognized him. For an hour he played with his daughter on the first floor as I was playing "my kids" and I didn't see a single person paying any attention to him.  Yet, I'm sure some did recognize him too.
It's interesting that the last think my mother told me before I left from France to New York was "you're going meet Tom Cruise".  The reason she said that is that I was in the theater back then, and had already met few famous actors in France.
5 – I was in plays in Lyon, Paris, and New York theaters
I was a theater student and actress from 1986 to 1995 in Lyon, Paris, New York and New Jersey.  I worked with a couple of famous French actors.  I appeared in one commercial and two movies.  One famous actor that I worked with didn't think I was a good actress until one day when I did a scene that blew is mind.  His attitude towards me changed after that.  Even if I live a hundred years, I'll always remember that.
6- I'm a good cook
It's interesting that I can't say that I like to cook, but still I am a good cook by default so to speak. My mother has always been an excellent cook and baker and I've learned everything from her.  I basically eat only home food, because it's how I grew up with.
7 – I love nature
I could be left alone in a desert island with only trees and animals around me and totally be happy.  I have never been someone who needs a lot of people around. I love people, but can do just fine without them as well.  Nature has always spoken to me and I love everything about it.
Awards of  Sisterhood of the World's Bloggers to 7 bloggers
I am not crazy about giving awards just because I always feel that I'm going to omit someone that deserves it, but here we go, 7 bloggers that I think are doing a great job with not only their blog but their overall good qualities as well as personalities.
Note: There are a couple of obvious people that should be here, but they've already got that reward as far as I know.
Carol Lynn Rivera at Web Search Social.com for being such a good writer teaching some really good things and engaging so well with people. And being such a remarkable follower of all my blogs.
Donna Merrill, at Donna Merrill Tribe.com for being such an encouraging person, helping people using her amazing gifts and telling me the nicest things about my posts.
Annie Andre, at Practical Adventure-Ology.com for her fantastic idea to blog about helping people to move abroad and coming up with the no less fantastic idea of creating a moving abroad consulting business.  Something she knows all about it.
Melody Fletcher, at Deliberate Receiving.com for teaching people about the law of attraction in a very interesting and funny way as well as other incredible insights.
Sonia Winland, at LogAllot.com for promoting many other bloggers on her blog, giving them the spotlight, and for inviting me and trusting me enough to post on her blog.
Cat Alexandra, at Catherine-Alexandra.com for knowing darn well about network marketing and sharing her knowledge to with the world.  And  being one of the nicest people on the block.
Sue Price, at SuejPrice.com for being one of the nicest people I've recently met in the blog's sphere and who shares nice product reviews with the world.
So here you have it. 7 things I do or did and 7 blogger gals that I am glad I met.  Please, let your comments and feedbacks down below.  Always appreciated.