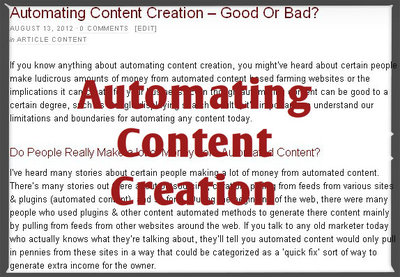 Today, I am glad to have Seth Layton once more on this blog, where he gives your valuable advice about automating content.
If you know anything about automating content creation, you might have heard about certain people make ludicrous amounts of money from automated content based farming websites or the implications it can create for your business. Even though automating content can be good to a certain degree, such as Google displaying search results, it's important we understand our limitations and boundaries for automating any content today.
Do People Really Make a lot of Money from Automated Content?
I've heard many stories about certain people making a lot of money from automated content. There's many stories out there about outsourcing, curation, pulling from feeds from various sites and plugins (automated content), and so forth. During the beginning of the web, there were many people who used plugins and other content automated methods to generate their content mainly by pulling from feeds from other websites around the web. If you talk to any old marketer today who actually knows what they're talking about, they'll tell you automated content would only pull in pennies from these sites in a way that could be categorized as a 'quick fix' sort of way to generate extra income for the owner.
Yes, one could argue if you have 100's of these sites out there spamming the search engines with mixes of content already written, one could make a good profit for themselves. Well, there are very good reasons why you should not do this. This brings us to Matt Cutts and some of the things he tells us not to do.
Learn from the Big Overseer Himself
Although this video was made back in 2010, this video applies to everybody thinking of using automated content for their websites even now. Google continues to steer their search engine away from automated content. People who heavily use automated content for big websites they do, or just spend all their time spamming it on a bunch of websites they own, have little hope to build into any real business.
Do you want to be a benefit to society or do you want to be a rat that does everything possible to take advantage of the things you've graciously been given? The video below gives a good description of how automated content can hold legal implications due to how the content your copying from is copyrighted and how you run a much larger risk of killing any chances of success.
So what does this Mean?
If you want my opinion, don't do it to rank on search engines or use it to spam certain directories. The only thing I would use automated content for is simply content generation on a sub-domain I own. For example, say I wanted updated mini games on a gaming blog I operated. I would install the plugin that did that on a sub-domain (since I don't want to run the risk of my main domain getting black-listed/sandboxed/de-ranked/over loaded on the servers with new content) and allow that plugin to do its thing on that sub-domain. Then I would simply put up a banner on my main site while letting everybody know that site receives updated games on a regular basis.
But besides something like that, you don't want to do this for ranking on search engines, spamming it across online media, or any other type of site out there today. For one, Google is getting smarter with automated content and they're actually picking up on similar anchor text links that have the same text link to your site. So unless you have an intricate system that rotates a bunch of anchor text links, you run the risk of getting sandboxed for that very issue.
Next, you have to worry about legal implications it can hold. Since you're copying from content from around the web that's not yours, you could be held liable for copying from copyrighted content. Do you want to risk paying out a bunch of money to people all over the web because you copied content from there RSS Feeds? Do you want to risk somebody using a court order against you to keep you from copying there content? I'm not a lawyer or anything, but come on… Just use common sense.  This is serious!
Then finally, you have to keep your reader in mind. People aren't dumb. They know when they see content that looks weird or kind of doesn't make sense. Obviously when you use a plugin of some sort that pulls meta data from RSS Feeds from around the web, the content is going to be jumbled up and put together in a way THE MACHINE sees fit. If you know much about machines, you might know machines and humans aren't the same thing.
I think more importantly, are you willing to risk all the time to even be able to do all this stuff, and then have to worry about getting killed by Google's updates or somebody catching you in the act? I mean… it's almost like a kid trying to get candy from the store. (Note how I said candy and not the more expensive items in the made up store). That's like trying to get away robbing a sucker from the front of the lane. I have no doubt there are some really bad kids out there who get away with a lot of candy who stuff all of it in there undy-pants, but the real quest is do you want to be a bad kid? Don't make me get my grandmother's twig and give you a spanking.
Read this and contemplate on it.
"The reserve of modern assertions is sometimes pushed to extremes, in which the fear of being contradicted leads the writer to strip himself of almost all sense and meaning." By Winston Churchill
Don't strip yourself of all sense and meaning.
Please, give me your thoughts and feedbacks below. I'd love to  hear from you!