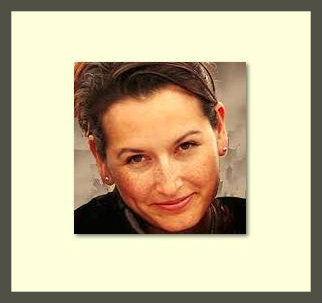 I am very excited today, because I have the honor to present you with a great interview with Annie Andre form AnnieAndre.com Practical Adventure-ology She and her family have moved to live aboard in Marseille, France this past year.   In this interview, Annie is telling you the Whole story, answering many questions you may have.
If you ever have ever dreamed about moving and living abroad in a foreign country you MUST read this, because you are going to get some valuable hands on information.  Annie really gives you some priceless pieces of information that you don't want to miss.

If you have never thought about moving abroad, you might still enjoy this interview, and learn a lot of things you never knew.  So, without further ado it's Annie's turn.
Sylviane:  So, my first question to you Annie is how in the world did you decided to move abroad to France with your husband and three children?
Annie:  I've always had the travel bug. I was born in Thailand to a French Canadian Father and a Thai mother. We lived in Thailand until I was almost five years old. After that, I spent time in both California and Montreal Canada growing up.  I knew early on I wanted to travel and see more of the world and because of my French Canadian side; I always had this draw towards France.
When I was 18 I thought about spending a year travelling through France but I couldn't find work so I ended up working and living in Japan for 3 years working as a model and English instructor. In between assignments I traveled to over 15 countries and I vowed one day I would try to live in France. That opportunity didn't happen until 20 years later 2011.
Sylviane:  How long did it take for this dream to go from the thought of moving abroad to actually being able to do it?
Annie:  I think I've been preparing for this my whole life. It's hard to explain but I knew sooner or later it would happen.  The actual time from the decision to actually arriving in France on October 6th 2011 took us just over 14 months.
Sylviane: What were the main challenges you had to overcome while preparing your move?
Annie: From August 2010 to October 2011 we literally had no home. We lived between Montreal and Maryland with Family, Friends and even stayed with complete strangers while we got our paperwork in order.
We could only keep what we could carry in the back of my husband's truck which was some suitcases, some personal effects like my son's guitar, my husband's books and a few toys.  I travelled with my sewing machine because I was making sleeping masks for my web based sleeping mask business.
Home-schooling the boys, was another challenge to do on the road, while running my business while also getting things ready for our trip to France.
Another challenge was to actually find a place to rent in France that was fully furnished that was also within our budget.  Most places don't even come with a stove when you rent them so finding one with everything included was quite a challenge. Most were out of our budget. But we found one in Marseille, and now that we are here it's easier to look for other places because we can actually visit them before we sign the lease.
Lastly, being around your family 24/7 for over a year straight travelling in a small truck up and down the east coast can be very stressful.  It put a huge strain on my relationship with my two older boys and I was really glad once we arrived in France and we all had our own space to live in.
Sylviane: What were the main challenges you had to overcome once you first arrived in France?
Annie: Learning how to set up basic things that you take for granted in your home country is a challenge.  Like what is the name of the electric, gas and telephone company? Opening bank accounts. Figuring out where to buy groceries, how to get places and get the kids enrolled in school. The first 2 months were literally spent just setting up house and learning the ins and outs of the French system. We had to learn it all at once and learn it quickly.
Sylviane:  Was the language ever a challenge?  When I heard you speak French to your daughter in one of your videos I detected in Canadian accent, did you learn French in Canada?
Annie: Honestly I didn't have much of a problem adapting except getting used to the French accent which is different from the French Canadian accent.  It's like being an American and then getting used to the Scottish or British accent.
I learned French from my father and from going to high school in Montreal.  My Father's side of my family is all Francophone dating back to 1680. "Yes, I was able to trace back my heritage back to my first French ancestor who first came to Quebec from Poitou France.
Sylviane:  If you don't mind me asking, what is your family legal status in France right now and how did you made it happen?
Annie:  My family has a "Visas de long séjour", which gives us the right to live in France for a year. We are not allowed to work so we had to prove that we could support ourselves.   This Long Stay visa allows our children to attend school. We can also open bank accounts, get library cards and other various activities required to live here but we must provide our own health insurance.
We made it happen by doing good old fashioned research. I called the French embassy up and then we provided all the required paper work. We had to apply twice because the first one was rejected for various reasons but overall it was pretty straight forward to make happen. It was just a lot of paperwork.
Sylviane:  How old were your children when you moved abroad to France and how well did they adapt?
Annie:  My two older boys were13 and 14 and my youngest daughter was 4. They all have adapted fairly well. The biggest issue was the friends my boys had to leave behind. It's hard to drag teenagers from their life.  But after about six months they seemed to finally adjust to being away from their school mates and they are making new friends at their schools.
I think since we had been to France several times before, it made it easier for them.   They don't much like living in Marseille. They find it too urban and we are looking into moving to a less urban city soon.
My youngest daughter who is 4 years old has had no problems adapting. She is quite a good traveler and knows the drills going through airports, train stations and bus stations. She's spent half her life on the road.  I have always spoken French to her since birth so she is perfectly bilingual and actually speaks French better than English. Her ability to move from English to French easily makes things much easier for her.
Sylviane:  What is your occupation in France beside blogging?
Annie:  Part of the reason I came to France was to accomplish goals. One of my goals was to start a web based service business helping that I can run from anywhere in the world.  I hope to help other families; couples and busy professionals learn how to take time off from life to accomplish their own personal goals like we are doing.  Over the past 20 years I have taken 4 total breaks to accomplish different goals.  This is my second break abroad. So officially I guess you could say I am a solopreneur in the early start up stages.
Sylviane:  What do you like the most about France?
Annie:  Food.  I love how the French appreciate food.  Food is savored and eaten slowly together not in a rush while you're running to your next appointment. I love all the little outdoor markets and cafes. I love that I don't see people running around holding their coffee in a paper coffee cup like you do in the U.s. People sit down and relax more…
Sylviane:  What do you like the least about France?
Annie: Nothing comes to mind except I am sad to see more and more fast food places popping up everywhere.  McDonalds, Subways seem to be everywhere.  I can't explain why I don't like it, I just don't.
Sylviane:  What are the first 3 most important tips you would want to give to anyone reading this and thinking about moving abroad anywhere?
Annie:
1-If you are moving to another country that speaks another language: at least learn a few words in that language.  It will make your life so much easier. You can order water, ask for the restroom, the atm etc.
2- If you can, spend a month abroad or a month travelling somewhere to prime yourself and see if it's what you really want.  Especially if you have kids.  The fact that we had travelled so much with the kids really helped to prepare them.
3-Unless you are loaded, make a budget for your trip for the duration of your trip. And give yourself a slush fund for unexpected expenses. There are always unexpected expenses. ALWAYS!!!.
Sylviane:  How long are you planning on staying in France? Are you home sick sometimes?
Annie:  We plan on staying in France for 2 years. We may stay longer but it's too hard to tell right now.
I don't miss the US.  I do miss Montreal a lot.  Mostly because I miss my extended family. I miss hearing the French Canadian (Quebecois) accent. I miss certain French Canadian dishes and I miss the city of Montreal.
Sylviane: I know that after over 15 years in the US I am home sick sometimes and one of my dream goals is to purchase my childhood's house, from whoever owns it now, and live there at least 4 months out of the year.  Did you ever thought about splitting yourself between the two countries?
Annie:  Yes I have often thought about splitting my time between two countries.  I'm not sure we would want to buy a house abroad but the idea of doing an annual house swap with another family for 2 to 3 months out of the year is something we've thought about doing in the future.
Sylviane:  Thank you so much, Annie for answering all my questions with such delicious details.  I am sure that whoever is going to read this is going to learn a lot about moving and living abroad.
So, what do you think? Did you learn something? Do you have other questions for Annie? If you do, please, leave a comment or ask your questions below.