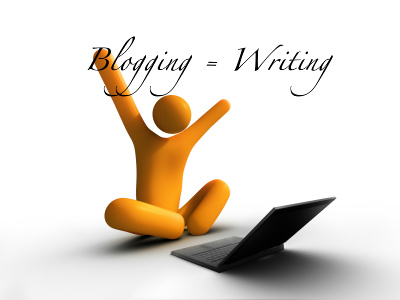 Today I'm honored to present you with a guest post by Holly Jahangiri, a professional writer. So, please, enjoy these 1790 words of writing wisdom…
This is where the rubber hits the road. You've started a blog. You've got this marketing things down pat. You've got accounts on sixteen social media sites. Twitter thinks you're a rock star; rock stars follow you on Facebook. But now, staring at that "Add New Post" screen, the ugly truth hits. You have to write something. Wait
Blogging = Writing?
Nothing will give a person "writer's block" faster than the sudden realization that they are actually expected to write something. Even if you have a topic – I mean, you do have a topic, right? Even if you have a topic, the whole notion of stringing words together to form sentences and paragraphs, blog posts and stories, books and reports and things becomes absolutely daunting when you stare at a blank page and tell yourself you have to do this.
And that's if you like writing, which I suspect many bloggers don't.
So what do you do about it? First, stop thinking about the blank page – even though you tell yourself you're not killing trees, that blank page looks impossibly perfect just the way it is, and it can stare right back at you until feelings of inadequacy set in. Next, tell yourself you're just going to throw some ideas out there, like spaghetti, and see what sticks. You'll think about sauce and side dishes later, but instead of thinking of your writing as something you post up there for others to read, think of it as creating a tasty little dish to nurture them. It may not turn out perfect, but if it's served up warm, tasty, and nourishing, with love and plenty of conversation to make them feel welcome, they'll be back.
Know Your Audience
Many bloggers – many writers of all sorts – assume that their readers are extensions of themselves – that they share the same interests, needs, tastes, and reasons for being, if not the same knowledge, experience, culture, and upbringing. Often, that's true – because only the like-minded feel welcome at the writer's table. Some bloggers wax eloquent about and judgmental towards others, making unfavorable comparisons to cultures they don't begin to understand. To disagree or share other experiences is perceived by readers as risky, even terrifying. And when communication becomes one-sided like that, there can be no meaningful exchange of ideas.
I have many friends, through blogging, from all over the world. We have more in common than many would believe – our basic needs and desires, such as shelter, food, water, clothing, and sex. We generally love our families, worry about money, value education, want to do more and see more of the world, enjoy good food, and have a few hobbies (blogging, of course, being one) in common. These things establish some common interests, but it's the differences that make for interesting conversations around the dinner table – or in blog comments. It's the differences that make people want to read, because really, if we all shared the exact same experiences and opinions, wouldn't it just be boring to rehash them endlessly in blogs?
So who are your readers? What do they need or want from you? Have you ever thought to ask them? Next, ask yourself if it's something you are willing and able to give them. Let's explore this a bit more in the next few sections.
Write (From) What You Know
I can tell you, as a writer, that if we took the advice to "write what you know" literally, the world would be full of boring books. Maybe that's why it is full of boring books, and why there are 185 million blogs that will mostly fade into obscurity unmourned. Maybe it would be full of really interesting, but poorly written books – written only by doers, not thinkers. But writers are often the intermediaries between the adventurous and the world; we are empathic imaginers of the human spirit; we are curious children, always asking, "What if…?" and "Then what?" and "But what about…?"
Would it make sense for the mother of ten to write a blog about remaining childless as a lifestyle choice? It's not as far-fetched as it appears, on the surface – not if that mother is open-minded and sympathetic to women making their own choices. It could be a judgmental disaster; or, she could knowledgeably write from the perspective of a woman who was once childless and that of a woman who later became the mother of ten. On the other hand, a woman who is an only child, who never babysat, who never had kids of her own, may actually have a narrower view and less relevant experience to draw from. In either case, they might write more credibly if they stuck to their own reasons, choices, and experiences and invited contributors and commenters to share other perspectives.
First-hand experience or research is critical if you want to set yourself up as an "expert" on something. And no, most other blogs don't count as "research." I suspect many bloggers are unfamiliar with the notion of primary, secondary, and tertiary sources. It's important if you want to write credibly –
primary source – straight from the horse's mouth (letters, photos, first-hand accounts of things by those who have direct experience)
secondary source – scholarly works written from primary sources
tertiary source – hearsay, mostly – stuff compiled from secondary sources, such as textbooks or encyclopedias
For scholarly work, you'd want to stick to primary sources if at all possible. Your work would then be a secondary source. If you're in elementary or secondary school, it may be hard to gain access to primary sources, and you will have to make do with textbooks, encyclopedias, and other scholarly work. For the most part, there's a reason teachers won't accept tertiary sources in a bibliography and why they cringe at students using the Internet for serious research – they're unreliable and not authoritative, and it takes experience to recognize a credible source on the Internet.
But you are an expert on your own personal experiences and opinions, aren't you? Your blog can either be a tertiary source, cobbling together the second-hand hearsay and opinions of others, or it can be a primary source of your own first-hand knowledge of a subject. Think about which you'd prefer it to be, and write accordingly.
Solve Your Readers Problems
It generally helps if you've solved your own, first. Have you ever figured out how to do something, then noticed a lot of people asking the same questions? Odds are, that's a great post in the making, for you. Share your solution and give step by step instructions that will help others solve the same problem in half the time you spent beating your head against the wall figuring it out. They'll love you for that.
Shoot – admit you have problems and ask your readers to help you solve them. That helps to make the communication flow both ways, and they'll love you for making them look and feel smart, and useful. Maybe someone will save you from beating your head against that wall!
How Do I…Figure Out What Problems My Readers Have?
Here are just a few ways to figure out what problems your readers have that you can solve:
Ask them.
Go to Google AdWords Keyword Tool and do a search for the phrase "How do I" and sort by the number of searches. If you want to narrow it to a topic in which you have some special knowledge or expertise, add more keywords. If you want Google to suggest something based on your existing blog or website, enter that – though for some reason, Google thinks I ought to write a how to article on getting your own credit card. So use some common sense and pick the ideas that resonate with you – not just ideas based on the most popular searches. I have no idea why Klout thinks I'm influential in PayPal or Google has decided I'm the credit card queen.
Read similar advice on other blogs and do a round-up post with your opinion on which are the best and worst ideas for solving common problems.
Captivate Your Reader
Notice the subtle difference between the words "capture" and "captivate." To capture requires a certain degree of skill, cunning, or brute force – something the astute reader will recognize as a trap and avoid. To captivate requires the ability to attract and to hold – by charm, beauty, or excellence. The difference here is not subtle; a prisoner or a wild animal is captured, but a friend is captivated. A reader who is captured will eventually escape; a reader who is captivated will want to return, again and again. To capture is to take away freedom and choice; to captivate is to be chosen by the free.
How do you do that? Be a good story-teller. Fiction or non-fiction – it doesn't matter. Both require story-telling skills. Form the vision in your reader's mind, so that it's a shared image of how things are or ought to be. Don't wield your pen – or PC – like it's a cudgel filled with facts or opinion you're going to use to beat the poor reader into submission.
But…
If you honestly don't feel that you have any special knowledge, skill, talent, expertise, or point of view to share – or you aren't feeling charming, charismatic, full of quirky personality, or at least mildly interesting to your own cat – or you don't feel you have it in you to write something fairly coherent, let alone excellent, then ask yourself, "Why did I feel a need to start a blog?" or "Why did I think I wanted to be a writer?" It's not as glamorous as it's cracked up to be, nor is writing – or blogging – a particularly lucrative field for most who think they want to claim it as a profession. It's work, it's art, it's frustration – and ultimately, if it's the one thing you know you do really well, the thing that makes your blood flow a little faster, then it's probably the thing you're going to end up doing and enjoying and calling a "vocation." But remember – if you're just in it for the money and the whole exercise feels painful, that's probably a sign that you're really meant to do something else. And that's okay, really! We're not all cut out to be underwater welders, either – but it's a valuable and necessary profession that probably pays ten times better than being a writer.