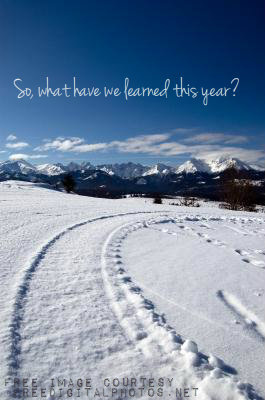 This is the last post of the year on this blog, so I thought that I would do a little recap of some of my posts for the year 2012.
Just in case you are still new to this blog, I  post here every Wednesday morning at around 8 AM EST.
My posts are meant to help you understand how our mind and subconscious mind work in accordance to the laws of the universe, our intuitions, and the spiritual beings that we are as humans.
Even though this blog started back in 2009, this was the year where I decided to dedicate much more time and true meaning to my posts and the whole blog in general.  I wanted to find a way to attract readers who would actually enjoy the lessons and tips that I discuss here every week.  As I have been observing from the comments I've receive throughout the year, I think that you do.
Life Coaching
In case you don't know that about me, I am working at building my Life Coaching business, because my knowledge and life experience in this domain have made me someone who can actually help others to get on the right track to succeed in life.
A coach is NOT someone that is going to do things for you, but someone that will show you the way for you to take the RIGHT actions to get on the RIGHT tracks.
Just like a school teacher is teaching a child how to read, write and count, but can't do it for him or her.  Most of the time, that's all we need in life, someone to SHOW us the way.  It's when I started realizing how many people I was helping and consulting for free, that I thought I could do this more professionally.  In today's internet world this was totally possible, and this coming year will most certainly be a productive year for my Life Coaching business.
Coaching People Through this Blog
One way that I do try to help people out there, and for free, is through this blog.  I usually discuss topics that I know people may have issues with or misunderstandings about, and I usually give very clear examples that are either real examples that I or someone I know have been through or more general examples that support what I am talking about.
Very few of the people that I actually physically know (not online) go on my blogs (if you have a blog, you probably know what I mean), but to my surprise someone who I know well, came to this blog not too long ago, read my post about the Law of Detachment, and told me that it was all so clear to him because of the way it was explained.
This is exactly the type of comments that let me know that I am on the right track, and that my articles are not in vain.  This is the type of comments that I get more and more and tell me that I have to keep going.  You are the reason that lets me know that!
So Let's Recap Some of this Year Posts…
One of the strong emotions that prevent most people to move forward or sometimes even take a step back is FEAR.
I've written two posts about fear this year. The one on this blog is titled How to recognize your fears and deal with them, and one of them is a guest post at my friend Donna Merrill's blog titled The 3 fears that will prevent you from succeeding.  If you feel that you have fears or even if you're not sure, go read those posts.
Being Grateful and Happier
I've written a few posts about learning how to be grateful and promoting a positive attitude in order to attract more positive outcomes in our life.
If you are not sure how much a good attitude will contribute to your success, please take the time to read why should you be grateful? Why should you laugh everyday, Building a positive attitude among negativity, and 3 ways of giving thanks that will benefit you.
Getting More Business
Who doesn't need more business?  Well, maybe you don't, but most online marketers, entrepreneurs or even work from home moms would welcome more business, don't we?
While some people seem to attract business and money rather easily, others seem to struggle all the time. Who would you like to be? Earlier this year I've written a series of 4 posts about how you can attract more business in your life with some easy tips and actions that you can take to become more successful.
Getting Off the Victim Road
When I speak or consult with people I hear a lot of victims.  Not poor victims of a crime, no, not that type of victims, but the kind that like to complains about their lot in life and always seem to say "poor little me".
For this reason I've written two posts on the subject.  Does the victim road lead anywhere? And How to break the victim mentality. If you tend to feel like a victim sometimes or even often, you need to read these two posts.
Attracting More Riches
Do you want to attract more money into your life? If your answer is yes, then find out why you are still broke, why you can't imagine yourself rich and what you need to do to put yourself in alignment with success.
I've also written a series of the 7 main laws of the universe that will you understand better how those Universal Laws affect your everyday life and how you can  use them to your own advantage.
Interviews
I've conducted two interviews this past year. I Will definitely try to do more this coming year.  However,  during this 2012 year I interviewed Donna Merrill, a personal development expert and psychic, and Melody Fletcher a Life Coach and Law of Attraction expert.  Both have a lot of experience and knowledge in their area of expertise and if  you haven't read these interviews yet, I encourage you to do so.
I hope you enjoyed this blog throughout this year and will come for more this coming new year!
Please, leave any comments or thoughts you may have down below!