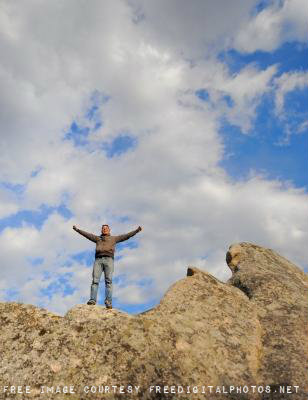 The law of detachment is another very important law of the Universe.  The law of detachment is rather easy to understand compare to maybe more tricky laws such as the Law of Resistance or the Law of Allowing.  However, this law is not always easy to apply.
As a matter of fact, I've heard life coaches saying that there are two kinds of people, the ones who can practice the law of detachment easily, and those who don't.  This doesn't mean that it's hard to practice this law, it's because the the law of detachment is all about trusting the forces of Universe.
What is the Law of Detachment?
The Law of Detachment is when you combine your intentions and detach from the outcomes that your desires will manifest.  Christy Whitman
The Law of Detachment is the ability to detach from what you have a burning desire for.  We are using the law of detachment, in order to release any type of resistance which would prevent us from getting the very thing that we want to attract.
Let me illustrate the Law of Detachment using a common situation that you may have observed yourself.
Let's say you are looking for a job.  You've been searching and searching for that darn job for weeks or even months.  You've done everything in your power to find a job, and you've finally found one.  Now, as soon as you've got that long time coming job, your phone starts ringing off the hook with other job offers.  One after the other.  Now you don't only have a job, but you have plenty more opportunities coming your way.  The only thing is you don't need them anymore, but they keep on coming for a while.
For weeks or months you couldn't find a single job, and now that you've finally got one, many more opportunities are showing up.  This is the law of detachment at work.
The reason why it was so hard to for you to find a job is because there were a lot of resistance going on, as you were anxiously searching.  However, once you've found that one job, you finally detached from the whole situation.  When you detached, you released all anxiety and resistance and you let the Universe do its job, which is deliver what you've been asking for. In this case a job.
This works the same way all the time.  No matter what you are searching or asking for. It could be a companion, a car, a pet, or anything else.  Usually, when you've found what you were looking for a lot more of that will keep appearing for a while, because of your detachment from it.
Why do we Need to Detach from What we Want to Attract?
Why on earth, since we have to concentrate so hard on what we want to apply the law of attraction, do we need to detach from it in order to get it?  Well, first, because it's a Law of the Universe.  It's how it works. Why do we fall down if we jump off a cliff?  Well, because it's one of the laws of our Universe.  That's how it is.  But also because without such law we would be floating in the air rather than walking on the ground.
We need to detach from what we want to release resistance.  While you take all the law of attraction steps you need in order to bring about what you're asking for, you need to detach from it by releasing it to the Universe.  If you practice the law of attraction every day, but keep saying or (thinking) where is my stuff, already? You are not detaching, you are actually activating a resistance to it. Where is it? I've been asking for it and it's still not here! Now I'm even starting to get mad!  Just wait a little longer and I'll be starting to blame something or someone for this. No, no, no.  Do not do that!  Calm down and tell the Universe that you are releasing everything, trusting it will take care of it, with the assurance that you can't fail, because it's the law.
My Own Story of Detachment That Attracted More of what I Wanted
When I was 16 I stared to develop a strong obsession with the then (still is really) number one most famous French actors.  (Well, there were really two, and he was one of them). I day dreamed about him, visualized me with him, I could mention all of his then 60+ movies by title and date. I knew the name of his characters in each one of those movies and I knew the dialogue of some of those movies pretty much by heart.  Needless to say I was activating the law of attraction on steroids.  I wanted to meet him so bad.
Five years later this actor who had played only in movies for the past 25 years decided to go back to his first love, live theater, for a grandiose play.  I convinced my mother to make the trip to Paris to see that play, and we did.  I finally saw him in flesh and bone.  My dream had come true.
Even though I didn't know anything about the laws of the Universe back then, when that happened I did finally detached.  And because I did, more opportunities to meet him happened to show up.
Only  a couple of months later I happened to move to Paris to pursue my Drama studies while that play was still going on.  To make a long story short, I ended up befriending the actor's chauffeur and a member of the theater management personnel.  Soon enough, I found myself backstage able to hug and speak to my star. (I wish I could show you one of the pictures we took that day, but they are in France at my mom's house).  After that, I saw that actor on another few occasions, and I even saw him again across the ocean in New York. The law of attraction kept putting him in front of me over and over once I detached from my obsession.
It took me 5 years to see him for the first time.  But once I did, I saw him again and again, even when I absolutely didn't expected it thousands of miles away in another continent.  I mean, really, what are the odds you are going to run across your favorite movie star (from another country) on Madison Avenue, and actually spot him in that crowd? Well, close to none. And as you know, I don't believe in coincidences.  All that happened because I applied these two powerful laws of the Universe – the Law of Attraction, and the Law of Detachment. So, it kept on coming.
The Oprah Story of Detachment that Attracted what she Wanted 
Oprah became obsessed with the story of "The Color Purple" when she read it.  She bought a copy of the book to all her friends and as she says, she ate and slept "The Color Purple".  So like me with my actor, she turned on that law of attraction on steroid, and all she needed to do at this point is detach.  When she got tired of waiting and waiting for her miracle to happen to play a part in The Color Purple, she prayed to be able to release and detached.  Which she finally did. As soon as she did, she got a call from Steven Spielberg.  You know the rest of the story.
Here is her story in her own words.
The law of detachment goes hand in hand with the law of attraction and the law of allowing.   Do everything in your power to activate the law of attraction for what you want, but don't forget to detach as if you had already received what you want. Once you do, it will all come pouring down to you.