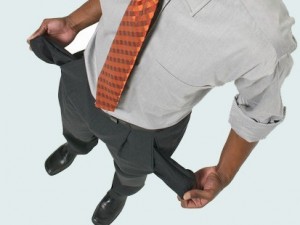 You have been acquainted with the law of attraction for a while, you might have your self-talk and your vision board all set up, and you are even working hard towards your goal by taking daily actions.  However, for some reasons, no matter what you do you are still broke.  Why are you still broke?
If you are like me this is a question you might have asked yourself many times, even more so when you became aware of the tricks that you need to play to your mind in order to change your programming.  So, why is it that you are not rich yet and what can you do about it?
In this post, we are going to analyze two reasons, which are the main reasons why even people who know about the law of attraction and subconscious mind may still be broke and feel that there is no way out for them.  These two reasons are, how you see yourself and how do you feel about money.
How do you see yourself?
I would say that the number one reason why people see a status quo in their life even though they strive for a financial change is because of the way they "see themselves".  I am not talking about what you see in the mirror in the morning when you shave or put your make up on.  No.  I am talking about what is the person deep inside.  How you see YOU.
For example, if you've spent your life living in a victim mentality you might really be a "victim" inside.  If you have spent your life being broke, you might still be poor inside.  If you have spent your life being bossed around, you might still be "weak" inside.  The point is that as long as your deepest thoughts and feeling still reside inside you, and those thoughts and feelings are not in any way in alignment with positive results, you won't be able to receive what you want.  However, you will keep receiving what you are projecting.
To apply this to money, specifically, you won't be able to attract money as long as you see yourself as a poor person, because that's all you've ever known and experienced and that what your are projecting out to the universe.  However, don't get discouraged.  You can fix this as we will see below.
How do you feel about money?
Really, truly, how do you feel about money?  I know a lot of want-to-be wealthy people who still have a weird relationship with money.  Some of them even have prosperity blogs and still write mixed messages about wealth, money and prosperity.  Guess what, if you still have confused feelings about money, you will have a hard time attracting lots of it.  It's that simple.
OK, let me give you some concrete examples.  You might be a network marketer, for example, saying that you want to replace your income and eventually become financially free with your business.  That's great.  But then, you go online and you write about not wanting to be the richest person in the world and be content with taking care of your family.  You write about money not bringing happiness.  You write about great and very inspiring stories about people who are truly lacking in the money area.
Is there anything wrong with this? No, not at all (in a way).  But what's truly wrong is that somewhere deep down you "believe" that money is not that great and certainly is not the bringer of happiness.  So, why would money want to come your way?  It won't.
For most of us, somehow, there is a very STRONG negative feeling about money and wealth (yes, even when we say that we want to be financially free).  Somehow, money is still linked with negative beliefs.  Somehow we link rich people with selfishness or worth even, dishonesty.  Unfortunately, such deep beliefs and feelings are affecting the money that may or may not come into our lives, because it's the law.  It's the law of attraction.  To really attract the type of money you want you need to change the way you see yourself and money.
See yourself in a new light
If you are so used to see yourself in any type of negative situation, you need to learn how to see yourself in a new light.  When you refuse to see yourself under any type of negative light such weakness, lack, hopeless, sickness, old age, being average, etc… you will start seeing yourself in a new light.  Give yourself the value you DESERVE.  Too many of us underestimate ourselves.  We put a china dish under a glass box in a museum and we value that object at thousands of dollars, but we, the viewers of that inanimate object, see ourselves as nothing more than a broke, insignificant person.
Many of us think just like that.  We have it completely wrong.  We need to see things as they really are and value ourselves above all.  This has nothing to do with starting to be arrogant.  No. This has to do with valuing ourselves more and putting ourselves in alignment with the type of wealthy that we desire.
See money for what it is
Money is not bad, if anything; people can be bad and use money to do bad things.  As a matter of fact, some people can be so bad that they do not need any money at all to do bad things if they want to.
Money is not a master.  Money is a servant.  Stop thinking that having too much money will make you bad.  If it does, then you need to fix those problems now, not money.  Money doesn't need any fixing.  Money has been, money is, and money always will be the same thing – a neutral resource that can help us do great things the world over, and improve our lives in many ways.
Now that you've read this, how do you see yourself and how do you see money? Your answers should give you a clue about where you are now financially.  Are you still broke? Are you wealthy? Where are you? Please, do tell us…