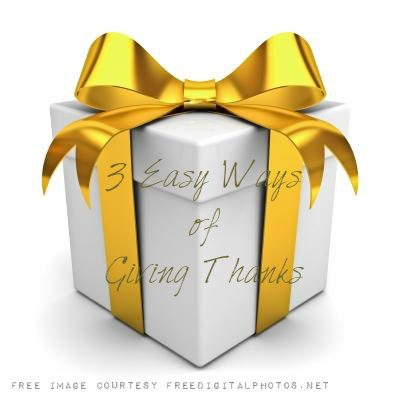 Have you ever thought about the benefits of being thankful and grateful for what you have every day?  Since this is Thanksgiving week, I thought that it would be appropriate to write about giving thanks and the benefits and positive results that you can get from giving thanks every single day of your life, and not just once a year.
Are you Saying Thank You Every Day?
I know that this week people will sit at the Thanksgiving dinner table and give thanks because they are reminded of doing so on this American National Holiday of Thanksgiving.  But, is giving thanks something you're thinking about every single day of your life or just that one time a year?  It doesn't matter in what superior force you believe in, may you call it God, or the Universe, and whether you are a devoted religious person or not so much; you should be thankful and grateful each and every day and say so.  Why is this so important?
Why is it so Important to be Thankful Every Day?
It's very important to be thankful every day, and not just once a year, because the more thankful you are, the more you will have to be thankful for. This is so because of the Law of Attraction effect.  The Law of Attraction dictates that you will attract what you already "feel you have" (not want you want to have while feeling empty or even angry).  The Law of Attraction doesn't care that you have it or not, you need to "feel" that you do have it in order to work for you.
When you feel that you do have something to be thankful for, whether it's already here in your physical world or not yet, you are sending high vibrations out to the universe and by law the Universe will give back to you according to the vibrations that you are sending out.  By being thankful for what you already have and what you want to have as if you already had it, you are attracting more good things to you.  This is the very simple equation of the law of attraction, and it doesn't matter how many articles I can write about the subject, it all comes down to this simple fact.
Here are 3 simple ways that you can be thankful everyday and turn them into a habit so you will never forget about being thankful.
1 – Wake up Every Morning Giving Thanks
I know it may sound cliché for some people, but I wake up every morning saying thank you before I am out of bed.  When this becomes a habit, you won't get out of that bed without saying thanks first.
Every morning as you open your eyes think about a handful of things you are thankful for and say it out loud or at least in a whisper.  Need some ideas?
By thankful for your health, for the meals that you can afford for that day, for your family, for your work, for the very bed you are lying on, for the activities you may have for that day, for your children, for your husband/wife, for your pets and for whatever you may work on having but don't physically have quite yet.
There are so many things you could be thankful for, I could fill up a list with this post with those alone.  As you do this you will start counting your blessings.
2 – Take a Grateful Walk
Anyone who knows me would tell you that I am a walker. I love to walk and I can swallow miles and miles with no problem. When I used to live in New York City I used to walk at least 5 miles a day (that's probably what I loved the most about New York City).  Unfortunately, I wasted my time as for using my mind during those walk was concerned.  Now, I don't only use my walks for my physical health but my mind is very involved in it as well.  I do what Carol Look, Tapping expert calls a "Grateful Walk".
What is a grateful walk?  Well, Carol Look suggest that you walk at least 10 to 15 minutes a day while you think about all the things you can be thankful for and mention them (speak them out) as you walk.  The positive energy of both walking and giving thanks creates an incredibly high vibration, and by the time you are done with your walk you will feel super energized and happy.  Not only you've given thanks to God and the Universe but you've put yourself in the perfect mode to receive, which is high vibration mode.
I practice grateful walks just about every day. Try it and you will love it.
3 – Practice Thanks Giving Tapping
If you are not familiar with tapping you can check this out and you will have a clear understanding about what tapping is and what does it do for your vibrations.  Tapping works a bit like acupuncture but instead of using needles on specific areas of your body you use your fingers and tapping gestures.  Tapping is used to release energy of the body and it's perfect for "blocked energy" that sometimes prevents your mind and body to function as it should.  In this sense it works a lot like acupuncture as it can help and heal both emotional and physical issues.  I use tapping for everything for the past 5 years, and I use tapping to give thanks as well.
You can give thanks especially for what you may not have in your life yet.  For example, you may be saying things such as:
I am living in the perfect home for me
I am more and more successful by the day
I have the perfect occupation that makes me happy and fulfilled
I have the perfect partner, husband, wife…
I have all the time that I need to relax
I enjoy perfect health
I love my life and it's getting better and better everyday
You can also end your tapping session by saying things like:
Thank you God for bringing me…
Thank you Universe for allowing me…
Thank you God/Universe for giving me…
Thank you God/Universe for revealing …. to me…
You can create your own perfect thank-giving-tapping session by writing it down and saying the phrases as you tap (as shown here) every day before going to bed. If your time allows you could do one session in the morning before starting your day and one at night before going to bed.
So, before I go I wanted to thank you for coming to this blog on a regular basis and for leaving great comments and feedbacks. I'm so ever thankful for this and appreciate you very much!
I know I have to do my own tapping video, but for now here is a thanksgiving tapping session.