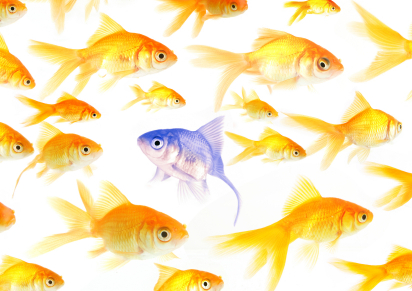 Let's be honest, being a happy shiny puppy, as Melody Fletcher lovingly calls it, is not always easy.  We are all faced with challenges that life throws at us which may affect our mood in a negative way.
Even though none of us were born with a negative spirit, the way we were raised, and the circumstances we found ourselves in as we were growing up has a lot to do with our attitude towards life.  However, no matter what conditions you grew up in, at some point, it's up to you to say, enough, and take actions to change things.  If you don't, there is no hope that anything will get better in your life.  As a matter of fact, I can assure you that it won't.
Unfortunately, most of us didn't grow up in a household where we were told about the law of attraction and other laws of the universe or how the subconscious mind works; did we?  This doesn't mean that we grew up with bad parents or that we weren't happy.  No, not at all, but there is a difference between having grown up with parents who loved you and did their best to raise you, and parents who knew and understood how to teach their children how master health, success, wealth, relationships, and spirituality.
If you were born in a family that gave you all that, then you might have nothing to learn, but just enjoy your life in bliss at this point.  But if not, it's time to learn how you can build a positive attitude amid the negativity around you.
Why is Negativity the Most Prominent Mind State for Many People?
If positiveness was common change in our world we would never hear of war, crime, depression, theft, suicide, hunger, or even diseases.  So, in case you were in doubt, most of our world is pretty much surrounded by negative feelings and vibrations.  Then, because of new technology we have the media which is able to elaborate on such negativity by showing it to us live and talk about it for weeks, months and even years after the fact.  They are doing such a good job that it's not hard for anyone not naturally optimistic to lose any hope.  However, if you don't want to repeat the history of your parents and grand-parents, you must find a way to break though and break the cycle of negativity.
Why am I Talking About your Parents and Grand-Parents?
Besides the rest of the whole wild world, there is another world, much smaller, which has even more impact on our life.  This world is called family.  Our direct family is the most important world who is going to affect us as a person, and how we are taught to perceive things in life.  The good news, however, is that we, as the human family, are getting closer and closer to our higher self as generations go by.  If you take a look at your own background I am certain that you can see that.
For example, when my mother was a child there was no such thing as "listening" to what children had to say.  As a matter of fact, my mother who used to love to talk was often made to "shut up" either with vocal warnings or by an adult's hand on her mouth.  Back then, there were very few people who would even have thought that this type of behavior on a child could have a very negative effect.  This is just one example of the type of mistakes that adults use to make with children.
Today, however, most cultures understand that such behavior would bring about some type of negative effects on a child all the way to adulthood. But that's now.
When my mother became a mother herself, she sure made sure that my brother and I could say whatever we wanted to say.  ALWAYS.  She knew first hand the frustrations of having an adult to make you shut your mouth when all you want to do is ask a question or express yourself.
In this case, the negative effects of such action stopped right there.  However, that doesn't mean that they all did.  Some of the things that my mother "learned" as a child she unwillingly transmitted to her own children.  This is why many of our deep rooted beliefs about money, achievements, relationships, God, life or death are not really coming form us, but before us.  From generations behind us.  This is why when I try to go beyond my fears; I am not only going beyond my own fears, but beyond my mother's and even my grand- mother's fears.  It's up to me to break the vicious circle, no matter what that may be.
We Are Taught Negativity by Default
We have been taught negative things, not by lack of love, but by defaults, which has had more or less impacted on our life.  The point is to recognize it and do our best to snap out of it.
When I got to my teenage years I started to analyze a lot of things that I had "learned" by default and seriously started doubting them by using my own brain to see if they made sense or not.  One of the first things my brother and I got rid of was superstition.  My grand-mother was a superstitious machine and she passed some along to my mother.
My brother and I had two choices; we could keep the family tradition and be ruled by superstitions like my mother and grand-mother were, or we could just CHOOSE to cut it out by NOT BELIEVING in such thing.  Fortunately for us, we chose the second option.  The one choice only freed us from all the negative effects of superstition. Eventually, because we chose freedom from superstition we even helped my mother to get free as well.
How can you Build a Positive Attitude Amongst Negativity
The world is growing spiritually; there is no doubt about that. That's why you are seeing all those blogs about personal development, many life coaches coming into the scene, spiritual growth seminars, self help books, etc.  However, we are still living among the naysayers and even evil people out there.  But this doesn't need to stop us in our search for positive attitude, because positive attitude brings about positive results.
God or the Universe, whatever you want to call it, gave you a marvelous brain, and you need to use it.  One of the most marvelous ways we can use our brain is to "question" things and think.  Some people may do it more naturally then others, but we can ALL do it.
Choose to be with people who are more positive and up building, and less with people who are not.  Develop a habit to read personal development blogs and books.  Learn more about how you can change your subconscious mind programming and how to improve your life.  Learn how to meditate and get acquainted with the person inside.  By doing this you can and will be able to build a positive attitude amongst negativity.
So, it's your turn. What do you  have to say about building a positive attitude and what are you doing about it?