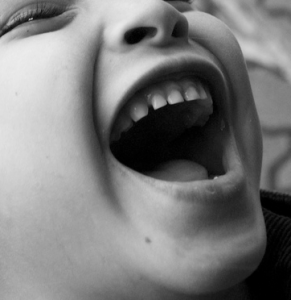 Laughter is a universal language that everyone on earth, regardless of where they come from, can understand. Laughter is a gift to the human race, and something we are born with.  Babies start smiling at only a few weeks old and laughing only after a few months, way before any syllables can come out of their mouths.
Do you remember how often you used to laugh when you were a child? When I was a kid I had bursts of what we call "crazy laugh" as the literal translation to the French expression goes, what is called giggles or belly laugh in English.  Unfortunately, we tend to lose this ability to laugh hard as we get older.  As a matter of fact, studies have shown that the average child laughs around a hundred and eighty times a day while the average adult laughs only a dozen times a day.
So, why is it so important that we laugh in our daily lives, and what can we do to make us laugh more?
The Physical Benefits of Laughter
Laughter has physical, psychological and emotional benefits and we should not take laugh lightly "so to speak", but find ways to laugh on a regular basis.  Why am I saying this?  Well, let's see what the benefits of laughter are, and why you should laugh every day.
As most of us know, but worth a recap, laughter releases natural chemicals in the body called endorphins.  Endorphins promote a sense of well being.  Laughter boosts the immune system, relieves stress, decrease body pain, improve blood flow and blood vessels functions and even improves weight loss.  Laughter brings the mind and the body into balance and relaxes your muscles until much after your laughter is over.
Indeed, laughter is a natural medicine that won't cost you a dime and that has no side effects, except those that you only wish for.
The Psychological and Emotional Benefits of Laughter
Your sense of humor is one of the most powerful tools you have to make certain that your daily mood and emotional state support good health.

Paul E. McGhee, Ph.D.
Laughter has many emotional benefits.  When you laugh your mind is in bliss. While you are laughing it's impossible for you to be able to concentrate on anything negative.  You can't feel bad, sad, angry or anxious when you laugh.  A simple way to describe it, laughter makes you feel good.  As any student of the law of attraction knows, feeling good raise your vibrations and high vibrations bring more positive things into your life.
Laughter is also a relationship enhancer.  It brings people closer to one another, it lessens judgmental behavior and improves forgiveness.  There is absolutely no downside to laughter and it really helps you to be more in alignment with every positive psychological and emotional aspect of your life.
What Does Laughter Have to do With Prosperity?
As I mentioned above, laughter raises your vibrations and vibrations have everything to do with what you attract in your life.  When your vibrations are low it's usually the result of feeling bad, sad, depressed, doubtful, angry, anxious and all such negative feelings.  When you are feeling negative emotions, your vibrations are low and you are bringing about results of the same vibrations which means that you are bringing negative results into your physical world.
Laughter, on the other hand, will annihilate all such negative vibrations and replace them with healthy vibrations that are looking to line-up with positive results.  In the end, positive results will bring you closer to the prosperity you are after.
How Can you Increase your Opportunities to Laugh?
First thing you need to do to be able to laugh more is to surround yourself with fun people.
Life has enough drama so we don't need to surround ourselves with people who have no sense of humor whatsoever and who take everything seriously.  Laughing is contagious but, so is gloom. If you surround yourself with gloomy people it will most certainly affect you.  On the other hand, if you surround yourself with people who like to laugh and who enjoy life, it will rub on you, and ultimately you will benefit from that.
I try to avoid gloomy and negative people by all means.  The more I surround myself with happy people, the happier I am.
Laugh at Yourself
Too many people are taking themselves too seriously.  Laughing at yourself is the best way to make it through the day, no matter what happens.
A few years ago, I was in a department store with my mother and aunt and my aunt and I needed to go to the bathroom.  I guess we waited too long, and we really had to rush pretty fast to the restrooms.  Because of this, by mistake, we entered the men's rooms.  There was nobody in there, so we just went each one into a stall without realizing that we entered the men's rooms.  As I came out I saw a man there.  He really looked terrified and so did I.  When I realized that we were in the men's room I really panicked and was yelling at my aunt to get out of there like from a house on fire.
I felt so embarrassed for a moment.  However, later, thinking about this made me laugh so hard, my stomach hurt.  That guy's face, when he saw a woman in the men's room was a mixture of confusion, surprise, and disbelief.  Then, I can still see my aunt and I running out of there like something very dangerous was pursuing us.  Frankly, that was a funny situation. To this day, I can't help but laugh when I think about this.
Do you laugh at yourself or do you take everything seriously?  Life is not always fun and things that happen to us are not always laughable, but unless it's really serious, do try to see the funny side of it.  Keeping good spirits at all time is using the law of attraction to your own benefit.  It works and it never fails.
So, when was the last time you laughed hard? Please, do tell… in the comment area below for the world to know and laugh with you!