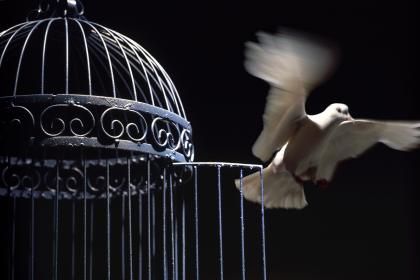 In my last post I discussed the issue of taking the victim road and where such road can lead us if we decide to take it.  In this post I wanted to talk about the choices that we can make to avoid being a victim by breaking the victim mentality.
When you learn how to break free from a victim mentality, wonderful things can and will happen to you.  No victim is successful and not successful person is a victim.  Remember this the next time you feel like a victim and want to complain about your lot in life.  What YOU make you to be is what you will be.
"Self-pity is easily the most destructive of the nonpharmaceutical narcotics; it is addictive, gives momentary pleasure and separates the victim from reality."
John W. Gardner
Don't you love that quote? Very powerful indeed! Yes, self pity can be compared to a bad drug. Something you feel like you need and makes you believe you feel better with.  However, like drugs it is destructive.
Why do some People Like to be Victims?
That's a good question, isn't it? Why do some people like to be victims?  Many people who like to be victims are looking for attention and comfort.  By being or playing victims they are looking desperately for people's pity, attention, care and even praise. In other words, they are trying to fill a personal void by someone else's validation.  Needless to say, it's not healthy.
When you have a victim mentality you tend to not take any important action, feel sorry for yourself, and not feeling responsible for what's happening to you.  If you feel that you have felt like a victim for a long time or maybe all throughout your life, it's not too late to get out of the victim road and break free.  But as anything else in life, it will take determination and action on your part.
Breaking out from the Victim Mentality
Breaking out a habit is never easy, and I am not about to lie to you and tell you that it's all going to be fun, and easy and that you will feel just fine over night. No, but it's worth it to breaking out from being a victim.
When you start thinking less like a victim and more like a victor it's really a mind metamorphose.  It's like making a 180° turn, but the good news is that it doesn't have to be sudden, it can happen gradually as it is easier and less painful that way.
Do you remember when you were a baby? You didn't start running over night, did you? No,  you first started crawling until you could start walking slowly.  After that, before you knew it, you were able to run all over the place.  It wasn't painful; it was just a step by step from sitting on your butt to be able to run around the kitchen table.
So, what step could you be taking to move forward from a victim mentality to a victor mentality? Here are the four most important ones.
1 – Take Responsibility
I know it might be a hard one, but in order to break the vicious cycle of a victim mentality is to start taking responsibility.  The most common pattern that people who feel that they are victims show is that they are not taking responsibilities for anything, and tend to blame others for their situation. They blame their parents, their spouse, their job, the economy,etc.  The list goes on and on.
When you start taking responsibilities, however, you stop blaming anything or anyone else, but you.  Even though this might be a little difficult at first, you will notice rapidly that it also feels empowering.
When you start feeling and BEING responsible for whatever is happening in your life, you also start feeling that you are taking control.  When you start taking control, you do not need any more validation from other people.  You do not need them to feel sorry for you or praise you.  When you start being responsible for what is, you start finding an inner peace and stability that gives you the punch to move forward.
2 – Cultivate Gratitude
If you have a hard time finding things to be grateful for, it's probably because you have not search very far.  Ask yourself the question; are there people in worse situation than me?
Look around and see what you have.  Are you healthy? Are you able to walk? Are you able to see, hear, feel, or touch? Do you have to think about where your next meal is coming from?  Are you driving a car to get where you need to go? Do you have a family caring about you? Most people reading this will probably answer yes to each of these questions.  However, remember that many people who might answer no, are not any less grateful than you are.  There is always a way to be grateful even amid challenges.
How do I know that? It's when I started losing some of the things that I was taking for granted that I started to become aware and be more grateful for what I did have.  Don't be like me, start being grateful now!
3 – Forgive Others
Maybe a great deal of the reasons why you feel like a victim is because you feel that someone has done you wrong.  Unfortunately, the feeling that someone has done us wrong is the perfect recipe for feeling sorry for ourselves and making us feel victims.  We keep playing the movie of "poor me" in our head which maintains that victim mentality life and well.
Besides, lack of forgiveness brings about resentment.  The problem with resentment is that it affects only the person who is resentful.  When you feel resentful toward someone else, they are not affected at all, in some cases they may not even know it at all.  However, you are the one who suffers, you are the one getting victimized and you are the one stuck with your negative feelings.  When you forgive someone, you do not free the person you feel resentment for, you are freeing yourself.
Break the bonds of resentfulness with forgiveness, and break free from that person. Get off the victim road.
4 – Focus on Giving More and Less on Receiving
When you focus on giving you have the upper hand.  When you feel that people should give you that puts you in a victim place right away, and almost by default.  Victims are given to while victors are givers.
When I say give, I don't necessarily mean to give material things.  There are many different ways to give.  You can give some of your time, energy, knowledge or skills to name a few.
Giving has the wonderful effect of taking the focus away from yourself, and towards someone else.  The brain cannot be concentrating on two things at the same time.  When you concentrate on other people, you can't be focusing on you and feel sorry for yourself.  This takes you one step further away from a victim mentality.
Look for ways to give what you can, and you will automatically feel more of a victor and much less of a victim.
Now, it's your turn.  Do you have a tip or tips to get rid of a victim mentality?  Do you feel like a victim or a victor? Please, do tell…