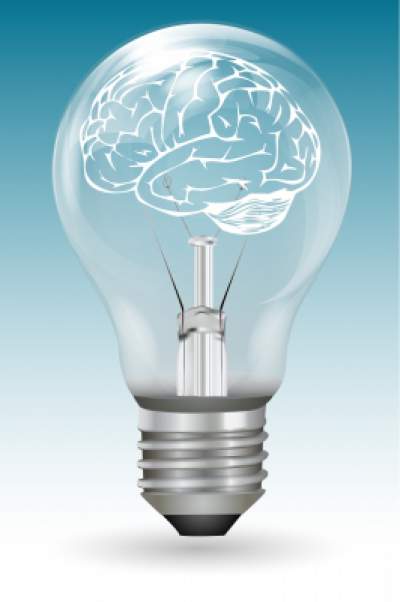 Do you know that your brain can be trained? Well, of course I do, I can hear you say!  So how is it going with you?
Our brain uses energy, just like our body. If we run or even walk a 5 miles trail, or if we do physical work, we use energy. If we think, and try to solving issues and problems, we also use energy. That's why we can be both physically and mentally tired.
Now, if we need energy for our brain, don't you think that it better not be wasted energy?  What do I mean by that?
When do we Waste Brain Energy?
We waste brain energy when we have unproductive thoughts, when we worry, and when we think dark thoughts, etc. These actually take a lot of energy from our brain. The more we use our brain for unproductive thoughts, the more tired we will be.
There is even worse effect on using our brain the wrong way, I know of people who literally brought diseases upon themselves just by letting their brain go wild with depressing thoughts, by always being worried and always seeing the glass half empty instead of half full.
Don't forget that our brain runs the show, and if you feed your brain with bad stuff or let it go wild, it's going to be very bad for you, for your health and even your sanity. One of the main reasons why there are so many ills in this world, is because people don't know how to train their brain to be positively tuned. But in order for your brain to help you, you need to help it first.
What is the Brain?
I remember a long time ago, when I was just a kid, I overheard a conversation that my mother had with her boss (who was also a friend), and he said something that stuck in my little head. He said, the brain is a muscle.  Since I was only around 10 years old, I had never thought of the brain being a muscle, but since I am a visual person, I could easily imaging my brain being a muscle, expending and retracting depending on what I did with it.
I remember once seen a drawing that illustrated the brain of someone who speaks more than one language, and where each language stacks up side by side. Since I already spoke more than one language when I saw that drawing I could imagine my languages there in my brain lined up.
The more you work a muscle, the stronger it becomes.  The more you work your brain the stronger and more efficient it will become too.
If you work on a muscle the wrong way, you can strain your muscle and hurt yourself pretty badly, if you work your brain the wrong way, buy allowing it to feed and live on negative stuff, you will hurt yourself as well even more so.  As I mentioned above, you can hurt yourself badly enough so that you could end up sick or even dead.
The brain is big business. Take it seriously. But most of all, learn how to train it the right way, so it will serve you well rather than sending you to the doctor.
You Have a Brain, use it!
I read recently that "an untrained brain frequently delivers weak results." That is so true indeed.  How in the world can you expect good result if you've never trained your brain to serve you the way it should?
We unconsciously under-estimate our brain, so we're wasting it rather than using it. We are quick to say, oh I could never do this or that, but why?  Why can't you?
I hear a lot of people who say, I could never speak another language, but that's a lie and that's bad news for their brain.  Your brain is actually equipped for you to learn not one, but as many languages as you may wish.
We are into the habit of misunderstanding and underestimate our brain.  What people don't realize is by telling that the CAN"T to themselves, they are giving the WRONG signals to their brain.
Of course, we are all more or less good at certain things, but there is more to willpower than there is to talent in this case. What I'm saying here is that if you want it bad enough, your brain will find a way. That's one of the marvels of the brain.
How to Train your Brain?
One day, not too long ago, as I was giving some tips to a friend of mine, he said, how in the world do you know all that stuff? My answer to him was "I use my brain." The more you put your brain to work at something, the more it will work for you 24/7, because a well-trained brain will feed the autopilot part of us, which is the subconscious mind.
For example, since I took the example of languages above, when you first learn a second language as an adult, you're using your brain, but once you've assimilated that language, the brain passes it on to the subconscious mind, so you don't have to think every word that's coming out of your mouth anymore.
When you let your brain loose, and allow it to go negative, it also become a habit that's passed on to the subconscious mind, that's why it's not easy to get rid of negative thinking. It's like we're on negative autopilot.
That's why you need to train your brain to think positive, and to use its energy wisely for your own good.
1)      Start Noticing when you have Unproductive Thoughts
As I've mentioned in several of my posts before, the best and easiest way to catch your bad negative thoughts is by doing check ups on how you're feeling. If you feel bad, most likely it's because your brain is not working for you right now. When you catch it, stop it right away.
Say, no, I won't allow that, and talk to your own brain if you have to.  Tell it, this is what I want you to think about, or this is what I want you to work on.
Catching yourself takes intention, so it can become a natural habit. The more you do this exercise, the easier it will become.  I went from someone who used to have no control over her thought process, to someone who is able to catch most of her thoughts. If I can do it, you can do it too!
2)      Get into the Habit of Doing some Personal Development Exercise
Just like physical exercise shapes the muscles of your body, personal development exercise will shape your brain to be better fit for successful outcomes.
Read personal development materials on a regular basis, look to enhance your higher self with meditation, EFT, self hypnosis, energy healing, meditation, positive affirmations, join a mastermind group, or consult a life coach.
3)      Challenge your Brain
Challenge your brain by doing things outside of your comfort zone.  Learn a new language, learn how to draw or paint, learn to play a musical instrument, travel in foreign countries, join foreign language groups right where you live, learn about a subject you don' know, exercise, take long walks in a natural environment, etc. The list goes on and on.
It's very important that you keep on challenging your brain this way. When your brain is active it stays young longer. I know both people who have challenged their brain all throughout their lives and some who haven't, and the difference between the two is amazing to watch!  I love to challenge my brain, it's a lot of fun.
If you work with your brain, it will work for you. If you let it dormant or loose to its own device, it might do more harm than good to your life, because if left alone, our brain tends to get lazy and go to sleep, or even starve so much that its going dead.
Do yourself a favor and train your brain to serve you well in life. Once your brain is well trained and fed, it will amaze you with what it can come up with and do.
I hope you enjoyed this post. So, your turn now. Share your thoughts in the comment area.