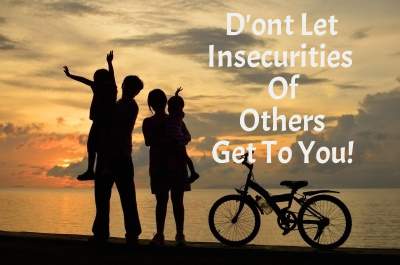 Don't you love it when someone reach out to you because of a blog post or article you've written?
Well, I'll tell you that if the article in question happens to be one that discuss a very important social issue, not only you would be glad to extend a helping hand, but it would even motivate you to write another post. So this is what I'm doing here.
Few days ago I've received an email from a young woman who had just read my blog post about the effects of bullying which I have written almost a year ago.  She wrote me to ask for advice. She was saying that she had been bullied in the past in grade school, and that as a result of it she was struggling with self-esteem.
In her message she mentioned something very important. She said that she showed people the timid side of her for fear of confrontation and teasing.
As I looked back at my own years of being bullied, I realized that for the most part, the reason why we let people, step on us, spit on us, call us names, or even tease us in a mean and sarcastic way, it's because we want to avoid confrontation above all else. In her sentence I caught that most important word; "fear." Indeed, many of us, simply fear confrontation.
The question is WHY?
Why are we Afraid of Confrontation?
When I look back on my own experience with bullying, I can see very clearly now, that I was trying very hard not to be confrontational with my aggressors.  I realize that my fear of confrontation was due to the fact that I was convinced – I believed strongly – that confrontation was going to be more painful than endurance. Of course, I was wrong, but unfortunately, that's what young people who are being bullied truly believe.
Young people who let others bully them want to avoid pain, but by doing so, they are actually adding more pain.
This is due to the fact that our subconscious job is to always choose the easiest, less confrontational path.  So instead of facing the situation "which our subconscious mind believes is painful," we thus chose the next best thing, which is doing nothing and endure.
You see, our brain, our mind and subconscious mind, all of it, always try to avoid the most challenging path and opt for this easiest one, that's when dear old fear sets in, to prevent us from choosing the hardest, most challenging option that we have available.
One Important Thing to Remember
A close friend of mine, once told me that he was a bully nightmare, because he would actually defend people being bullied by confronting bullies. He scared the bullies, by coming out stronger than them. Not necessarily physically stronger, but stronger in energy, presence and personality.
In my reply to this young lady I said one of the things I always say when I speak of the subject of bullying. Aggressive people are exactly like aggressive dogs.  They will attack you if they feel that you're scared. If you have an aggressive dog and put two people in front of him, one scared and the other not, the dog is going to go for the scared one, and so is the bully.
It doesn't matter if it's physical, verbal or emotional bullying. It's all the same, it's always directed at the ones who are afraid and scared, and it's usually delivered by the same people – the bully type people.
When you are being bullied in any way, what you must remember is that, even though you may be afraid of confrontation, you're not the problem. They are.
As I have mentioned in my previous post on this subject, bullies are very unhappy kids (or adults) with enough issues to keep a therapist busy for a while.  Most of those issues are brought on by their parents, tutors, teachers, etc.  They are venting their own frustrations on others, thus they are attacking people that they feel are weak.
So, how can you get stronger and make sure you're never bullied again?
Being Confrontational doesn't mean to be Violent and it doesn't Hurt
Learn to understand that confrontation doesn't hurt, and embrace your fears.
You can confront someone who is trying to harm you either physically or emotionally by defending yourself in a non- violent manner. I know it can be scary, but embrace your fears. I promise it feels so good!
Actually, non-violent confrontation is much, much powerful than trying to get into a fight, but it has to come from within.  You need to build that strength inside you to be able to not only confront any bully by your inner strength, but actually not attracting them around you anymore.
As I was telling this young woman in need of advice, you can build that inner strength by doing few simple exercises, such as these…
1)     Affirmations in Front of a Mirror
Repeat affirmative positive statements in front of a mirror 5 minutes in the morning before you start your day, and 5 minutes at night before you go to bed.
Here are some great affirmations that if done every day for a while will do wonders for you:
I love you, I truly love you.
I love knowing that I am in the process of building my confidence more and more each and every day.
I love knowing that I am in the process of building my self-esteem more and more each day.
I wish the best to the people who are bullying me as I understand that what they are projecting is their own weaknesses and lack of confidence.
I love knowing that I'm actually much stronger than they are, and that I know better than them already, as I'm doing those affirmations.
I love knowing that I'm getting bolder and bolder, and speak for myself more and more.
I love knowing that my self-confidence and self-esteem are getting stronger each and every day.
The stronger I feel the more people love and respect me.
I rejoice that the (Universe) or (God) is giving me the strength and power that I need to feel confident and secure.
2)     Learn How to Practice EFT
You can also do affirmations along with EFT (emotional freedom technique) which I suggest you learn about and start doing on a regular basis. Go to my page where I explain what EFT is and how it works.
You can also find tons of videos on YouTube that will show you how it's done. EFT is easy, and it really works, because it touches two vital areas at the same time – energy and mind.
3)     Meditation
Try to meditate for 20 minutes each night as you lay in bed. If you need guidance with meditation, here again, there are plenty of videos online that will guide you with meditation. Every night I go to bed with my tablet and my headphones and do meditation for about 20 minutes just before I fall asleep.
Over time, meditation will empower you from the inside out. You will feel stronger, more confident, more secure and more in tuned.
Conclusion
Don't let insecurities of others get to you. You have the power to fight back in a peaceful, yet very powerful way. So if you are having some insecurity issues due to past or present bullying, don't sit there and accept this anymore. Take your power back, and see what happens!
Please, leave your comments and inputs down below!
Photo Credits: FreeDigtialPhotos.net