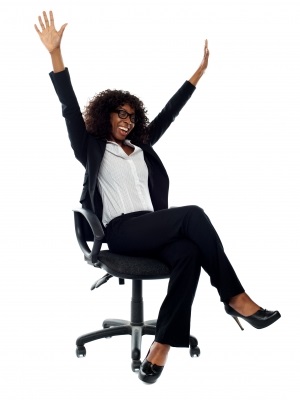 There are two sides of entrepreneurship. There is an external side of it and an internal side of it.
The external side is where you are going to manage your product or service, take care of your website, take care of your employees if you have some, create that email marketing campaign, take care of your advertising, publish that book, etc.
The internal side of entrepreneurship, however, will basically dictate how all the above will go and what type of results they will bring.
As a matter of fact, the internal side of the entrepreneur is like the foundation of a building. If it's not strong enough and build on solid ground, everything can crumble to the ground at any time.
I wanted to write this post today in reflection to a client's case.  I have a client right now to whom I told to stop contacting anyone about his product right now, because it's obvious that no matter whom he meets or what he does, things don't go anywhere, and that's even when they seem very promising.
I told him that the reason things don't go anywhere is because there are serious internal issues that need to be fixed first, before he does anything else.
I'm afraid that if he doesn't adhere to my advice, everything he'll touch will turn into crap.  I am very, very familiar with this fact, and I can recognize in a heart beat.
Why is it Important for Entrepreneurs to Work on the Inside
Have you ever watch the show "The Dog Whisperer" with Cesar Millan? (By the way there's also a cat whisperer too. I had to mention that).
This dog whisperer goes out to consult with families who have big troubles with their dogs.  From the dog's owner point of view, they have done everything they could to fix a problematic behavior of their beloved pet, but nothing has worked.
The first amazing thing that you notice in this show is that for the most part the dogs act different almost immediately in the presence of Cesar.  The reason for this, is not some miracle phenomenon, it's that the dog can "feel" the energy that this guy is projecting.
Well, as I always love to say; we are a lot like dogs, we just can't hear and smell as well.
What you carry inside. Whatever internal baggage you have, people will connect with that.  And depending on what it is, it will be either good or bad for you.
In the case of those dogs, the reason their owners fail is that they usually carry a bunch of inadequacy, insecurity, and at times fear that the dog perceives subconsciously, and makes them act out.  In that regard, we, as humans work the exact same way.
If not consciously, people can feel your insecurities, fears and doubts subconsciously, and that is why they won't close the deal with you, wont' read your book, or won't buy your product or services. It's as simple as that.
When you've done everything in your power to make something work such as; working hard, and contacting all the right people, so forth and so on, but success is still eluding you, it's most likely because you are not sending the right energy out there.
As a matter of fact, you lack of success is the alarm sounding proof that something is not right internally. Experience tells us that unless the internal side is fixed, the external results won't change.  This is why many entrepreneurs, athletes, and show biz people have a coach.
What do you Need Do to Get Rid of the Problem?
Personal development goes hand in hand with entrepreneurship of any kind at any level, because personal development will help you visit and revisit every habit, every fear, and every insecurity trait you might have that's keeping you down.
Usually the hidden problem that is keeping people from success is not as deep as one may think. At times it's only a bad habit to change into a good one, a fear that needs to be addressed, and some self confidence issues that needs to be challenged.
What is more difficult, however, is to address such issues on your own, and that's why some people come to the realization that they need a coach to help them on the right path.
My client whom I mentioned above wanted a specific answer right then and there. He even got mad at me for not giving it to him on a silver platter.  But I told him that there was no such thing.
We've already dogged and found out some vital information that he can use at this point.  I explained to him that personal development is a journey.  It's the journey of learning more and more about yourself to the point that you can control most situations without much struggle.
Do you play tennis? When you first start playing tennis you realize that you have absolutely no control over the ball.  You can't catch it and you certainly can't throw it where you want either.
As time goes on and as you're becoming a better player, though, you start catching more balls, but most of all you start feeling that you can throw the ball exactly where you want, because now you know how to play and you are totally in control.
The same as practice makes you become a better tennis player that can control the ball better and score, personal development will help you learn how to recognize vital personality traits, and deep beliefs that you had no control over.
Over time, you'll get to know more and more about yourself, you'll start seeing what you were missing and you'll be better able to correct it until you'll finally start getting way more positive results. That's when you'll start seeing things change around you. What you will  say and do will get a different reaction.  You will be on a different path. The path to success.
Here are 3 steps you can take if you are an entrepreneur and feel that success is still eluding you.
1 – Make an Assessment
Make an assessment of your situation.  Where exactly are you in your business? What are you missing? What do you feel should be done? Why do you think you haven't done yet? What do you know for sure needs to be changed…?
Making a true assessment of your situation is the key to know what you need to change or improve, and what you need to work on.
If you have troubles doing your own assessment, of course, .  Unfortunately we often can't see our own issues all too well.
2- Develop a Plan
Now that you've done a full assessment of where you are and what needs to be done, it's time to develop a plan.
What direction do you want to take?  What steps do you want to take to get there? What books do you want to read? Do you want to do it alone? Do you want a life coach to help you?
You can find local coaches and you can find life coaches online. By the way, in case you don't know it yet, I'm a coach myself.  A coach will also help you develop a plan.
3- Take Action
As you know, no assessment or plan will do you any good if you don't put them into action. Even if you chose to go with a coach, you need to remember that a coach is not a magician that can flip their magic stick and make it all good and well for you instantly.
If you are physically sick, you might go see your doctor and he will give you advice, diagnosis and treatments to make you feel better and even to help you heal, but he won't make you better instantly. So, don't expect a coach do that for you either.  But a coach will also help you with a diagnosis, advice and suggest the best "treatment" for you. The rest is up to you.
Yes, successful entrepreneurship requires more than meets the eye. It requires a solid inner foundation to put you on the path to success.
Please, leave all your questions and comments down below.
I hope you enjoyed this post, and will start applying those tips now. Please, let me know what you think and add your thoughts down below in the comments.
If you found this information valuable and would like to share it, you should add the RSS feed of this blog to the social media sharing platform of your choice.
The feed is https://www.sylvianenuccio.com/feed/
Don't forget to add "via @LifeCoachingPro" to tweet, so I can thank you.