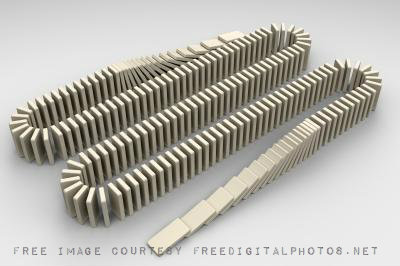 This is my fourth post on this series of the Laws of the Universe.  After the Law of Resistance,  The Law of Allowing, and the Law of Detachment.  Today we are going to discuss the Law of Cause and Effect.
The law of cause and effect is probably one of the easiest if not the easiest laws to understand.  The only problem when it comes to people and the Law of Cause and Effect is that they just forget about it all together.  However, if you'd learn how to always remember this universal law and use it for your own advantages you would advance well in life, indeed.
In order to make the most of the Law of Cause and Effect, you must live consciously and recognize that you are the creator of your own reality. Laura Silva Quesada
What Cause and Effect Really Mean?
This law means that everything you "cause" will get later its own "effect".  The effect of a ball thrown against a wall is the bouncing back of that ball.  Basically, ever thing that you "cause" good or bad will be bouncing back to you.  You may get bounces back from things you've done years ago, but it will bounce back sooner or later.
The best way to visualize how to Law of Cause and Effect works is to compare your life to a garden.  If you take the seed of a carrot and plant it, it will cause a carrot to grow.  If you plant the seed of a pepper, a pepper will grow.  You will get the exact vegetable or fruit kind of the seed you've planted.  You will never get a pepper if you've planted the seed of a carrot and vice versa.
What Does this Law of Cause and Effect has to Do with Your Life?
People do things every day with the hope of getting something different from what they've planted.  Really, they believe in miracles.  They believe that they can plant a carrot in their garden of life and get a pepper to grow.  If that ever happens to you, please, let me know!
Realistically, however, you are going to get the fruits of whatever seeds you've planted.  That's how prisons get filled.  Some people plant seeds of crime and violence and eventually, sooner or later, they reap the causes of such activities which is the loss of their freedom, dignity, and sometimes even their life.
Now on a not so grand and dramatic scale, we are planting seeds, (causing) things every single day.  With whatever we are planting comes a time to reap.  Even the Bible talks about this law "for whatsoever a man soweth, that shall he also reap" Galatians 6:7.
How can you Use the Law of Cause and Effect for More Success in your Life?
It certainly can be said that the Law of Cause and Effect is directly linked to the Law of Attraction.  It can even be said that the Law of Attraction is a cause and effect phenomenon.  Basically, once you've understood fully the Cause and Effect Law, you'd understand the Law of Attraction.
You can cause an effect with your thoughts, actions and lack thereof.  Negative thoughts have a strong tendency to bring about negative effects. Positive thoughts have the tendency of bringing about positive effects. Actions that you will take or lack thereof will have equal effects as well.
Here is an example.  Let's say you have the desire to become an online entrepreneur and want to create a blog to sell your service.  Right now it's a desire, an idea that you would love to realize.  However, you don't take action on it.  All it is at this point it's a wish.  The effect of such wish will have basically no effect.  You status quo will produce a status quo effect.  Nothing bad, but nothing good either.
Now, let's say you have this great blog idea about the same service, but this time, you are taking action.  You are creating that blog and you're working at it every day with no excuse.  The effect of this will be that your blog will start growing and eventually you are going to generate some business with it.  The cause, your positive actions, will generate the effect, success in your business with your blog.
You do nothing, you get nothing. You do something, you get something. That's as simple as that.
The Slight Edge of Cause and Effect
I've read a great book about 6 years ago titled The Slight Edge by Jeff Olson.  This book is all about the Law of Cause and Effect in slow doses, so to speak.  Basically, the book explains how even a little tiny something that you do on a daily basis or regular basis will have an effect in the end.
For example, a good habit, even one that seems very insignificant can have huge positive effects in the end.  And the same goes for a bad habit, even a small insignificant bad habit will have a negative effect in the end.
A well-known example I could give you is smoking, for example.  No one is going to die by smoking one time or even 10 times in their life for that matter, but if you smoke every day for several years, the likely cause to that effect is that you'll have a much greater chance to develop cancer or cardiac problems.  Lung cancer and cardiac arrest are known effects that are caused by inhaling smoke.
The Law of Cause and Effect works with everything and anything.  This is one law we surely can't escape. What we think, what we eat, what we say, what we do, all are causes that produce an equivalent effect.
I know this is usually difficult to accept for those who have a tendency of not accepting responsibility for what happens to them.  However, if you are one of those who do take responsibility for what happens to them, always be conscious of the effect of every action that you take, big or small.
Here are few tips to help you start reaping better results using the cause and effect rule:
1. Pause
2. Take a deep breath
3. Say to yourself mentally "Relax – What's my outcome"?
4. Picture the desired outcome
5. Create an Action Plan
6. Begin to move in that direction