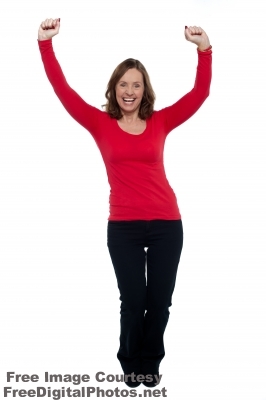 What does it really take to be successful? But before we answer this question, what is the true definition of success?
One thing is certain, being rich alone doesn't make you successful, being famous doesn't make you successful, and of course having to go to a job you don't like every day doesn't make you successful either, even if you're the CEO of that job.
So what does make you successful?
Antony Robins said, "Success is doing what you want to do, when you want, where you want, with whom you want, as much as you want."
We all know that's true, but I would add to this that you need to be doing all these while being happy.  I know of some individuals who were doing what they wanted, when they wanted and as much as they wanted, but ended up committing suicide.  Yes, that's right.
Some people have success, fortune and fame just as they had wanted, yet they are miserable, or something is desperately missing in their life.
What could that be?
This post will attempt to answer such question, so keep reading and share your thoughts on this subject at the end this post.
Where Does True Success Really Come From?
While money and doing what you want when you want is most definitely part of being successful it's NOT all it takes to make you successful.
As I mentioned above, I've heard of and known some people who seemed to have it all, yet, they either ended their lives or fell into drug, depression and the like.  Others didn't do any of such things, but admitted not to be fully happy.
If you do what you want, when you want, and have all the money you'd ever need and want, but are not happy, you're not successful.
If this is you, it might be because you are missing those 5 vital fundamental things to be truly successful and happy.  Let's what they are.
1-      Being Grateful
In order to be grateful for what you have, first you need to become aware of what you have.  Many such unhappy fortunate people are walking around like zombies who don't even stop for a minute during the course of a day to open their eyes and realize how fortunate they really are.  They tend to take things for granted. Just something they've gotten used to.
Only once they've come to this realization, will they be able to start being grateful.  But you can't fake being grateful – it needs to come from inside.  Being grateful is a feeling and a realization of what was given to you.  Being grateful gives you a well being sensation once you truly get it.
In order to be truly successful, you need to be grateful.
2-      Being Thankful
Now some people may feel that being thankful is the same thing as being grateful, but there is a simple difference between the two.
No one could even start being thankful if they're not grateful to start with.  Being grateful comes first – it's the realization of all the blessings of life that you enjoy.  Being thankful is saying how grateful you are.
No matter what God you believe in, you need to be aware of a superior power in order to be thankful. May it be called God or Universe, or whatever else you believe in.  You need to be thankful to the superior force that is giving you what you have.  This is what we also call prayer.
I know some people think that a prayer is a request or a plea when things go wrong, but that's wrong. A prayer doesn't have to be a request or something you say only when you are in a desperate situation.  A prayer is also saying thanks on a regular basis.
Unfortunately, if you don't believe in any type of force above that is bigger than you, it will be very difficult for you to be truly thankful for anything, because they would be no one to say thanks to.
In order to be truly successful, you need to be thankful.
3-      Being Truthful
I've been watching a very interesting French documentary/show lately about some "successful", yet, somehow unhappy people.  I've been watching this to study and analyze such people, which gives me some insights as a coach.
One of the reasons that I found to be a problem which prevented those people from being happy, thus fully successful in spite of their fame and fortune, was that they were never allowed to be "truthful" with whom there really were as a person.
Back in the 50's 60' and even 70's a lot of show business people were totally "created" and "molded" just the same as any other "product", for the public, and therefore, denied being who they really were.
For example, they may have had to hide their whole family. If you were a famous sexy singer it didn't "look good", back then, to reveal that you had a wife and children.
If something happened to you such as a benign accident, it was blown up out of proportion and you may have had to act and pretend to be more hurt then you really were for the sake of publicity.
There are tons of stories like this. Pretending for the sake of fame and appearances, while forsaking the truth, which in the end, sometimes, resulted in the destruction of the individual who started to suffocate in those lies.  We can only be thankful that this business has become more truthful than it used to be, at least.
However, back then, a huge part of the life of those people was just a big lie.  They were lying to people, and they knew it. The worst thing is that they had to do it whether they liked it or not.  It was part of the package.  But it wasn't without consequences.  These huge lies, this lack of truthfulness affected their mind and got the best out of them, eventually.
It's the same thing with us today.  We need to be truthful with ourselves, and with others.  If you work online, are you like those show business people, trying to put up a show, creating someone you're not? Do you lie to your potential clients and/or customers? Do you make up false success stories in order to sell?
In order to be truly successful you need to be truthful.
4- Being Helpful to Others
It's sad that some people don't realize that they won't truly be happy unless they help some else to get what they have, or be where they are.
One thing that wealth will give you is the power to help, and when you help others it makes you feel good.  It's just a rule of life, so to speak.
This works better than any miracle pill you could ever swallow.   If you are a "normal" human being, with "normal" human feelings, helping others will make you happy, give you a sense of purpose, and truly make you feel successful.
A lot of unhappy rich and wealthy people who seem to have it all, are unhappy become they don't do anything for anyone.  Being self-centered doesn't bring happiness.
In order to be truly successful you need to be helping others
4 – Giving Back
Now, giving back is slightly different than helping others.  Giving back goes above and beyond just helping other people around you – it's being useful to society as a whole.
Giving back will prevent you to become self centered, selfish and depressed.  Giving back will help you to be happier while giving you a tremendous sense of purpose.
If you have fame and fortune there are many ways to give back to society. You could reach far and wide.  Planet earth is the limit.
In order to be truly successful you need to give back.
If you are not as wealthy and successful as you would like to yet, just remember those 5 fundamental things you need to do in order to be truly successful when you become so, because if you don't, no matter how much money, wealth and fame you may manage to have, you will not be truly happy and successful.
Over to you know… Let us know what you think about this subject.