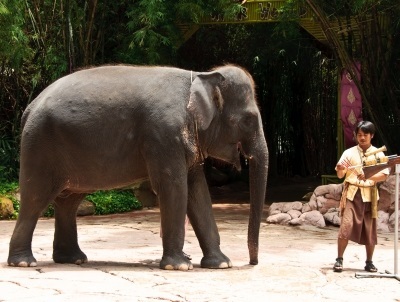 In last week's post I talked about understanding your beliefs in order to be able to change them.  But there is more to do in order to replace old beliefs by new ones.  So, today, I wanted to go a little deeper into our belief system to better help you to change your cumbersome beliefs.
As I mentioned in my post last week, there is no doubt that beliefs CAN be changed.  The very reason they can be changed is because of this very reason, they are just beliefs. Nothing less and nothing more.
Tied Up to a Belief
In India baby elephants are tied up to a loose stump of wood large enough so they can move it and run away.  As the elephant grows they are still tied up to the same stump of wood, but the difference is that they could run away with it just as easily as you could run away if you had a match tied to your ankle, but they don't.
Why doesn't the elephant run away with the stump tied to his foot? Because by now he believes that he can't.  He tried many times when he was little, and it didn't work, so one day he stopped trying and started believing that he could never run away.
The truth is that those adult elephants are tied up ONLY by their own beliefs.
Did you think that your brain was superior that the brain of an elephant? Well, think again.  Masses of human beings are tied up to their beliefs just like elephants to their stumps.
We see that every day, and the more you go to under developed countries the more evident this is.  However, it doesn't mean that our beliefs in this side of the world are al fine and good. Far from it.  We all, as societies and as individuals, have deep entrenched beliefs that we would do much better without.  But how can we change them?
Extract the Belief from its Root
Have you ever taken care of a garden? When you want to get weeds off your vegetable or follower garden, you need to take the roots out. If you don't, the weeds will be back in just a few days.
Well, It's the same thing with your beliefs.  This is why affirmations (alone) don't work. Because you are saying your affirmation, but the root of your negative belief is still there. Therefore, the new information won't work.
Here is an example: Let say that you have a fear of public speaking.  But that fear of public speaking is really the result of a belief. That fear is the "green part" of your weed, if you will. The root of this belief, however, is that you are not good enough, not smart enough, not educated enough, etc.
Those negative beliefs responsible for fear of public speaking will be there,  as long as the root problem exists.
Beliefs Create Things
The reason why people trust so much their beliefs is that as per the laws of the universe, and particularly the law of attraction, those beliefs create things. In turn what was created reinforces the belief in our brain.
A belief is a thought which manifests into a physical form, which in turn reinforced that belief.  That's why people are literally prisoners of their own beliefs – just like the elephant with his stump – not knowing how to get away from them.
Deliberately

 

Choose the Beliefs that you're Holding
A good way to start doing this by becoming aware of all the beliefs that you have, and start deliberately choosing new ones that will actually serve you well.
Now, you need to realize that every single belief that you have were put inside you. You were not born with them.  That's why there have been some cases where people who were in a coma because of a head injury had awaken not only with amnesia, but with a different personality.
The different personality is due to the fact that most of their previous beliefs were gone because of the amnesia.  This created a new person with almost no belief, just like an infant.
So, for the sake of this exercise, as you wake up in the morning while you are still lying in your bed, imagine that you had none of the cumbersome beliefs that you have and ask yourself the question, what would I do now if I had no negative belief at all?
As you're asking yourself this question, you'll notice that some of such beliefs will probably start coming to mind.  Something is going to be nagging you somehow. This would be a good time to size what's bothering you and try to recognize it.  You know like those researchers who excavate a rare object from the ground, and hold that object up close to figure out what it is.
One of my readers, last week, mentioned in his comment that some our beliefs are so entrenched that they are not part of us, they ARE us.  But this is another belief in itself.  Beliefs are NOT us, and they can only have as strong old on us as much as we let them. Remember people who awake with amnesia? If their beliefs were them and not just part of them, they would die with their beliefs.  We are way MORE and more powerful than any belief we may have.
Become an Outsider of your Own Beliefs
There is a huge difference between believing "I'm not good enough, "and saying, "hum, why am I saying that I'm not good enough?"  Because, in the first case, you are basically reacting unconsciously to your belief, in the second case, you are starting to analyze why the heck you have such belief.
As you do this, you can start to analyze what emotion(s) is linked to that belief.
I used to have a couple of strong negative beliefs that I was able to get rid of just by stepping outside of them, and consciously decide that they were wrong beliefs.  I realized that I was wrong the whole time, and it was based on the fact that such beliefs had been formed due to events that happened when I was a child.
You see, the danger about beliefs is that once they enter our mind, our brain will naturally be searching for proofs that such beliefs are valid.  And as per the law of attraction, it will find them.  That's why beliefs are so hard to get rid of, unless you start to become aware.
Create New Beliefs to Create New Proofs
Our brain is a scientist.  As we investigate our cumbersome beliefs, we can – overtime – eradicate them by slowly replacing them with new up building new beliefs.  Once we give that new data to our brain, the brain will naturally starts looking for proofs of that new belief.
As it happens, your whole life that was tied up to that old belief while start changing, as it becomes tied up to that new belief instead. Yes, those are life changing events.  When that happens, you'll look back and won't even recognize yourself.
In my case, for example, I went from being a very "emotionally needy" person, to a strong person that basically don't need anyone to be validated anymore.  Don't get me wrong, I am a human being and I want to be loved, but I am fine too if I'm not, because my self-worth is absolutely no longer attached to what other people think of me.  My self-worth is only attached to me, my higher-self and the higher power above me.
New positive beliefs are powerful. Don't be tied down by your figurative stump.  Get loose, and start realizing that you have the power to get rid of that stump, and see a whole new world out there.
I hope this was helpful.
Let me know in the comments below…