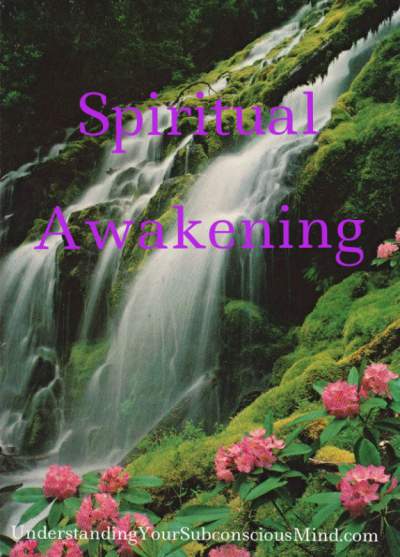 Sadly, some people live their entire life without ever touching the surface of their spirituality.  Curiously, in the comments of one of my blog posts a while back, I realized that some people actually link spirituality with religious beliefs, which is certainly not the case.
Spirituality has to do with the "spirit" part of us, which is what is above and beyond the "fleshy" part of us, even though they do meet. Spirituality has nothing to do with religions, but yes, some religious people are spiritual while some are not.
Just wanted to make that clear right from the get go.
How is your spiritual awakening going?  Are you spiritually awake, or do you rely solely on what you can see and touch?
Hum, a good question to ask yourself, isn't it?
Do you know that you can develop your spirituality like you can develop your muscles or your knowledge?  I can't believe myself that I've lived most of my life so far without knowing this, but at least I feel blessed that I've finally found out. I know too many people who have lived and died without ever finding out their spiritual self.
Why do Some People Never Get in Touch with their Spirituality?
There are people who don't want to find out. And if it's your case, you most certainly won't out. The law of attraction works in such a way that it will bring you what you're looking for, but even if it were save your life, it won't bring you what you don't want to know or see. But that's fair game if you ask me.
Spirituality is like that. If you are not interested in discorvering your spirituality, you will live your life from a non-spiritual place, and most likely you will struggle more than someone who does live a more spiritual life.
We all have  received messages of proofs that we are a spiritual being at one point or another, but most people just brush it off, and instead of developing such spirituality, they bury it.  More times than not it's because of two main things; fear and ignorance.
At times, people are afraid to investigate, because for the most part, our society has put fear into the unknown, and as it has been discovered no so long ago, keeping people in fear is part of a machination from the very powerful of this world.  Not spiritually powerful, of course, I'm talking of the handful powerful with money and decision making.
Those powerful billionaires may be able to control your gas price, your banking system, what you eat, and what is physically available to you, but they can't control your spirituality development, and that my friends, it's golden.  As I was revealing in one of my latest post my value number one is freedom, and I value such freedom more than anything else.
My Own Spiritual Awakening
I have to say that since the beginning of this year I've had an increased spiritual awakening. Besides a few new things that I've learned during my CPC coaching course, I've been learning some even "bigger" things that will be invaluable to me in my coaching career.
I owe my spiritual growth to the fact that there are some things going on in my life that the bigger me doesn't tolerate anymore.  There's got to be a time – if you mature and grow spiritually – when you say, enough is enough, I'm not going to take this crap anymore.
Just want to remind you though, that because my blog post can be visible to anyone, there are some things that I'm not discussing in details here, as I don't necessarily want to reveal some things about me to just anyone.  But there will be a book where some of those things I will tell, though, for the benefits of helping those that my experience will speak to.
So, to get back to what I was saying, I think that when you feel that your glass is full and that it would only take that very last drop for it to overflow, those are the times when you are looking for specific answers.  As it says somewhere in the Bible; "look and you will find." I have no doubt about that. If you really look for something, the forces of the universe will bring it to you.
These past few months I've been looking for and finding some answers more than I ever did before.  I know that what I've been discovering lately will change not only my life, but that of all my future clients as well. I feel that the Universe – God – is giving me all the tools that I need to be a perfect coach. Not that am saying that I'm perfect, but you understand what I mean, right?
It has Not Always Been this Way
If I look back at my life, coming from being a very stressed child (because of being miserable in school due to bullying), to a still pretty miserable teenager due to other things that my subconscious mind programming kept bringing on to me, to a young adult who was really looking for herself without ever really finding her, I can only be grateful that I found my path.
All my past negative experiences brought me to more places where I shouldn't have been, but that's how the subconscious mind works.  Saying that I was in the midst of a vicious circle is an understatement.  That's why personal development in my case, was a life saver. It really gave me a whole new foundation and purpose in life.
What I didn't know back in the days is that just like once you fold a sheet of paper that folding line will be there forever, once there is a pattern that's penetrated your subconscious mind, it's also there forever.  Unless you find a way to erase your negative subconscious programming.
Over time, years of personal development have gradually showed me the way to go, and I feel that I am now at a point where I have pretty much everything I needed to work with. I just have to keep learning and practicing until I'm a master at it. But I'm finally onto something.
At the same time, I know that there is no way (at least that's how I feel) that I could be a good coach if I couldn't put myself in the shoes of the people I'm helping and will be helping in the future. So my past is useful to me, so to speak.
As a matter of fact, I have noticed time and time again that I am able to develop a much better relationship with people who can feel that I can relate to them, then those who don't.  People can feel when you understand where they coming from, and they feel attracted to you.
What am I Talking about all that Anyway?
This post was in fact an introduction to some of the things I've been learning and practicing lately that I've blown my mind and I hope will yours as well when I write about my experiences with them in upcoming posts
It is my hope that you don't forget about the spiritual YOU, and that you develop such precious spirituality, because I tell you, it is invaluable. It means freedom of mind, spirit and body. There is nothing better than this.
So, please, let me know about your spiritual journey in your comment below.