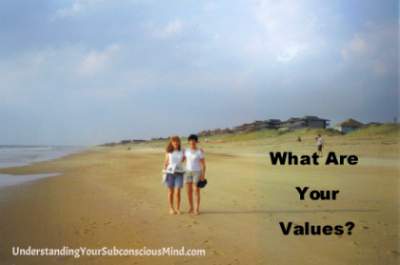 Many people are born, live and die without finding themselves, because we live busy lives stuck between trying to make living, making mistakes, worries and regrets.  I mean, really, unless we were born and raised under perfect or ideal circumstances, this is the story of most of us, isn't it?
That's why some of us, at one point, do finally wake up, and decide to improve our lives. 
We get involved with personal development, we learn about ways to better ourselves and better our personal and professional lives, and when we're ready, we even seek life coaching.
In today's post I wanted to discuss something that will help you organize your life tremendously. As a matter of fact, it will help you clean up the mess and help you see much more clearly where you're going.
What I'm talking about, here, are what we call values.
Over a week ago, I've written an article about values which I posted on LinkedIn as a marketing tool for my Coaching Business.  To my surprise, just a little over a week I've got 480 followers on this article, so I decided to write another article about values for my own blog. 
Note: If you want to read the other article you'll be able to learn even more about values. Once you do, please vote up it up for me if you would.
Why is it Important to Know your Values?
To tell you the truth, it wasn't until I got involved with personal development that I've learned about values. Not only I didn't know what my values were, but I had no idea that it was important for me to find out either. 
Why is it important that we know our values?  Because our values mean what's most important in life for us.  Basically, whether you know or not what your values are; they are the very things that make you act and react in life.
The rules about values are as followed: When your life style matches your values, you're happy. When your life style goes against your values you're not happy.  When your 3 to 5 most important values conflict with one another you're not happy either.
Knowing your values will help you to know and pursue what you love to do, and be firm about it.  It will help you not to let anything get in the way. It will help you with indecision and procrastination. Knowing and sticking to your values will help you endure and persevere more than anything else could.
In this article I am going to explain what values are, what does it mean when values conflict with each other, and how to find your own values.  Now, keep in mind that values are not set in stones, your values may change over the course of your life, especially depending on how old you are.  For example, 20 year old may not have the same values 20 years later.
What are Values?
If you are brand new to the concept of values, the best way you'll understand what values are is by me giving you a short list. You can find a shorter list slightly different on my linkedIn article, as well if you want to read it once you're done here.
Achievement
Adventure
Ambition
Being the Best
Capability
Commitment
Control
Determination
Discipline
Efficiency
Expertise
Family
Freedom
Generosity
Happiness
Health
Leadership
Love
Loyalty
Positivity
Professionalism
perseverance
Reliability
Self-Control
Success
Tolerance
Trustworthiness
How to Find your Main Values
Now, look at that list and see if some of those qualities are not only important to you, but maybe even define you. Pick the 10 values that you feel are the most related to your personality and who you really are. If you can't find 10 in this list, take a moment and think of the top qualities that fit you best.
Either from the list above, or a totally different list of yours, it's every important that you define your 10 most important values in life, because they are the influence behind everything you do.
However, you need to know that if your 3 to 5 most important values happen to conflict with one another, you may be facing some challenges in life that you might not been able to put your finger on, but once you understand what you values do to you, you'll finally see the light.
Once you have your list of 10, narrow it down to the 5 most important values that you live by, put them from the very most important the least important of the five.
While you do this, it's very important that you do not judge yourself. Just be true to yourself and list your 5 most vital values.
What Happens when Values Conflict?
Once you have your 5 most true to yourself values, look for any conflict that they may have with the another.
Let's say that your 5 main values are freedom, success, security, adventure and family. You might have a conflict there.  While freedom, success and adventure might go well together, security and family might tie you down a little. 
On one hand you want to be adventurous which will expose you to challenges and taking risks, while on the other hand you want security and family that will make you refrain from taking such risks and challenges.
 This is just an example, but I'm sure you see what I mean!
These are a values conflict, which means that you probably won't be able to have them all at once. You are going to have to figure out what's most important to you, by asking yourself what truly makes you the happiest, more whole and satisfied.
Another conflicting value situation would be if your main values are freedom and success, for example, and you're stuck in an underpaid job.
If you find yourself in such situation, which I know well about myself, you will find it very hard to keep on going this way and be happy at the same time.  Your body will be in one place while your heart and soul will go the opposite way.  You will have a very hard time to be fully happy, and a lot of times you will just feel empty and/or frustrated.
If you find yourself in such situation, that's when you know that you need help to get out of this hole, unless you get out of it on your own.
But believe it or not, there are situations even worse than that…
To give you one of my own example, here, while my own most important value is freedom, but because I was also looking for guidance, security and love, in the early 1990's I decided to join a religion which was a great part of my life for 10 years.  Their, I did find some guidance, security and somewhat love. The problem with that is that religion and freedom tend to go the opposite way, and unless you practice a religion only when you feel like it or half way, you quickly realize that it takes your freedom away.
And that's not talking bad about religions here, that's talking about the true nature of religions by definition.
So what this bad mixed value combination created for me was depression, because I fell stuck while guilty of wanting more at the same time.  The guilt I was bringing upon myself was tremendous.  I felt bad for thinking different, bad for not being satisfied, and bad even for being unhappy.
I didn't even see that depression crawling on me, because it was subtle, but I ended up crying a lot, watching TV a lot (not living), sad a lot, and overall miserable all the time.  I was even putting a good front while all of that was happening.
However, one day, it all collapsed.  I was getting older but certainly not better, and I decided that it was time for me to live up to my own values more.  That decision cost me more than most people would want to pay for, but one thing did happen almost instantly.  The depression went away.
While some so called religious friends were encouraging me to take depression drugs, all I needed is to take my invisible chains off of me.
Values Conflict is Serious Business
Values conflict is a very sneaky thing that can affect your every emotion and feeling without you even knowing why. Thus, the importance of knowing your values, and knowing if they are conflicting with one another, o with your life situation.
Values conflict can be responsible for negative feelings such as anger, sadness, unhappiness, confusion, frustration, and worst of all, depression.
So take a moment, looking inside and find out what your true most important values are. Once you do, look for any eventual conflict.  If you find some, evaluate what's most important to you, and go from there.
I hope you enjoyed this post. Please, leave your feedback in the comments down below.