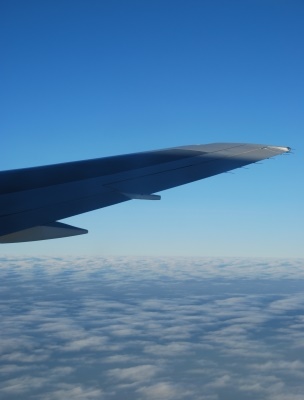 The first thing the pilot of an aircraft does if he senses that there is a problem with the plane is getting off the autopilot.
Why?
Because he knows that while the autopilot has its place, it can also turn to be deadly if left on when there is a mechanical problem with the plane.
The autopilot is not built to fix problems, it's built to fly the plane and give a break to the pilot when everything goes well.  The autopilot can also prevent human error to some extent, but it's not meant to replace necessary human actions in emergency situations.
When things don't go well; when there seem to be a problem, the pilot shuts off the autopilot and takes full command of the plane.
Doing so means the difference between life and death.
What does this Illustration has to do with your Life?
Are you crashing and burning because you're living your life on autopilot?
What do you need to do to take control and save your life, just like a pilot saves lives on a more literal sense, by taking full control of a plane if needed?
I happen to love aviation and I've always have the deepest respect and admiration for those men and women who are able to fly those machines into the air.
My brother used to have a friend who owned a small 4 seat plane and he would take us for a fun ride at times.  When I was living in Paris, I also used to have a friend who was a flight attendant with Air France, and she used to tell me a lot of sky stories. Because of all that, I've learned some interesting things about flying, and I thought that I would compare our live with flying a plane today.
There is so much similitude between the two, and I'm sure such comparison could help you understand some fundamental things of life.
Many people are living their life on autopilot, when there clearly is a problem that should make them want to take full commend of their ship (life) in order to get to a better, smoother, more rewarding, more fulfilling, and overall more successful life.
Your life may just be like a plane in trouble that is left to its own device. If so, your results might not be good.  You are the pilot, and captain of your life and you need to take control.
I know this concept itself is not easy for most people, because taking control of our life is not something most of us were ever taught as children.  As a matter of fact, we were usually taught the very opposite.  This is why it's so hard to take the pilot's seat for most of us.  This is why we are forgetting to take control of the ride and instead live on autopilot.
Have you Taken Off yet?
There is one thing that no pilot on any plane can do yet; it's taking off on autopilot.  This maneuver is something that totally needs to be done manually by the pilot, whether they're flying a Boeing 747 or a little flying match box like the plane of my brother's friend.  There is no machine, no computer, or anything that can make a plane take off.  Only the pilot can.
This means that there are some specific actions required of him, and he must take them in order to accomplish the take off.  If he didn't, well, the plane would stay on the ground.
How can this be Applied to your Life?
Have you taken all the steps and measures you need to take in order to go where you want to go in life?
In order to cruise on a well settled life, you must first take some specific steps to get there. Maybe the first step you need to take is changing your manner of thinking, because if your thinking is keeping you stuck to the ground, you'll never be able to take off.
If you're not happy where you are right now and want your life to take off, you also need to take action.  You should write a plan of action and follow through with it until you feel that you've done enough to take off the ground.
Try to find out what you're missing. Is it something deep down inside that's kept you stuck so far? For most people, that's all there is to it.
When it's Time to be on Autopilot
When the pilot of a plane has reached its cruising altitude, he puts the autopilot system on, so he can concentrate better on other important things related to the flight as well as relaxing, while the plane pilots itself.
Now that autopilot button can be pushed only after everything else the pilot had to do in order to get there to that point.
First, he had to learn his craft, spending hours of study and complete two full years of instance training.  Before he becomes a captain he has to fly for another few years as a co-pilot.  When he's finally ready for it he's allowed to take commend of the plane while under the watchful eye of the captain, until he can be one himself.
When it's time to fly, he sits on that pilot seat and go through a prep check list with an other pilot, he taxies down the runway until he gets to the speed runway for the takeoff.  When it's safe to do so, he speeds up and takes off.  The plane goes so fast that there is a point that they call a "no turning back point" which means that no matter what the plan has to take off.
Once the plane reaches a certain altitude, the pilot can then turn the autopilot on.
It's the same thing with us.
We may have some specific things that we need to do in order to improve our lives. For most people this starts from the inside.  There is no talent, no gift and no intelligence that will ever serve you well if you are "broken" on a subconscious (unconscious) level. I can assure you of that!
So, let do our learning, let's do our training, let's do our preps. Let's do everything we need to do to make things work before we allow ourselves to push on that autopilot button, because if we do it too soon, we might just go nowhere, or even crash and burn.
Once we have done our best to prepare for a successful life, everything will fall into place.  We get to that "point of no return" which is where good positive things are falling into our laps no matter what. This happens because we are set on positiveness, and the law of attraction just delivers according to our thoughts and feelings which in turn tunes our vibrations a certain way.
Then, and only then, can you sit and relax and put your autopilot on.
I hope you can apply this concept to your life and be ready for a wonderful upcoming new year!
You're turn now…
What do you have to add to this. I'm listening!