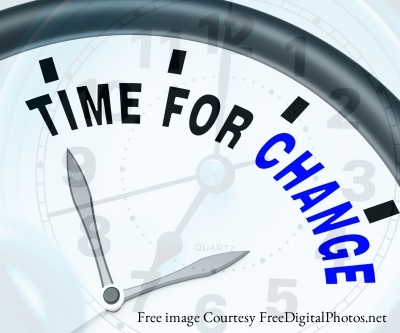 Do you like change?
Most people resist change, even though, change is part of life. Nothing stays still. Everything changes.
Every living thing goes though many changes from the time they are born to the time they die.
Landscapes change, the weather changes, even solid matters go through changes.
Our beliefs, personality and character go through change over time as well.  Are you the same person you were at 20 years old? Chances are that you're not because your personality went through some changes.
So, my question to you is, how do you see change? Do you embrace it or do you resent it?  The reason why I wanted to write about change today is because I've just moved this past week, and a move does automatically inure some type of change.
I just moved less than 2 weeks ago, and as I was moving this time around I couldn't help thinking many times I've moved in my life.
I've lived in two different continents, two different countries, six different cities, and thirteen different houses including this last one. You might say that I like change in a way, but like many other people out there, believe it or not, I always push it back as much as I can.
Why do we Tend to Resist Change?
I remember when I was going to buy my plane ticket to move from Paris to New York.  I came as a drama student with a visa, and I could choose between two dates. January 10th or January 17th.  Guess which date I chose? I chose January 17th of course.  I chose the later date, because no matter how much I wanted to go, it was still hard to make the change. I pushed it back to the later date.
We tend to resist change, because as human beings it's always difficult to come out of our comfort zone.  However, interestingly, our comfort zone is not necessarily comfortable.  As a matter of fact, it's often very uncomfortable.
This is because what we call our comfort zone is simply what we know, but it doesn't mean that it's really comfortable. When we go into the "unknown" we step out of our comfort zone.  Change is a step into the unknown and that's why it's so hard to change.
It's because of fear of the unknown that people stay in jobs they don't like, relationships they don't want, surround themselves by people they can't stand, live in places they don't like, etc. The unknown is scary.
Yet change is bound to happen.  So what can we do in order to make the "unknown" less unknown and, therefore, change less scary.
Get Educated About your "Unknown"
Of course we can't prepare for sudden change that is unexpected, but you can prepare for changes that you know is going to happen or you want to make happen.
When I made the decision to move to the US it was first on a 3 months try.  I came with a three month student visa that I could renew for another three months after that.  However, deep down inside, I also knew that I was going to be here for longer than that.
At the time that I left France I was in a desperate need for change.  I had been living in Paris for the past 5 years doing something that I loved, but I was fed up with a lot of things and people.  I knew that it was time for a drastic change.
That's why I decided to immerse myself into a new country, new culture and a new language.  But in order to do so I had to be as prepared as possible. So, I started learning English up to 6 hours a day at times and I learned about the American culture through a lot of movies and reading.  The spring before I moved to New York I even spent some vacation in the UK with my family with the main purpose of practicing my English.
I was willing to make the change and take on some of the responsibilities that such change was calling for.
The more you learn about what you don't know, the less scary it will be to make the change.
What about you? Are you in need of change? If you are, what's stopping you? Could it be that you don't know enough about what you want or need to do, or what needs to be changed in your situation?
Change is Good
I know you've heard that expression before, haven't you?
Yes, it's true, change is good.
In my case, the change that I made when I moved to New York was something I needed.  Eventually, getting to know another country and culture helped me to rediscover my own under a new light, which I was just about to hate when I left.
The grass is always greener on the other side, is also such a true expression.  After a few years in the US I really started to like France again, more than ever before.  That's why I blog every week about it.  Change helps you to reevaluate yourself and get more balanced ideas about things.
Change also helps you to go above that fence and learn what's on the other side.  It helps you see that the unknown is not that scary after all.
Change helps you grow!
What Moving has to do with the Law of Attraction?
The main reason why I moved this time around is because I was ready for some upgrade.  My place was rather small and I wanted to be in a more upscale neighborhood.
The first step to attract better things is to step into it.  I knew that moving in a larger and nicer place will put my mind at a better level to better attract the next stage of my life.
When you live in a nicer place, your whole spirit changes; you can't help but feeling better about yourself. This in turns will bring your vibrations at a higher level.  If you've been reading this blog, you know that higher vibrations will attract better things into your life.
So, what about you? Are you in a place in your life where you need change, and are  you working towards that change?
Let us know in the comment area what you think about change, and what change you're planning in your life?