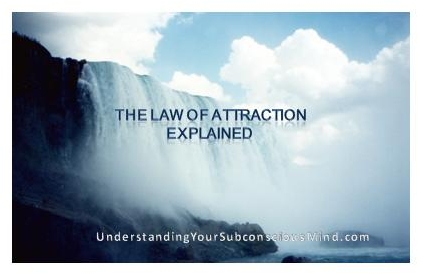 I've written posts that explains the Law of Attraction in the past, but it was before this blog was actually read by anyone.  So, I thought that a brand new fresh post about the Law of Attraction and why it might not be working for you was now due.
Are your Positive Affirmations Working for you?
Back in the days when I was introduced to the Law of Attraction I was told to have a positive "self talk" (also called affirmations), and to repeat my it over and over again.  Up to hundreds time a day.  So I started writing down positive "affirmations" repeating them out loud all throughout the day anytime I was alone.
I did that for months!
The problem was that like most people who have tried that, it didn't work for me. Was I doing something wrong? Was I told a lie and that stuff just didn't work? Does it work only for some people?
Those were some of the many questions I had about the Law of Attraction. I felt like I was missing something, but I did know what.
What I didn't want to believe, however, was that the Law of Attraction didn't work. I knew the Law of Attraction is in action 27/7 no matter what.  So, the reason it didn't work "the way I wanted" meant that I just didn't have all the data I needed to make it so.
So, let's see why you might be having a hard time to attract what you want.
Why Affirmations Alone don't Work?
Affirmations, positive self talks, whatever you may want to call them, are not all there is in the process of attracting what you want in life.  You could repeat day and night "I am a millionaire" for a year straight and still be broke.  As a matter of fact, if all you did is just repeat this like a broken record with nothing else, you most likely will not become a millionaire any time soon.
Why is that so?
Because, affirmations alone, without the belief behind them are worthless.  This is what a lot of personal development teachers wouldn't tell you a few years ago.  They were missing on the most important piece of information, and sadly, because of this, you would think that it was YOUR fault.
When you just speak out affirmations without the belief and emotions that come with it, You might as well try to water your flower garden holding a hose without water coming through it.  When you repeat affirmations with no real belief about what you are "affirming", nothing happens and you won't be able to attract what you want.
The reason why this is so is that your level of vibrations stays the same as what you believe, not as what you're repeating/affirming.  And the reason you don't believe has probably something to do with the nature of the affirmation.
Start with Affirmations you Can Believe in
When you're getting acquainted with the Law of Attraction, using positive affirmations and self talks to speak out what you want to be and have is definitely a great thing to do, but as you start you need to  choose affirmations that can actually believe. This is a huge detail that a lot of law of attraction books and tutorials just leave out.
Remember this; if you don't believe what you are saying, it's NOT working. Period.
This is what I mean…
Consciously you're saying "I am wealthy", "I am successful", "I am a millionaire", "I drive a luxury car", etc… but really subconsciously you're saying – no way. As you may or may not know when it comes to the Law of Attraction is what the subconscious mind believes that counts.
You are saying that you are wealthy with your mouth, but you subconscious mind says you're broke.
The vibrations that you are sending out are low vibrations that are in accordance with what you truly believe subconsciously, which is, no way, I'm broke! This is why you're saying that the Law of Attraction is not working; when as a matter of fact, it's working just fine. It's giving you what you've been asking for subconsciously, because the subconscious mind ALWAYS wins. You are "saying" I'm rich, but you are really "vibrating" I'm poor.
How To Make your Positive Affirmations Work for you?
Let's say that you are making $25,000 a year right now and in you are saying "I am a millionaire" or even "I am making $100,000 a year"! You are saying this consciously, but subconsciously you do not believe a word of what you're saying.  Not just yet, anyway.
Your subconscious mind holds all the beliefs that you have accumulated since you were a small child. Now, let's say that you have grown up in a family that never made even close to that kind of money, and you haven't ever made even close to that that kind of money yourself either as an adult. What do you think would be your subconscious belief about money?
Your subconscious belief about money would be that you are always going to make just about what you have been making all your life even before you were an adult and made your own money.
Let's say that your parents were making like $35,000 a year and you are making $40,000 a year, that's what is deeply embedded in your subconscious mind. Thinking that you can shift this with simple affirmations like "I'm making $250,000 a year" would be a long shot, because your subconscious mind is saying "that's impossible".
Because your subconscious mind is saying "that's impossible", you are not vibrating at the frequency that says $250,000 a year; you are vibrating at $40,000 a year.  Do you understand the difference?
Someone that makes $250,000 a year is NOT vibrating at the same frequency as someone who makes $40,000.  Everything about their vibrations is different!
In order to attract $250,000 you need to bridge that gap emotionally. Your belief and emotions need to go there, so to speak. How does it really feel to make 250,000 a year compare to $40,000 a year?  This is the question you need to be asking to yourself.
This is why many people who have watched the movie or read the book "The Secret" are saying that it's not working. It's not that it's not working, but it certainly is not working for them.
The reason why is because they are coming from a too far away place and have not understood the concept beneath all attraction according the law which is that the BELIEF needs to be there first or be introduced little by little.
Subconsciously, you don't believe your affirmations, therefore, you are not vibrating at the energy level that you would need to in order to manifest what you what you want in your physical world.
How to Introduce the Belief into your Affirmations?
Did you ever noticed that everything in the universe happens little by little?
We grow up little by little, we start speaking little by little, we start crawling on all four before we can stand up and start taking our first step, and we learn how to read little by little as well.
It's the same thing with the Law of Attraction and your subconscious mind.  You have to prepare your subconscious mind to bigger and better things little by little as well.
To take our money example again, if you are making only $40,000 a year don't start with an affirmation that says "I'm a millionaire", start at a number that your subconscious mind could believe in.  When you start to feel that you truly believe that new concept, you can then move forward and increase your amount.
At the same time, as your belief system changes, you will start noticing some positive changes in your physical world as well.  This will give you even more confidence and more positive beliefs. The whole thing will start to snowball.
Then, and only then, will you notice that your affirmations will work and you will start attracting what you want in life.
This is how you will be able to finally make the Law of Attraction work for you!
So, your turn now.  Do you have a deep understanding of the Law of Attraction or were you missing the point until now? Let us know in the comment area.