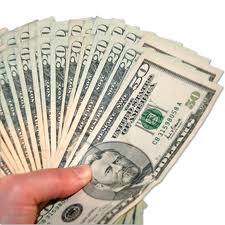 Once in a while, I receive a message from my contact page from someone asking me how much I would charge for writing articles for them.  Usually, when I receive this type of message, no matter what my answer might be, it's too much for that potential client.
The reason why this is the case is because people want you to write their articles for peanuts.  Recently, someone who asked me about writing articles for him told me that he gets articles for $1.50 to $2.00 a piece from writers in the Philippines.  I replied to him that it was fine, but that "I" wasn't the Salvation Army and just couldn't help him writing articles for that price.
Most people looking for writers want to pay you peanuts
Most of the times, whoever is trying to find a writer for their blog or article marketing is trying to find the cheapest possible deal.  What this means for you, the writer, is that you are not going to make any real money out of such deals.  Frankly, it's not even worth opening your word document for anything that "doesn't pay".
What about Ads Looking for Writers?
Ads that you will find on Craigslist or any other advertisement platforms of the kind are usually looking for writers at low employee-like rate.
Even though those may pay a more than $2 or $3 per article it won't usually get past the $10-$15 mark.  At this rate, it means that you would have to write over a dozen articles a day to make a still rather low employee rate salary and that includes research.  Not exactly a day at the beach, is it?
Who is Really Paying you, Big Buck, to Write Articles for them?
Well, that's a great question, isn't it? Who is going to pay you more money for your writing talents?  Are you ready for the answer?
People who would actually pay you the big buck for your articles are the ones who do not advertise.  Yes, that's right.  There are plenty of blog owners and other companies that need content for their blogs, online magazines or even hardcopy magazines that actually don't advertise for it.
Why do they not advertise you might ask?  Because either they are approached by writers or they do not think about advertising for content.  Does it seem weird that they wouldn't advertise if they do need writers? Well, you would be surprised.
You can find such potential clients by browsing sites like Flippa.com, acquisitionsdirect.com, dealasite.com, websitebroker.com or flipfilter.com, to name a few.
You may also want to look into the magazine industry and pitch them.  Before you do so, however, you should get a Writer's Market Guide to get a list of magazines and editors that you can contact.  When contacting them, you need to create top-notch pitches that are intriguing, original as well as relevant to their topics as possible.  Your pitch doesn't need to be long, but it needs to be catchy.
What is the Catch with High Paying Writing Jobs?
Now, why are those people willing to give you more money for your work than individuals looking for writers?  Is there a catch?  Well, yes and no.  Let me explain.
The catch with those companies that are willing to pay you way more money for your work is the following.
1-      You need to be able to write interesting out of this world pitch
2-      You need to be a good to excellent writer
Like anything else in life, the more money you expect the higher quality you need to provide.  Needless to say that not only you need to master the English language, but you need to be original and creative.
Another thing that you need to be aware of when writing for high standard clients is their content style.  There is a difference between writing for your own blog and writing for clients.  On your own blog you are 100% free to write as you wish, on other people's blogs and sites, however, you need to follow their own rules.
For example, I have a new technology-site client that require the articles to be written like newspaper style with very specific rules such as what type of sources that should be linked to the article; numbers above 10 needs to be written alphabetically; when referring to companies, the word "it" and not "they" should be used, etc.  It's their site; therefore, they have their own rules.  I'm sure that if you own a blog and welcome guest posts you have your own rules as well, don't you?
Where Else can you Find Good Writing Gigs that Pay Big Buck?
Besides what was said above, there are good writer's sites out there that can provide good writing gigs.  To find them you have to do some research and see which ones work for you or not.  Of course, it goes without saying that those sites are looking for good and experienced writers.  If you are one of them, you can check sites such as FreelanceWriting.com, freelancewritinggigs.com, demandstudios.com, and freelancewritersden.com to name just a few.  Be aware that some of those writers' platforms require a monthly fee, but if you are at that level in your writing career it's totally worth it.
OK, that's all nice and well, but what about if you don't have the kind of experience needed to write through those sites?  What should you do? If that's your case, you need to build your writing experience.  This subject is going to be the theme of an upcoming article.
In the meantime, please, leave your feedback below!