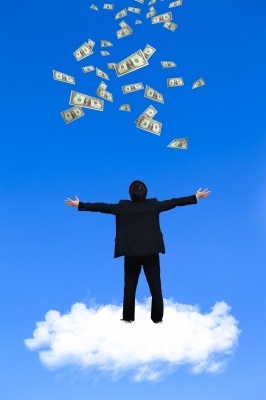 This is part the last part of the how to become a money magnet series.  If you are landing on this post, I suggest that you go read part one and part two first, and then come back here once you're done.
The Dilemma of Lacking Money
In order to attract it, if you are lacking money right now, you need to make a diagnosis of your problem is. What is the source of such lack?
If you feel sick, but are not sure of what could be wrong, you usually go the doctor who will diagnose the root of the illness, and give you advice, options, and medicine to heal or relieve your symptoms.
When it comes to money, very few people think about going to see a coach to understand the roots of their problem.  That is the MAIN reason why their problem persists, as a matter of fact.
This post series is meant to try to help you understand why you might not be free financially right now, and give you some advice that I KNOW to be working for those who are truly and fully applying them.  However, what this post series CAN'T do is find out what is YOUR own personal issues in regards to money.
There are two ways to find that out, if it's what you want to do; either you need to figure it out on your own, or you need to consult a coach to help you.  I can tell you right away that the second option is the best one, but if you feel like you can't afford a coach right now, then I would advise you to follow my tips on this series.
Finding Your Money Dysfunction
Finding your money dysfunction is a must and a starting point to recovery, just like being diagnosed with a specific illness or disease in order to heal it.
Money dysfunction is something most of us have. If we didn't we would have NO shortage of money. That's as simple as that.
Most of us have some type of money dysfunction because of what our great grandparents, grandparents and parents thought about money, because of the culture we were born in, because of the media, and because of the overall worldwide beliefs about money.
In other words, your beliefs and dysfunction about money were there before you and it's not your fault if you have such dysfunction, but it's up to you to change it.  It's when you refuse to change it, while complaining about the fact that you don't have money, that it becomes your fault.
There is nothing one can do to fix their money dysfunction if they refuse to take the actions needed.  Such actions needed can vary from one person to another.  For some it may be that they need to take more physical actions at that point, and for some it may be that they are still at the level of fixing potential subconscious blocks.  Yet again, some might still be at the level of becoming aware.
The good news is that if you are reading this type of blog you are at least willing to find out what's going on in your life and willing to address it.
The following are five "actions" that you can take to  help change your subconscious mind programming about money.
1- Affirmations
Write a handful of self-talks/affirmations that are the exact opposite of what you've been taught about money. You can find tons of them online, and custom them to your own specific needs. Repeat those affirmations as many times as you can each day.
2- Associations
Try to hang out with people who are financially successful.  Nowadays, because of our internet access anyone can find wealthy people to mingle with.
You can visit successful entrepreneur's blogs, search for wealth minded groups on facebook, look for mastermind groups where success and wealth are discussed on a weekly basis.
You can register for success type events and seminars, you can write your dream life story, and even publish it online on one of those Web 2.0 sites, or create a blog about it.  There are so many things you could do to improve your wealth mentality.
3 – Listen to Holosync Recordings
What is Holosync?
Holosync is a set of specific sound recordings that is intended to put your brain waves to the level obtained by regular meditation.  The difference is that you are able to reach such level much faster.
Such sounds are sounds of a particular frequencies that take the brain into alpha and theta states.  When the brain is entertained with such sounds that affects the alpha and theta states, over time, the person feels more clam, more at peace, more insightful and more in alignment we positive thinking.
Holosync helps the user to become overall more successful.  I was introduced to Holosync three years ago, and I love its effects.
4 – Self-Hypnosis
Self-hypnosis, works wonder into helping someone to become "mentally wealthy" so, they can manifest physical wealth and money, because it talks directly to the subconscious mind.  What self-hypnosis does is that it bypasses that part of our mind that is naturally blocking new ideas and concepts, call the "critical factor", to enter the subconscious mind. For a more depth into what hypnosis and self- hypnosis are, read this post.
5 – Coaching
What people who are really serious about changing their paradigm about money, and other personal development issues, usually end up doing is consulting a coach.
There is no substitute to consulting someone who can actually ask you pertinent questions to pin point the source of the problem and give you concrete answers.  A coach will also help you to see things that are totally blinding you.
As I'm writing those words, I am helping someone for the past few months who has made great progress.  He told me just yesterday that when he is totally out of the bush he will probably be my best testimony.
But what I really want you to do, if you are at the point where you think that you need a coach, is consult with someone who you feel comfortable with.
If you want to know me better, you can browse through this blog and read my posts which I believe contain lots of very valuable information.  Then you can also contact me with any question you may have.
In the meantime, I hope you enjoyed this series.  Let me know all about it!
Photo Credit: FreeDigitalPhotos.net