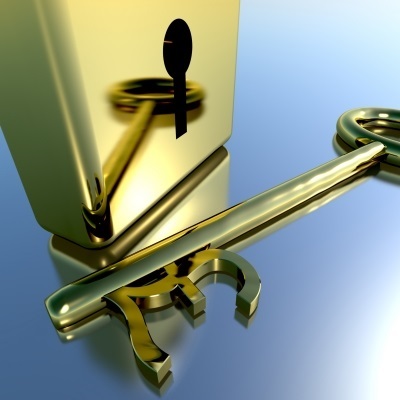 This is part of this summer series about how to become a money magnet.  Attracting money is something we all want, yet something so many of us tend to reject subconsciously.  I even noticed that in few of the comments I've got on last week's post.  By the way, if you've missed it, make sure you read it as well.
Several of you have mentioned things in your comments last week that tells me that you have some issues with money.  No doubt.  But don't worry too much, most of us do.  The only thing you need to work on is to make a switch in your beliefs to change things around.
Now, do you really have to do this? No, not if you want to stay where you are.  However, if you do want to attract more money in your life; if you really, truly want to become financially free one day, you might want to consider making that switch.
As Albert Einstein said, insanity is doing the same thing over and over again and expecting different results.
Why Some People have Money and Some don't?
As you may recall, last week I mentioned quantum physics because it is related to what we do have and don't have, because quantum physics is where non-defined waves of ideas can transform to real physical things.  And that goes for everything – what people call circumstances, events, people they meet, and indeed, money.
I guess I will never say it enough – what you truly believe about anything and everything in life, from being overweight or skinny, looking younger for your age or older, being healthy or sick to even how many years you will live, all have something to do with your BELIEFS.  I've seen so many real life examples of this over the years before and after I knew about all the LOA thing, it can actually be quite scary, unless you start taking control.
People who have money, just have a totally different belief about their relation to money than those who don't.  This is not something anyone can put in your mind, though.  This is something a life coach can explain to you, but you will be the one who needs to apply it.  I could tell you what foods are good for you, but you would be the one needing to buy it, cook it and eat it.  I'm sure you get my point here, don't you?
Every day I hear things that proves to me that some people are just looking for trouble.  What do I mean by that? Listen to people around you, and even yourself, and notice what you're hearing.  People often talk about their concerns.  This is the proof that they subconsciously expect negative things to happen to them.  I hear this ALL the time.  Then, they wonder why their life sucks, and why they're broke.
A year or so ago I've mentioned in a post on this blog how one day I was so nervous about getting in an accident with my rental car because of a previous accident with my own car that I "created" a car (that wasn't even there) to bump into me.  This is not a story, guys. It's TRUE!
This car wasn't there, and in a matter of 2 seconds it was, ready for me to smash into, since I wished it so bad. I l will never forget that day. Ever.
How do this relates to money?
The reason why you don't have money is that you are pushing it away, somehow, or preventing it to get in.  That's all.  We are so skilled at this that we are finding an array of ways to do it. What we need is find ways to do it the other way around.
"To make the manifestation process work for us, we have to put aside all our ill-defined wave ideas about money."  Dr. Robert Anthony
So, what are YOUR ill-defined wave ideas about money?
Is it Bad to Ask for Money?
I bet a lot of you would answer no to this question.  If so, do you ask for money?  Do you have daily affirmations to attract money?  Why not?
Do you know that the more specific you are about what you want the better and faster the Universe will deliver?  And that works for everything. The good, the bad, and the ugly.
The best way to ask for money is to affirm that you have such money on a daily basis while making sure your feelings agree with your words.  Affirmations of abundance won't work if you say them with feelings of lack, fear or even doubt.
Affirmations of a specific number by a certain date has worked miracles for a lot of people who have done that.  And this doesn't work on with money but anything else.
What about prayers?
What's the Difference between Prayers and Affirmations?
Good question isn't it?  Do you think that your prayers can make up for your beliefs and can replace affirmations and visualizations?
From my own experience I would answer no to this question.  Having been very heavy in prayers in the past, while having all the negative beliefs you can think of and not even knowing about affirmations, I know – for me at least – that prayers alone just don't work.
But to answer this question much deeper let's analyze two ways of paying for what you want.
Prayers that don't Work
No matter to whom you are praying to, if you pray as a victim who needs help and has no power what so ever to make things better for yourself, no prayer in the world will change a thing for you.  Your mind, your thoughts, your feelings, you're whole being is one of a victim, and you'll get victim results.
In other words, you are praying but not expecting to receive what you're asking. Thus you don't receive.
Raise your hand if you managed to get anything positive from paying this way.
Prayers that do Work
Now, prayers that do work are not the begging prayers, but the ones that are said with the CONVICTION that you have already received what you're paying for.  Did you noticed, I emphasis the word conviction?  If you're not convinced you won't get what you're asking for in prayer.
The reason why such prayers work is because they are affirmations prayers, and they don't put you in a victim feeling and vibration, but rather that of a victor.
From my experience there is no positive results that come from a victim place. Ever.  Not even in all the prayers in the world.  People who have prayed for cure or health have received it ONLY when they were convinced that it would be so.  The others have not.  That why people call this miracles. A better word for not understanding what was going on in that person's mind.
A True Life Example
My mother had a strong belief that she would have sunshine when she needed it. I mean she STRONGLY believed it.  She actually often "affirmed" I attract good weather.  One day it was the morning of the wedding of her niece (my cousin) and it was grey sky with a light rain.
I will never forget.  She said, no event of mine has seen a bad weather, I know the sun will come out before the wedding.  It did.  We had a beautiful sunshine the whole day.
For decades, my mother always had good weather when she needed it.  This was so strong in her that we were sure that as long as my mother was around, and we would have sunshine for anything we would need to attend.  We always did!  I remember one of our neighbors told my mother once, "Mrs Nuccio, I know you order the weather, you'll get sunshine."
She also mixed God with it. She say God was going to give nice weather to her.  He did.  But not because she asked. No.  Because she was convinced.  I am sure that if one day she had doubted, she wouldn't have had good weather.
So, this brings the question?  If you pray for money, how do you pray for it? Do you pray as if you already had it, or do you pray as a broke, powerless person?
Why do Affirmations Work to Attract Money?
Affirmations to attract money do work, but it depends on several factors.  That's why it may or may not work for you.
If you affirm all day long that money flows to you with a feeling of lack, it won't work.  If you use affirmations only once in the blue moon, when you think of it, it won't work either.  This is so because you need two ingredients in order to reprogram your subconscious beliefs about money.
1)      You need to be convinced.
2)      The subconscious is best convinced over time with repetitions, even when using self-hypnosis.
Conclusion
So, what did we learn on this post?
– Understand that in order to attract money to you, you need to change your mind over.  At times it's going to be a 180° change.
– Watch for any sign that you have an issue with money by noticing what you're saying when it comes to money.
– Praying for money alone, won't bring you money. You need to pray with conviction.
– To attract money faster add affirmations to you prayers.  Prayers don't change the subconscious mind, affirmations do.  Add a specific number and date, it will help manifest money faster.
Next week we are going to consider ways to manipulate your subconscious to be a money magnet.
Over to you now, what are your thoughts on that!
Photo Credit: FreeDigitalPhoto.net