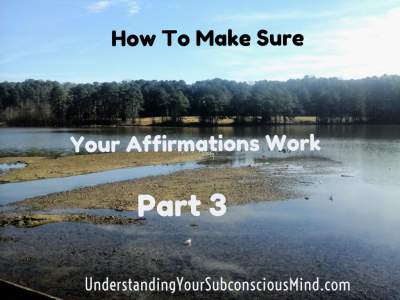 Before you start reading this post, if you haven't read part one and part two yet, I suggest that you do this first, in order to get the whole spectrum of this topic.
We've all heard how many people who have tried to include positive affirmations into their life, have not always been able to see tangible positive results.  I know it was certainly the case for me.
This lack of success is usually due to the fact that while we may repeat our affirmations every day, we, somehow, do not truly believe them.
It's one thing to say "I'm a millionaire" but it's another to truly feel and  believe that you are.
When we don't believe our affirmations at a subconscious level, even though we might speak them out loud again and again to exhaustion at times, they won't bring us the results we're looking for.
In part two of this series I was talking about conscious ordering vs. subconscious receiving.  It's a must that the two connect in order for our affirmations to work. When they do connect, however, affirmations can create miracles and you'd be amazed how positive affirmations can change your life. How much your might ask?
Well, very much so, I might say. Positive affirmations can help you:
Lose weight
Quite smoking
Increase your income
Find the perfect life partner
Find the perfect job
Start the career you've always wanted
Live your passion
Generate an extra million dollar
Get rid of any bad habit
Take on good habits
Change personality traits
Travel wherever you want in the world
Move wherever you want to move
Be successful at anything, etc…
They are many more affirmation out there  to change whatever it is you want to change in your life. So, what a waste it would be if your affirmation didn't work because you don't truly believe them, yet.
In my last post I talked about tapping your negative vibrations away first, while gradually tapping your positive affirmations in to emphasis your beliefs and getting rid of the negativity that gets in the way which prevents positive affirmations to work.
Today, I wanted to talk about another wonderful way of testing your own beliefs and improve the subconscious impact that you can have on your positive affirmations. For this I use a wonderful tool that I've come to love and use every day.  This tool can SHOW you what you wouldn't otherwise see, which is your true subconscious beliefs.
What I'm talking about here is the pendulum.  If you've never used a pendulum before, you may not have any idea about what it really is and how you can use it to control your positive affirmations better. If so, then this post is for you!
Here is a little secret. I've started using pendulums only a few months ago, and I simply love it. I've learned so much about this in a short time, that I will be teaching some of these things to any of my clients who will want to learn more, and I will discuss the pendulum in upcoming posts as well.
You can use the pendulum for countless use in life, but for starters, you can use it to figure out if you truly believe your affirmations and adjust them as needed. This is what I want to discuss in this post today.
What is a Pendulum?
A pendulum is any sort of weight hanging on a string or chain.
A pendulum is NOT magic, so you can use any medallion on a chain, and you'll have your pendulum. That's what I used when I first started.
Then, I decided to purchase three beautiful pendulums made of opal gemstone and amethyst crystal (seen on the picture), because I wanted real pendulums that I could carry around with me at all time, but you don't have to have that in order to do the exercises I'm going to mention here.
How Does a Pendulum Work?
Again, there is nothing magic (in the negative sense of the word) about how a pendulum work, and when you come to understand this, you will probably have a totally different view about this tool if you have a negative view about it.  As a matter of fact, if you have any doubt, you can actually use your body as a pendulum, and you'll get the same result, but the pendulum is more practical. You'll see why when you come to understand this.
The reason why a pendulum moves while you're not moving the hand that holds it, it's because the motion is caused by the subconscious mind. So, a pendulum shows you what you know subconsciously, which is otherwise basically impossible to see.
When asking questions, you subconscious mind sends undetectable contractions of the muscles that makes the pendulum move in one way or another, even if you actually refrain from moving your hand consciously.
Yes, that's all there is to it. Pretty cool, don't you think?
The Four Universal Signs of the Pendulum
The pendulum can show you for signs: Yes, no, I don't know, or don't want to answer, and I need more information.
1 – The Sign for YES
If you tell your pendulum give me a sign for YES while you're making sure your hand is totally still, your pendulum will start moving from front to back, for most people, since this is the universal sign.  However, you may have a different sign of your own.  You will find that out when you try.
2 – The Sign for NO
If you ask the pendulum to give you a sign for NO, it will move from side to side (left to right), which is also the universal sign for no. Again, yours may be different.
3 – The Sign for I don't want to answer/I don't know
If you ask your pendulum to give you a sing for I DON"T WANT TO ANSWER, it will turn counter clock wise, which is the universal sign for this answer. For some people it may stay still.
4 – The Sign for I need more information
If you ask the pendulum to give you e a sign for I NEED MORE INFORMATION it will move in a slant way. Universal sign for this.
These are what we call the universal signs and they are mine as well.  They are called universal because just like most people are right handed, these are the signs most people get, but just like there are also some left handed people, some people do have slightly different signs.
For example your YES could be turning clockwise rather than front to back.  But it doesn't matter, how YOUR pendulum decides to move, as long as YOU know what are your yes, no, don't want to answer or need more information.
Before you do anything else with a pendulum you need to test your signs.
Testing Your Pendulum
Just stand or sit still, and place your pendulum in the hand that you use most and hold the pendulum in front of you at chest level.  Then ask (out loud or in your head it doesn't matter at all) give me a sign for YES. In just about 2- 3 seconds your pendulum will give you your yes sign. Once that's clear. Stop the pendulum and ask it "give me a sign for no" and you'll see your pendulum giving you that sign as well.
Stop the pendulum and start again with the request "give me a sign for "I don't know" and give me a sign for "I need more information." Your pendulum will give you those signs as well.
[box type="blue"]NOTE:
It worked instantly for me. However, each person is different.
If you're not an open minded person, it may take longer for your pendulum to respond.  So if you feel that you're one of those doubtful out there; tap those negative vibrations out BEFORE you use the pendulum.[/box]
If you've never used a pendulum before, you will feel that you're meeting your subconscious mind for the first time.
As I said above, the subconscious mind of the person holding the pendulum causes the muscles to react unconsciously and that's what moves the pendulum in one way or another. So in other words, your pendulum is that visible link between you and your subconscious mind.
I was so excited when I first tried this that I was jumping up and down. In my case I know for sure that's the law of attraction that directed me to the pendulum, so if you're reading this blog post, my guess is that's the same thing for you.
Testing your Positive Affirmations with the Pendulum
One thing is sure is that the subconscious doesn't lie (it cannot), thus your pendulum doesn't lie either since it's only a visible reflection of your subconscious mind.
When you want to test an affirmation, just hold your pendulum and say your affirmation.  Let's say your affirmation is "I'm successful," just hold the pendulum as you say "I'm successful" and see if you get a yes, no or I don't know sign.
If you get a yes sign as you're saying your affirmation, then you're good to go. Your subconscious is actually believing that affirmation. However, if you get a no or I don't know sign, it means that you don't subconsciously believe your affirmation.
Now, how great is that? It's marvelous, if you ask me.
For the first time you will finally know for sure if your affirmation have done any good for you so far or not.
Now, this all well and good you might say, but how do I make sure that I do believe my positive affirmation? That's very easy, and it has worked for me like a charm.
How to to Test if you Believe your Affirmations Subconsciously Using the Pendulum
First off, do a basic test. Hold the pendulum and say, "my name is… (your real name)," and you'll see the pendulum say yes.  Then say, "my name is… (another name)," and you'll see your pendulum say no.  Once you've got that down, start testing your affirmations.
If you spotted that you do not truly believe an affirmation because of the use of the pendulum, you can also use the pendulum to make sure your affirmation goes to your subconscious mind.
In order to do this, all you need to do is hold your pendulum again, and keep saying your affirmation until your pendulum gives you a yes sign.  After just a few seconds (again may be longer for some) you'll see that your pendulum will eventually give you a yes sign.
The reason why this happens is that while the pendulum is not "magical" on its own, it is a tool that links your conscious to your subconscious, so it has the power to switch a belief pretty fast.  This is really amazing.
Try again the next day and see how your pendulum reacts to your affirmations. If you get a yes right away this time, it's a sign that you now subconsciously believe your affirmations. But if you get a know again, all you have to do is repeat the process until you get an instant yest every time you test your affirmation.
It's a good thing to test your affirmations  regularly as you may have a relapse here and there when you're still new at this. But over time, you will notice that your pendulum will keep saying yes.
I had planned to post a video, but I ran through a technical problem, however, I'll be adding a video to this post later on.
I hope you enjoyed this. Let me know in the comment area, and ask me any question you may have that wasn't clear for you yet.
For those who don't know it yet, I am a life coach and I can teach you how to use the pendulum more fully in my coaching sessions.  Take advantage NOW as my fees will go up very soon.