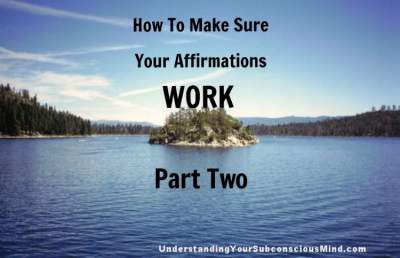 This is part two of this series of three where I will be showing you how to make sure your positive affirmations work in order for you to see results as you practice them every day.
In part one, I talked about the basis knowledge we need to have in order to create our affirmations the right way, and I also discussed the fact that we need to destroy negative patterns, so we can actually believe our new positive affirmations.
In part one of this series I also emphasized the fact that any affirmation that you do NOT believe won't work for you, so the trick is to make sure that one way or another you can learn to believe your positive affirmations.
In order to do this, I found two ways that really work, not only for me, but apparently for most people who have had issues with subconsciously believing they own affirmations of success.
So, today I wanted to start with the number one technique which will probably be the easiest of the two – at least for some of you.  However, I they both work great for me, and I use them both all the time.
Just a note before we start, though. These two techniques will always work best on open minded people. If you are a close minded person it might not work for you.  This is just part of some of the Laws of the Universe. You'll receive in accordance to what you send out.
There's little hope for you to receive abundance if what you are projecting is doubt.
Releasing your Negative Pattern by Tapping it Away
One of the best ways to un-block some deep down subconscious beliefs that may be blocking positive results is to tap them away.
I was introduced to EFT (Emotional Freedom Technique) also called tapping back in April 2007. The way tapping works is very similar to the way acupuncture works (that's why it's also called acupuncture without needles).  Instead of planting golden needles into specific areas of the body to heal other parts of the body as well as organs, EFT uses tapping on different parts of the body (mainly the upper part) to release emotional and mental blocks that may be located in totally different parts of your body as well as you conscious and subconscious mind.
If you are not familiar at all with tapping, EFT tutorial page, so you can better understand how tapping works.
Tapping has not been known – at least to the general public – for very long. As a matter of fact, I speak to people on a regular basis that have never heard of this wonderful method yet, and among those who have heard of it, many have not yet tried it.
If this is you, let me tell you that EFT works.  As long as you do it right and on a daily basis, you'll see some results if you practice EFT.
Make sure you get into the habit of tapping each morning before you start your day, and before you go to bed.  But if you prefer doing it other times of the day, that's fine too.  What's important to understand is that tapping sessions work best over time, especially if there's lots of negative feelings you need to get rid of.
Conscious vs. Subconscious
When your affirmations don't work, or even if you feel deep down that you're just saying I'm wealthy, I'm successful or I'm healthy, but truly don't believe a word of what you're saying, it's because you have blockages that are preventing your affirmations to go from your conscious ordering to your subconscious receiving.
As I have explained in previous posts over the years on this blog, we have "gate keepers" which job is to prevent anything that is not useful (or new) to penetrate our subconscious mind.  At least not easily. This is actually a natural protection for us, but unfortunately it can also be a problem to let new useful and wanted information to get in.
Normally, over time repetition with the belief and feelings that go with them, should work, but in some cases, if there is an underlying deeper issue, it can prevent any type of affirmations you may be practicing to work at all. Because there's something totally blocking any new ideas.
That's why only wanting something consciously and matching that want or desire – what's called being in alignment – are two different things.
As long as there's no alignment, no match, there's no positive result, even with positive affirmations.
Affirming and Confirming Negative Feelings and Blockages
In my last week's post I was giving the example of vaccination, which is basically mimicking a virus in order to prevent such virus (the real one) to invade the body. I nicknamed it killing with kindness. Let's give the body a sample of that bad stuff, so it can better defend itself against the more dangerous real version.
You know, as they say, don't turn your back to your enemy, but rather try to know them, so you can better fight against them.
It's the process that we are using with typing.  We accept our negative vibrations and beliefs in order to better get rid of them. Once you do, you will better be able to let new fresh information in.
So, here is how it's done…
Make sure you have 5 minutes of uninterrupted time at hand. Also, tapping should be done when you're alone.
1)      Start with the karate chop point and tap away all your negative feelings. As you tap, say out loud what you feel is blocking you.  Totally admit it to yourself and to the universe that you have that block or blocks in you. Start you sentence why the statement "even though…" (see video).
2)      Then tap the points shown on the video or specified on my EFT page saying out loud again your negative feelings, and lack of attracting what you want one by one. This is the time to totally speak out your negative stuff. Do that for two to three rounds (as shown on the video).
3)      Then keep going as you gradually insert positive affirmations, as you progress in your tapping and affirmations until you now emphasis the positive until the negative goes away.
Watch the video below which is a very good demonstration of how it done.
Your tapping session should last at no less than 5 minutes at the time. Do this twice a day.
Once you're done notice how you feel.  If you've done it right, you should feel a sense of relief. You should feel lighter than before you started. You should feel in a good mood and with an overall well being feeling.
Practice this until you see a difference in your feelings and results with your affirmations. Don't give up. It may take a week, it may take a month, it all depends on YOU.  Let me know how it goes.
See the video demonstration on what to do…
I value your comments and thoughts. Don't forget to share them below…
Also, make sure you read part three.