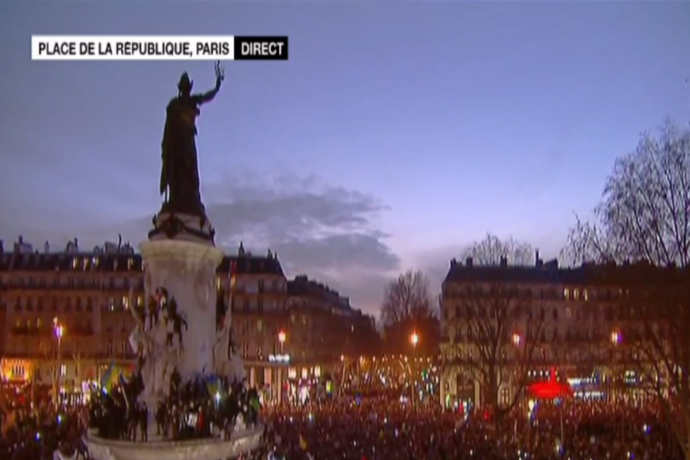 Last week I wrote a post on my travel section about what happened in France on January 7th at the headquarters of the satirical newspaper Charlie Hebdo.
This hit close to home, and while being someone who rarely watch the news at all, I found myself glued to French news to learn everything I could about this terrible event that transformed the landscape of France for days, with an ocean of people marching in the streets of all its cities.
Yesterday, I came across my friend Annie Andre's post titled What Is Je Suis Charlie, and I have to say that she did a heck of a great job writing about this event as well.
Annie is a French Canadian/American who was born in Thailand, now living in France for the past couple of years. If you want to learn more about France, go check her out!
In this post I'm not going to mentioned what Annie has discussed already, but I wanted to talk about the mass movement of silent protestations against terrorism that went on in France last Saturday and Sunday and how Charlie Hebdo came back stronger than ever.
Paris, the Capital of the World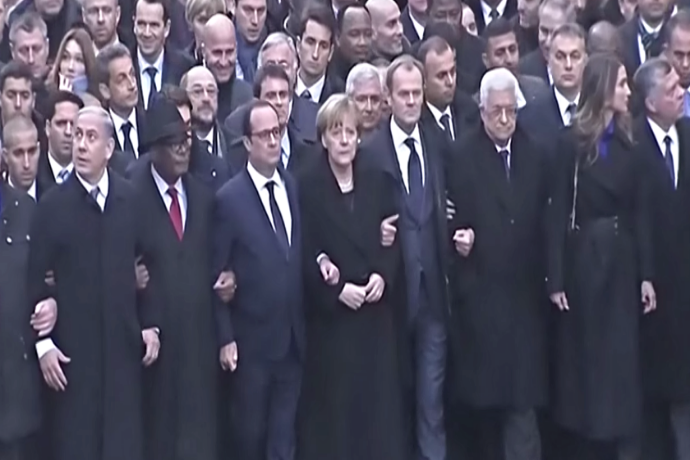 On Sunday Paris was called the capital of the world, because that day there were more government leaders assembled there, then ever before in history. Over 50 government leaders walk side by side in one of the streets of Paris.
On the first row, besides French president François Hollande, British Prime Minister, David Cameron and the German Chancellor Angela Merkel could be seen. Beside them, some 50 world leaders, even some from Islamic countries.
As I was juggling between the French and American news I noticed that the absence of the president of the United States, Barack Obama, was actually more criticized here in the US than it was in France.
I think that the French had other things to think about than the absence of the American president. They also understood that even if he wasn't there, he had to understand how the French felt, as one French journalist called Obama the president of the 9/11 country.
By that, the journalist meant that Obama knew all about what happened  in France, and how the French felt.
To repair that mistake, though, Secretary of State John Kerry came to France and gave a speech in fluent French at the City Hall in Paris on Friday January 16.
3.7 Million People Gathered in the Streets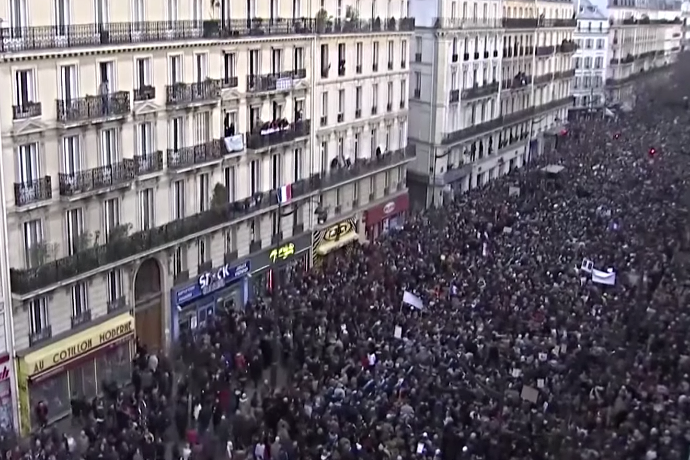 Besides the government leaders, the French people went out in the streets all over the country, like one man.
The gathering in all the major and medium size cities in France was something never seen since the end of World War II, and it even beat that.  Here are some official numbers of some major cities all throughout France.
Paris 2,000,000
Lyon 330,000
Toulouse 150,000
Bordeaux 140,000
Rennes 115,000
Grenoble 110,000
Montpellier 100,000
Marseille 60,000
Many other cities such as Nice Cannes, Lille, Annecy, Strasbourgh, and more, saw huge gatherings of citizens marching in the streets of their respective home town.
Charlie Hebdo from 60,000 Weekly Copies to 3 Million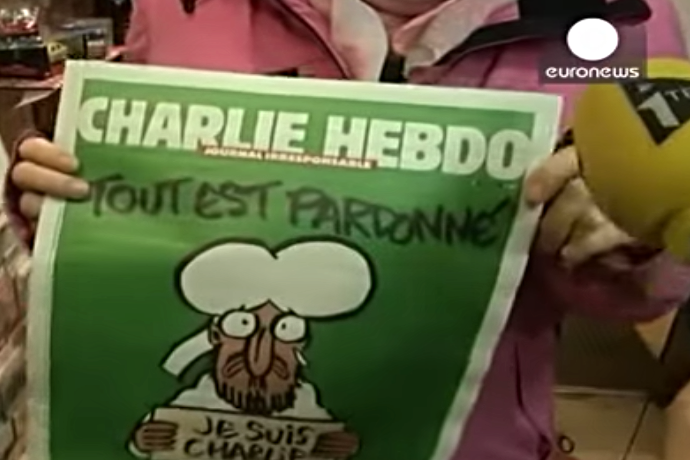 The little paper that prints 60,000 weekly copies, not only kept its promise to come out this Wednesday January 14, as usual, but instead their 60,000 copies they had promised 100,000 for that week.
However, because of the rate at which the newspapers disappeared from the newsstands, leaving some very frustrated people who didn't get a copy, they decided to print 300,000 more.
Yet, this was still not sufficient, and Charlie Hebdo for this week came to 3 million copies.
Right after their savage attack on the journalists and cartoonists of Charlie Hebdo, one of the two attackers said, we killed Charlie Hebdo, but what they did is the absolute opposite.
Charlie Hebdo sold out 4 times in 3 days, not with 60,000 copies, but with 3 million.
Yes, there is a God.
French are a Lot Like Americains
As I was listening to the American President talking about what happened in France, he said that the French are a lot like Americans, that's why they will fight for their right to freedom of expression.
That's very true.
France is a rebellious child who likes the right to her freedom.
The French like to do and say what they want, as long as they're not harming anyone.
Satirical magazines are meant to inform while using derision.
The right of derision will be defended in France, for sure.
To me, anyone that doesn't understand this type of newspaper is probably a good 200-300 years behind.
The French president himself was depicted several times in that journal, but that didn't phased him.
Yet, some people got offended to the point of killing.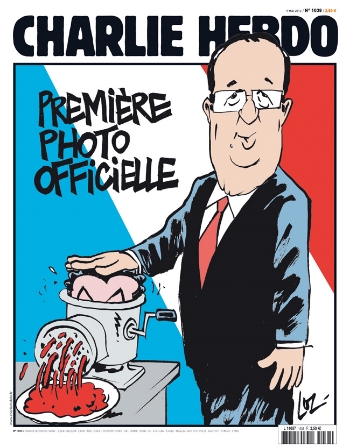 This event being one of the most important event in France not only of the decade, but its whole history, it deserved to be mentioned twice in row in my blog, in my Travel/French section. Please, leave you thoughts and comments below.