France and the rest of Europe, really, as well as the rest of the world have felt the hurt.
Many countries in Europe, and all over the world, such as Belgium, Switzerland, Luxembourg,  Italy, Spain, Poland, the UK, Germany, Greece, the Netherlands, Russia, Hong Kong, Chili, the United States and some francophone African countries, all are supporting France with memorial gatherings for the ones who have lost their lives, and in protestation for the preservation of freedom of press.
on Thursday evening, the American President arrived at French Embassy and wrote a long message of support on the book of condolences for the victims.
A Country that Values Freedom of Press
It is a sad thing when in a country where the liberty of expression is not only allowed, but a way of life, is cut short by the bullets of terrorists.
Today I was going to write about a totally different topic, but what happened in Paris on Wednesday morning, at the headquarter of a very popular newspaper called Charlie Hebdo, touched me deeply.
Why?
Because I have a very vivid memory of this satirical magazine, which I've learned doing my researched, exists since since 1970 under its current name.
Charlie Hebdo is popular weekly paper for his provocative and controversial cartoon covers depicting the news of the day.
The paper comes out ever Wednesday, thus the name Charlie "Hebdo" short for hebdomadaire, meaning weekly, in French.
Back in 2011 the offices of the newspaper had been partly destroyed by a Molotov Cocktail because they had portrayed satirical cartoons of the prophet Mohammad.
Since then, there were several satirical cartooning issues of Charlie Hebdo portraying the Islamic religion, but it wasn't the only one.
Charlie Hebdo portrayed every one and any one. Any religion, political party, and anything in between.
That's what they do.  They turn everything under the sun in derision.
That's called freedom of press.
It's just that no one wouldn't ever have thought that a bunch of journalists would be killed for the sake of some cartoons printed on a piece of paper.
However, they probably underestimated the potential of a terrorist attack.
What Happened on Wednesday?
Late Wednesday morning, at around 11:30 local time, on January 7, two men dressed in black with their face covered and heavily armed, entered the Headquarters of French News Magazine Charlie Hebdo in Paris, killing 12 people, wounding 11 including 4 seriously.
The victims were 5 of the most popular satirical cartoonists in the country, two policemen, an editor, a journalist, a guest, a security guard and a maintenance employee. Only one of the victims was a woman.
When I heard this terrible news, on live French TV online, I immediately recognized two names and faces. They had been with the newspaper since its birth in 1970.
I grew up knowing those cartoonists, and it really touched me to think how they died.
So, the writer in me had to write about this.
Survivors of the attack have said that the two masked killers asked for some specific people by name before killing them, and that it wasn't random shooting.
Freedom of speech is one of the fundamental principles of France, just like it is in the US, and we can only be thankful to live in a country that values liberty of expression.
When you live in such country, I guess that you tend to forget that not everyone understands your sense of humor, especially the satirical sort, and it costed those journalists their lives this Wednesday.
In France and many other countries in Europe and around the world displayed signs saying "Je Suis Charlie" (I am Charlie), in support of the ones who lost their lives, for the liberty of expressions, and freedom of press.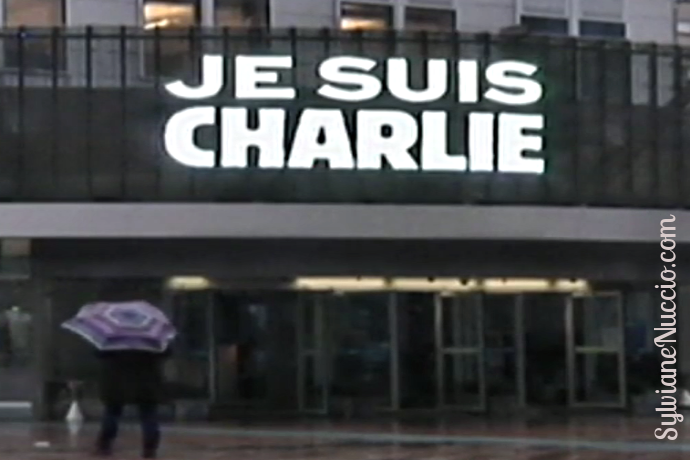 Here is an extract of the American newspaper The New Yorker:
The cartoonists died for an idea. The killers are soldiers in a war against freedom of thought and speech, against tolerance, pluralism, and the right to offend—against everything decent in a democratic society. So we must all try to be Charlie, not just today but every day.

In France, it will need to include a renewed debate about how the republic can prevent more of its young Muslim citizens from giving up their minds to a murderous ideology—how more of them might come to consider Mustapha Ourrad, a Charlie Hebdo copy editor of Algerian descent who was among the victims, a hero.
Charlie Hebdo Staff said after the attack on Thursday:
They want to silence us, but they've got only one minute.
Many information and news bureaus have offered help, material and otherwise, to the staff of Charlie Hedbo which is planning to publish its next issue next Wednesday, as usual.
Except that they will be printing a million copies instead of the usual 60,000.
I guess freedom of speech is not dead.
And that's the message they want to send.
For the time being, the national newspaper Liberation will offer space in their own Headquarters to the staff of Charlie Hebdo, so they can and will continue to exercise their freedom of speech and press.
France started 3 day memorial on Thursday morning, with a minute of silence at noon local time, in all major cities of the country.  On Thursday evening as the bells of the Church Notre Dame rung as a tribute to the victims, the Eiffel tower lights went out.
Bloggers also Exercise Freedom of Speech
As bloggers, we also use and value our freedom of speech everyday. Don't we?
If that went away, so would be our very blogs and written pieces.
That's why I wanted to write this article in memory of some talented journalists who used their freedom of speech to express themselves using their satirical voices, and that I've known my whole life.
We should only be thankful to have the right to write what we want to express.
Please, leave your thoughts and comments below.