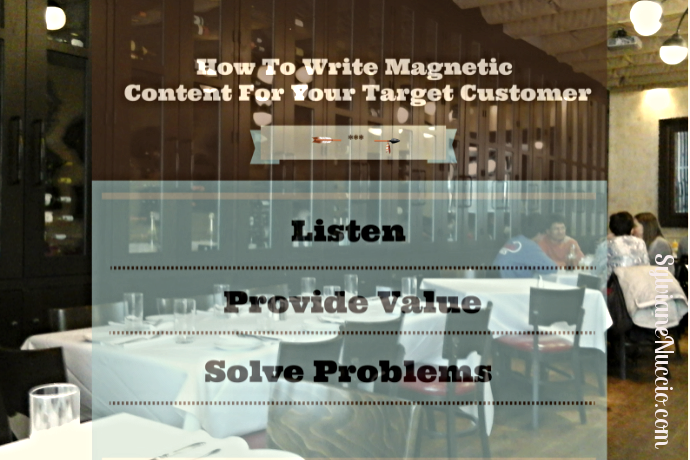 Have you ever answered a phone call and found yourself talking to telemarketer?
Most of us hate that. Don't we?
But why do we hate having to talk to a telemarketer?
Because we know that all they are interested in is selling us something.
They don't care about who we are, and what we really need. Their only goal is to sell us whatever it is they are calling about.
Well, if you don't like telemarketers, why do you do the same thing with your online content on your website or blog?
Maybe the reason why you're not able to attract your ideal client is because your site/blog sounds like a telemarketer, rather than a smart business owner who can solve his or her potential customers' needs.
So, how do you stop sounding like telemarketer who doesn't care about his customers and become someone whose potential customers will fall in love with?
Well, it's not that hard…
By twisting your content in such a way that they will get the message that while you are a business owner looking to generate an income with your customers' business, you do have very high ethical standards and want the best for them.
Because you need to remember that at the end of day, people want to do business with you for them, not for you.
If your content is all about you and how great your product or service is compare to others out there, but you're forgetting to address the needs of your visitors, by showing them what you can do for them, there is no reason why they would choose you over any of your competitors.
Here are some pointers to help you write magnetic content for your target market, and show your potential customers that you are a real human being behind your business, and why they should want to do business with you.
Listen to the Needs of your Potential Customer
A couple of days ago I made a phone call to a storage company in my neighborhood, because I going to need some space to pack the essential of my belongings before flying to Europe for a while.
What I liked right way about the person I was speaking with was his good listening skills.
He understood right away what I wanted and even told me that I needed something smaller than I thought.
He shopped around for me (online) and sent me to the best money saving facility in town, and reserved my spot until next Saturday without me making any down payment, and before I make my final decision.
This guy is very good at what he does, but it all started, because he's a good listener.
In order to attract customers and clients, the first thing that you need to do is make sure that you listen to them well enough, so you'll know what they need.  If you do this you'll be better able to offer the perfect suggestions to them, and they will love you for it.
The best way to create content on your blog that will show to your potential customers that you're a good listener is by watching closely the comments and suggestions your receive on your blog, and the questions that you may be getting through emails.
Pay close attention to those and address them on a regular basis in your business blog content.
Provide Quality and Value
No matter what you are selling; a physical product, a digital product or a service, what's going to keep you in business is the quality of your work and how much value you provide.
Even if your business has been in existence for years, but suddenly the quality you've been providing so far was going down the drain, it wouldn't be long before your customers realize that and leave you for one of your competitors while making sure they tell everyone around why they are leaving you.
So, quality is a must.
But how do show that through your content?
You show that quality and value is of importance to you by giving free advice that people can get just by landing on your blog.
Don't worry, you do have plenty of valuable information that you could write about without giving your business away.
This is an excellent way to provide quality and value to your potential customer or client.
And if you don't know how to do this, remember that I can do it for you…
Solve a Problem
The base of any business is that they solve a problem.
As long as your business solves a problem for someone, you will have business.
For example, with my freelance writing I solve several problems for my clients and potential clients.
I can write epic content for you
I can write in a way that people will fall in love with you product
I can write on schedule so you don't have to worry about missing a week
I can make sure your article includes the right keywords
I can make sure that the potential client can clearly see the value that you're bringing to them
I can make sure that your blog posts don't ever sound like a desperate telemarketer
I can make sure that your article is speaking to your specific marketing avatar
I can pull a thousand word article in 15 minutes. After that is all about editing the first daft.
These are just a few things that I do as a freelance writer which solves my clients' problems.
What problem do YOU solve?
Always make sure that the message is clear about what problem you solve for your potential customer. You don't want to attract the whole world to your business, but you do want to attract specific individuals who need your specific products or services.
Offer Stellar Customer Service
Your job doesn't end once you get a new customer or client. Far from it.
You have to be willing to offer stellar customer service, making sure that you are available to help your customers along the way by answering their questions or addressing their concerns.
An outstanding customer service is going to be your best bet for repeat business, and referrals for more business.
Customer service starts right at your blog.
Make sure that you have your blog comments enable, so people can not only ask questions but even communicate with each other as well as learn from replies to other comments.  The comment area of your blog works pretty much like a forum, and it's very valuable to your online presence and your business as a whole.
Needless to say that you have to reply to the comments on your blog in a timely manner. If you can't do it yourself, then it's important that you put someone in charge of that.
This is how you can show your first time visitors that you are serious about customer service, answering questions and concerns as well as giving advice when necessary.
Offer Guarantees
The reason you always hear things like "we'll give you a 60 day guarantee" in those infomercials or at the bottom of those long sales pages is because potential customers and clients love to have a guarantee that what they're paying for is worth their money, and just in case it doesn't work out they can get their money back.
Whatever business you're in you are not always going to be able to guarantee everything, right?
But you are going to be able to guarantee some of the things you provide.
For example, I can guarantee you the 8 listed items above as writer, but I can't guarantee you how many clients my article will bring you, or how many customers you will be able to get with such and such blog post, because those are things that are impossible to guarantee.
It's the same thing with your own business. You're not going to be able to guarantee what's impossible to guarantee, but you really need to make people feel at ease by guaranteeing what you can.
Your Turn…
So, what do you  have to say about all that?
Are you a business owner who could use some help writing magnetic content for your target market?
If so, let me know.
Or lead the conversation bellow…