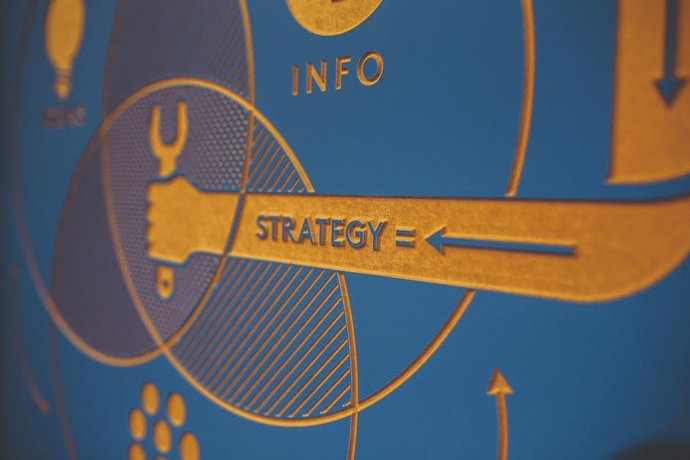 What is smart strategic content marking? Are you using it?
By the way, I think that I came up with the term. I should trademark it because I'm pretty darn sure someone will want to steal it from me.
I was actually surprised to find NO content with this great keyword phrase.  How cool is that!
Content Marketing Used to be Everything but Smart
As a freelance writer, I remember the days when content was pretty much trash. Yes, that's right. My work itself wasn't trash, but the type of content that my clients wanted me to write for them was.
They used to want lots of fluff, keyword stuffed content that had one reason to be there, and one only; rank high on search engines. What's even more amazing is that back then it seemed to work pretty good for many. Maybe because those guys managed to find people who were very motivated to buy their product while they didn't mind the low-quality content.
However, this doesn't work anymore.  Not by any mean.
The potential customer and search engine, both, have become much smarter, and the days of the lazy, lousy, fluffy content marketer are over.  For those who value quality, it's actually good news.  For the others, they've had to recycle themselves or get lost.
Today, content needs to make sense. It needs to be smart, valuable and attractive.  If you can't create such content, it's going to be hard for you nowadays.  And to be clear, I'm not necessarily talking about writing skills here – even though it can't hurt – but I'm talking about using smart strategies to create content as you're using it to promote yourself and your business.
So, let me dissect my headline here and explain what I mean by SMART, STRATEGIC and CONTENT MARKETING.
What is Smart?
Smart means that you need to use your brain when you create any type of content.  In other words, use common sense.
For example, a blog comment is content, right?
Right!
I'm not only referring to articles on your blog here, I'm talking about any type of content you're smart enough to create the right way (or stupid enough to do the wrong way, depending) before you attach your name to it.
When you comment on a blog post using just a couple of sentences that add no value what so ever, or worse even when your comment is completely irrelevant to the post (I see that every week on my blogs) you are not being smart about your strategy, to say the least.
If you're still using content marketing this way, you're either very outdated, or you have no common sense.
So, wake up and smell the roses. This is almost 2015 now, and you need, you absolutely NEED to know better by now.  No excuse.
Smart content marketing means you don't do convenient, you need to do smart.  You understand that you need to give before you can receive. You understand that you write for the benefits of others before your own because that's how it works.
So even in the case of a blog comment, you've at least tried to understand what the blog post was all about and you've given it some thoughts before sharing your comment.  You could input ideas, ask a question, give your point of view, etc.  There are many ways to be smart about it.
It's the same thing with your blog.  Your articles can't be just fillers anymore. Those days are long gone.  You need to write smart and usable content that people are actually looking forward to.  It may not always be the easiest and more "convenient" thing to do, but you're not the one that needs to be pleased here because if you do, your business simply won't grow.
You need to write for the reader – the potential customer – not you.
That's smart content strategy.
A clear and simple example I can think of is the long email I sent to my brother the other day.  I could have sent it in English, right? It's faster and it saves an average of 2-3 words per sentence to write in English as opposed to French, but what good would it do when I write to my brother?  None. Zero. Nada.  Because my brother doesn't speak English.
Do you get my point here?
Many folks that are not smart about their content marketing strategies are doing just that. They're writing in their own little language that only THEY understand, and because of that, they are failing miserably.
So, come out of your little bubble and start writing smart and for the reader first. Then, and only then, will your potential buyer pay attention to you.
What is Strategic?
Many marketing strategies that used to work yesterday don't necessarily work today.  Content strategy has changed as well.
That's what I like to call; smart strategic content, which means to have substance in what you're sharing, no matter what form you use to share it.  It could be an article, a video, a post in a forum, a comment on a blog, even a tweet.  Your content needs to be valuable and caters to the needs of the consumer/potential customer.
If you're using a good strategy, you could get absolutely mind blowing results.  If you don't you'll probably get nothing.   Here are 3 examples that comes to mind and which will help you see my point, I'm sure.
Two Good and One Bad Examples
Don Purdum
Don Purdum is a very talented and smart marketer, plus he's got a nice personality which is an asset in business nowadays.   In other words, he's got a great strategy.
Here are few examples of what he does:
He writes incredibly good content that makes sense and that really helps the reader understand how business promotion works in today's world.
When you first come to his blog, he doesn't ignore you. He replies to your comment and acknowledges you. And in case you're thinking that everyone does that, let me tell you that they don't.
Chances are that if you come to his blog he will come visit yours as well, and if your content doesn't suck it might even share it.
He may even chit chat with you in response to a photo you've posted on Facebook.  It's a great way to acknowledge a new follower/friend.
This guy knows how to market. His strategy works like a charm.  Once you've met Don, you won't forget him.  He comes out as a nice guy, not a full of himself king of blogger.
Yes, even something as simple as being nice should be part of your strategy if you're smart and if you're in business selling something.  This could go a long way.
What type of blogger/marketer are you?  Do you try to connect in a smart way with your readers?
Adrienne Smith
Adrienne Smith is an incredible relationship expert (even though I know she doesn't like the term) but she really is, and very soon she will have a product to prove it.
Adrienne's got an incredible community at her blog and many members of such community have become very good friends of hers, and ready to help her when she needs it.  She's experiencing this right now.  She's told me how flabbergasted she's been by the kindness and help she's been received.
I told her that she gave free, so she's receiving free. This is not something we can make up and fake, it's actually part of the laws of the universe.
Giving, that's Adrienne's strategy.
I know she's given to many people and she's given to me personally as well, and that's why she receives exactly what she needs right now.  Knowing how to give while you are trying to build a community and sell a product online, it's a smart marketing strategy.
Mister X
Mister X is actually also a real person, but I'm going to keep his name anonymous to protect the guilty.  You see, Mister X is talented, but he's rather selfish, impatient and a bit lazy too.  He had the idea that just because he created a product, people would want to grab it instantly.  Turns out that he was wrong.
Yes, his product has a market and he was told by quite a few people that it was an excellent idea, but he wasn't smart about his marketing strategy.
He refused to follow the advice I was giving him, which was, in short, doing what Don and Adrienne (any many others) are doing.  I was telling him to go out and build relationships with other entrepreneurs and potential buyers.  I was telling him that he had to give before he could receive. I was telling him to create a blog to make himself more visible and available to others, etc.
I was telling him all that good stuff, but it fell on deaf ears, until recently that is, because he got tired of falling flat on his face.
So not too long ago he decided to join a group where he heard that he had to give first before he could receive.  He finally got it. But it took him two years to do so. What a waste.
You see, Mister X had a very bad strategy to market his product, and his strategy didn't work.
Don't be like Mister X. If you have a product (a digital product, a service, a blog, etc…) don't be selfish, don't by lazy and don't be impatient.  Use smart strategies to promote yourself and the results will follow.
What is Content Marketing?
To take my own example here, content marketing could be the sum of all the posts of this blog.  But that's not all. Content marketing is also all your blog comments, your tweets, your Pinterest and Google+ blurbs, and other forum posts…
Content marketing is any type of content you attach your name to. When you post those horrendous photos and videos on Facebook and make me want to look for the unfriending button, that's content marketing too. So, please, do yourself a favor and be smart about the content you're putting out there.
Your content marketing should help, encourage, inform, educate and inspire people, not repel them.  If you create anything else, you're wasting your precious time, and you should be doing something else.  When I get comments that tell me how I am doing, I know that I'm on the right track. What about you?
Here are some of the cool comments I get on a regular basis for my content on this blog:
Hello, Sylviane Nuccio, I'm very happy to find this Beautiful post about Effective Guest Post. I'm very thankful for this post which teaches so many valuable things in all over Guest.
Sylviane, These are great tips on how to submit a proposal to guest post on a "mammoth" blog. This is a topic that I honestly haven't given much thought to but (as someone who receives numerous submissions daily) I can recognize that your advice is spot on.
Hi Sylviane, Your 5 points are awesome and unique, you know at times it will seem as if everything about blogging is not real, but reading through your post here has rekindled the fire in me; though I am not tired yet but your post activated something in me.
What a fantastic post!!!! I love that you write from your experiences and from the heart. That's what makes you such a unique blogger and writer and it's easy to get to know you. 
Hi Sylviane, You've embodied each tip beautifully during your recent difficult times. Kudos to you for that.
Hey Sylviane Brilliant post! First off, I must mention that it's my first time on your blog and I was wondering where the heck I have been online all these while not finding you.
Your Turn
So, how are you doing with your OWN content strategy? Are you being smart about it? Are you building a community of readers, followers, friends? If not, it maybe because you're not applying the good examples in this articles.
OK, your turn now, let us know what is your content strategy if you've got a smart one!