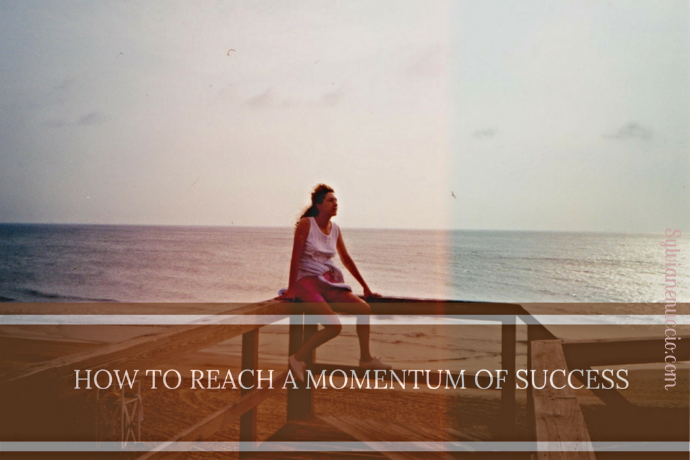 You know I have not grown up knowing this, but there is a recipe to success.
Just like if you would put all the right ingredients into a cake recipe you'll get that cake, if you learn how to integrate ingredients of success, you'll get a more successful life.
When I'm talking about ingredients, though, I don't mean physical actions so much.  Even though they are important at some point, that's not the subject of this article.
The real recipe for success is when you work from the inside out. Because if you're not ready for success mentally and subconsciously, true success will be long in coming, to say the least.
So, why do I want to write about success today?
Two things.
I'm reaching a momentum of success right now in my life due to my application of the law of attraction.
We all want to be more successful, so I thought that you could apply some of the tips I'll be sharing here for yourself.
But first, let's clarify a few things, especially if you are new to this success mindset thing.
Does Success have Anything to do with Luck?
The short answer is no.
When someone is successful, people on the outside look and say, wow they're so lucky!
But more times than not, they couldn't be more wrong.
It's just that some people know how to attract success and others don't. The more I know about the law of attraction the least I believe in luck. And if you don't believe me, ask any success coach their opinion on that.
And remember, the more you'll learn about the law of attraction the least you will need luck.
Get better Acquainted with the Law of Attraction
Maybe you are already familiar with the law of attraction, but to what extent are you familiar with it?
Are you someone who says that you believe that the law of attraction is at work while still maintaining an overall negative outlook in life?
Are you still complaining most of the time?
Are you still looking at the glass half full?
Are you still focusing on what you don't have?
Are you still yearning too much for that partner in life?
Are you still using words like, I can't afford it, I'm too old, I could never do this or that?
If it's what you're doing, don't fool yourself, it won't work that way. Believe me, I've tried that too for a while.
Make sure you get the basics about that law of attraction thing well, because I believe that's the key to turn your life around.
And remember that the law of attraction doesn't care what religion you belong to and what you believe in. The law of attraction has nothing to do with that, because it's one of the laws of the universe.
So, do yourself a favor and don't try to hide behind anything. The law of attraction doesn't care and doesn't stop running for you.
Focus on the Right Things
Don't forget that the keyword when it comes to the law of attraction is focus, so make sure that you pay attention to what you are focusing on at all time.
Every time you focus on what you don't want, you attract more of what you don't want.
Every time you focus on what you don't have, you attract more of what you don't have.
Every time you focus on what is, you attract more of what is.
If there is one thing I would want you to take home from this article is this. Because unless you really get this, chances are your life will stay pretty much the same.
I don't want to scare you now, but I do want you to be aware, and moving toward success.
Feeling is Focusing
Here is something you need to absolutely understand if you want to attract more success into your life.
Let's say you want to attract a certain amount of money, and you're doing a good job at affirming that you are attracting that money and maybe even visualizing what you are going to do with that money.
But if the rest of the time you have strong feelings of lack of money. If you are getting anxious about how you are going to pay the bills at the end of the month, or anything like that, you will simply kill all your affirmation and visualization efforts.
Feelings send vibrations and negative feeling send low vibrations that are attraction negative results.
You need to check your feelings, because feelings let you know what your thoughts are and what type of events you are creating as per the law of attraction.
Negative feelings that sprout from negative thoughts sends low vibrations that can't attract success.
Think of your body and mind as a huge magnet that attracts what's in it.
Bad things in, bad things out.
This is a simple enough process that still so many people have not grasped. But how much do you want to succeed?
Someone that I've been coaching for a while, told me not to long ago, "wow, everyone should learn about this law of attraction stuff because it's so powerful."
Yes, he sure realized that for himself now.
But unless you do learn about it and start applying what you're learning, you will most likely keep attracting pretty much the same by default.
 Why you're not Attracting what you Want?
 1- You may have strong subconscious beliefs that work against your conscious desire.
Let me give you very simple illustration of how the subconscious mind works as opposed to your conscious mind.
This past weekend, I sold about half my furniture, because I'm getting ready to live in Europe for a few months. Since I'm renting my apartment, I'm simply not renewing the lease and will just keep only few things in a storage until I get back.
So there is that china cabinet that I just sold on Saturday, and sure enough, every morning I still walk toward that cabinet (that I know is no longer there) to get something that used to be in it.
You see, consciously I'm well aware that the cabinet is no longer here, but my subconscious is still going there to get something I need that I used to keep in there.
That's how the subconscious works for everything.
Good, bad and indifferent. That's why if you have a negative belief that you now consciously know is not serving you, subconsciously you are still "going there" like I'm still going toward my cabinet.
Now would I eventually make my subconscious mind get it that my china cabinet is gone?
Of course I will. And for that I'll be using my conscious reasoning. Any eventually my subconscious will stop believing that the piece of furniture is still here.
2- You may have a strong tendency to be negative
Interestingly, negativity and positivity both are learned behaviors.
Even though they are not necessarily subconsciously learned, they certainly are habits. A way of life so to speak.
Never before I started to study about the wonders of personal development did I realized how negative I was.
It's only later that I realized that it was a learned thing for me. A pure habit. I didn't know much about being positive.
I literally had to unlearn this bad habit of mine, and change my attitude.
What can you do to Put the Law of Attraction on your Side and Reap Success?
If you have either subconscious beliefs, or negative though patterns, you need to find them out and remove them.
If you need a coach to help you with that, you are more than welcome to contact me.
Once you get the hang of it, it will start rolling for you, but until you get there it's going to be a process.
But it's also a joyous process. You'll see. It's like growing up!
I'm not going to tell you, do this or that and your life will change overnight. It's not going to happen that way. But I will tell you that if you make a constant and willing effort, you will start seeing some changes.
You could start with my e-Course, and aim for your own momentum of success.
You can also leave your thoughts, questions and comments below…