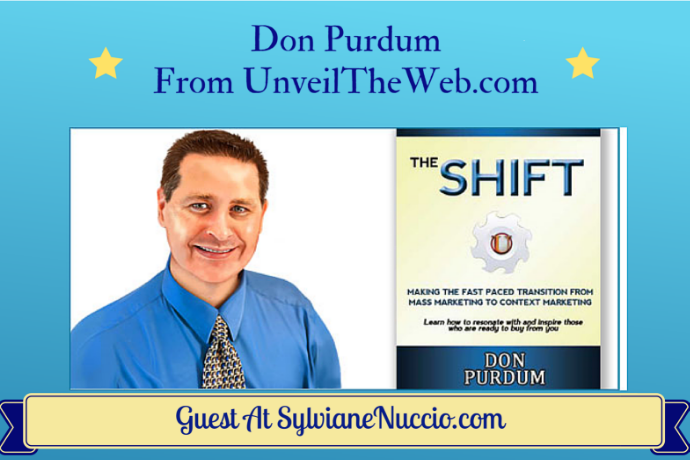 This is the second Monday of the month, which means that it's guest post time.
Today, I am very proud to introduce you to a wonderful guy, which some of you already know.  
Here is my custom quote for my guest today!
Take a smart, motivated, and dedicated business man who knows what business is in, and you get Don Purdum.
Do a search on Google for the term "content is king" and you will find thousands upon thousands of websites and blogs proclaiming this truth to the ends of the earth.
But I have a sad truth for you… content may not be your king.
In fact, content may be your worst enemy. It may be the very thing that is keeping customers away.
How can that be? It doesn't make any sense. If I write it they will come; right?
Not necessarily! In fact, they may not come at all.
Content is only king when someone values content as king. Otherwise, it's just words on a screen that no one is reading because the quality of the content is not keeping up with the demands of the time in which we live.
Long gone are the days you can throw up 300 word articles about your business or how great your product or service is; and then just expect people to fill out the forms or call you just so they can give you their hard earned money.
That's a mindset that is still getting a lot of business websites and blogs in trouble.
What people want and need today is vastly different than what they wanted just twelve months ago.
I'll tell you the secret if you really want to know what they want.
They want to know that:
You understand them and can communicate to them that you care.
That you are competent and know what you are talking about.
You can help them with an issue or problem they can't solve themselves.
You can give them what they want or need.
This seems like such common sense doesn't it? But if it is why aren't businesses doing it?
Businesses that blog and bloggers that blog for money seem to only care about one thing and it's obvious; they care about making money.
Is there anything wrong with making money? Not AT ALL!
In fact, I want us all to get wealthy doing what we love and are good at doing.
But people don't buy from us because we want them to!
They buy from us for their own selfish reasons and there is not one thing wrong with that either. It's our job to find out what that is and then communicate that we understand them, care about them and want to do something for them.
What business owners, entrepreneurs and bloggers have forgotten is that they don't have businesses that exist for them; they have businesses that exist for those whom they serve. It's not about you, it's about them.
So if it's not about you; why are so many businesses creating content that spends so much time talking about themselves and how great they are?
Let's talk about how to create content that is king and that will allow others to talk about us so that we don't have to talk about ourselves.
How to Define Content that is King
The best content in the world puts an emphasis on others. So many bloggers and businesses that blog are good at writing but not necessarily good at communicating. Communicating well means you are very clear and concise about your business.
If you ever feel that you are at a loss of words to tell someone what you do then you are not clear.
If you notice that you are sharing your business or you're telling someone what you do and they are zoning out or they walk away and don't talk to you again, or if people are spending very little time on your website or blog when they find it; you may not be clear.
Clarity is your friend but when you don't have it all you really have left is confusion and confusion is the enemy of clarity.
It's not about having something to say it's about having something meaningful to say.
If you're going to create content that is king then it has to mean something to those who consume your content.
You have to create epic content that relates to your prospects and customers:
What needs or problems do they have?
What are some reasons why people need what you offer?
Tell stories and use examples of how you can help them.
A few months ago I was approached on LinkedIn by a person who is starting a youth expo for sports leagues.
I listened intently at our first meeting as he explained how frustrated he was by the lack of response he was getting.
It was really obvious to me that if he does this right he could be sitting on top of an incredible business where sponsors will pay top dollar, vendors will pay for access to the audience, and the audience will pay to attend.
The concept is genius and virtually no one is doing it!
He said to me:
"Don, I don't get it. I have a tool that can help every sports league make more money to help more kids play organized sports who can't afford it. But I'm not getting any responses."
I said to him; "It seems compelling and interesting. If I were a President of a youth sports league you would have my interest. What are you sharing?"
When we were done and I could show him my notes, he could see that we talked about virtually everything but funding sports leagues to help kids.
We talked about:
Childhood obesity and solving that problem.
Frustrated parents who have kids with physical problems due to inactivity.
The effects of inactive kids in education.
Coaching clinics to improve a coaches coaching skills.
It wasn't until 30 minutes later we talked about kids who want to play sports but their parents cannot afford for them to play.
All the other things were good, but they are not the core message of his startup and these things were confusing to his audience.
How do the four items above relate to helping youth sports organizations with the funding issue? They don't and that was his problem.
Now, I concede that these all important but they are not the focus of his organization. They may be part of the expo as a benefit during the event to help draw in a crowd, but they are not the expo's purpose.
My friend knows he has a great product, he just wasn't clear on how to message it well; until now!
Five weeks later has clarity and focus so that he can (in order):
Talk to a large local indoor sports facility about hosting the expo in an inspirational and persuasive manner as he seeks a venue for the event in the spring of 2016.
Start networking with area youth sports leagues to get to know them and share how he can solve this one major problem for them.
Begin advertising and marketing the expo both online and offline through the leagues.
If he had continued going down the road he was headed, he would have crashed hard and failed miserably.
Here is my question for you:
Are you really clear about your business and how your website visitors, blog readers, podcast listeners, video watchers, etc., understand how you make a difference in their world broadly and specifically for them?
If you have put the cart ahead of the buggy of course something bad is going to happen. Yet, that is what is happening all of the time to a lot of businesses who are marketing online (fyi, it has the same effect offline).
If you want epic content that others perceive is king, then you must start learning how to get into the heads of your readers, prospects and customers and give them a reason to consume and engage with your content; and you must give them a reason to buy from you!
Your content is only king if your readers think it is! If people really want your content then to them it is king. How do you evaluate it and know if your content is king or not:
Is anyone buying from you? That's the most important metric!
Is your traffic growing and do you have a healthy blend of new visitors and returning visitors?
Are you creating a culture where people can engage with you through your comments and ask questions?
Are you networking with influencers online in your industry or field and are they regularly engaging with you and your content?
Is your content being shared on Twitter, Facebook, LinkedIn, or Google+?
Can you clearly see in your analytics where some articles are spiking high in view over other articles?
Don't fall for the line that content is king. It's not all king as we know, but that doesn't mean it can't be if you're willing to work on your business and learn the things that make great content from your readers point of view.
The best businesses in the world of all sizes know what business they are "really" in and are very, very clear about whom they are and how they serve their audience.
Are you clear?
I would love to hear your thoughts and engage with you. Please interact with me in the comments below and let's have a conversation about it.