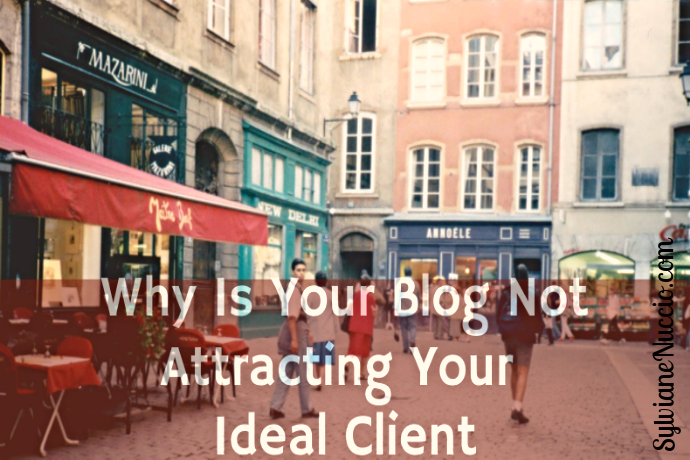 If you don't seem to be able to attract the right customers or clients to your business with blog, it's probably because you're making some mistakes that prevent you to from building that bridge between you and your ideal customer.
In this post, I wanted to briefly show you why blogging is important if you have a business, and why you're not attracting the type clients you are looking for.
Are you Blogging to Create more Business?
10 years ago, blogging was still in its infancy.
Most companies and businesses didn't know anything about blogging, and even if they did, blogs were just some type of journals, rather than the powerful online tools that they are today.
Moving forward 10 years, though, and you have over 60 million blogs on the web, all trying to get people's attention.
This is good and bad at the same time.
Here is why:
1 – It's good because, now, people are looking into blogs to find more information about what there are interested in (purchasing), and potentially connect with the business owner, whether it an online or offline business.
2- It's bad, because the competition is quite huge, and bloggers (business owners) need to be on top of their game in order to be able to use their blog efficiently.
To tell you the truth, it took me quite some time to refine my own blog to what it is today, and really understand where I was going with it.
I learned the hard way, with lots of trials and errors.
For some of us, it takes time to keep tuning up our blog until it's just right for our target market.
One of the reasons you may be struggling with your blog, is because you're not really clear on the purpose of your blog, or don't know how to use it efficiently.
If it's your case, send me an email and we can talk.
Why Blogging is Important if you have a Business
Blogging is important for your business, because you can use your blog as a smart promotion tool.
As path between your potential customer/client and you.
And as a way to communicate with them in an open manner.
Through your blog your potential customer can get to know more about you, about the way you do business, and about your expertise in your niche.
That's where your blog is going to be very useful here.
You will be showing your target market – you ideal client/customer – that you are an expert and that they can trust you.
People tend not to buy from total strangers, but prefer to buy from someone they know and trust.
This is why your blog is going to be very useful for your business.
Now, you might already have a blog, but for some reason, you're blog is not attracting the right clients or customers to your business.
What could be the reasons for that?
Here are  few main reasons I found, why your blog is not attracting your ideal client.
You are not specific enough with your Content
Let's say you have a clothing store.
If I say, clothing store, it's rather vague, isn't it?
What type clothing do you sale?
For men? Women? Both? Teenagers? Children? Newborns? lingerie?
Now, let's say you're selling women's clothing.
Is it for all sizes? Petite-size? Plus-size?
Now let's say that you are selling clothes ONLY for plus-size women. In this case, that's the only type women you need to have in your store.
No regular size or petite size customers would be interested in your store.
However, plus-size women customers are you ideal market.
So, if you had a blog promoting your plus-size clothing store, you would have to focus on that specific market, and no other.
If your blog is not bringing in enough customers, make sure that your visitors will have no doubt about what business you're in.
If you still have doubt about what business you're really in, as my friend Don Purdum calls it, I invite you to read this article of his.
Once you do know, make sure that your blog content specifically talks to your market.
You do not Produce Fresh and Valuable Content on a Regular Basis
Your blog needs to be active. A stagnant blog is a dead blog.
This means that you need to produce fresh content on a regular day(s) each week.
People are creatures of habit and they like to know in advance when to expect new content from on your blog.
Once a week, twice a week, three times a week…
It doesn't really matter. What matters most is to pick a frequency and try to stick to it as much as possible.
Once you know the frequency at which you are going to publish articles on your blog, make sure it's some valuable stuff.
Your content can't just be lousy information.
You need to write informative and useful articles that speaks to your readers in such a way that they will keep on asking for more.
If you are an expert in your business, it should be too hard to write very specific, educational, informative and even entertaining articles that will pull customers in.
Your Blog doesn't have a Voice
Now you could have the most detailed information on your blog, if it's not written in such a way that touches the emotional buttons of the reader, your blog may never be very successful.
It would be very difficult to attract new clients with boring methodical type articles that have no pulse and no personality.
Put some life in your writing.
Find your voice.
Your voice, in writing, simply means to put your personality into your writing.
Your blog needs to have your voice. Your personality. Your experience. Your story, etc.
If you don't know how to bring your personality into your blog, a freelance writer could do it for you.
Yes, me, for example.
I can't take anyone's voice when I write.
I have done it many times.
Yes, that's right!
Not only I'm a writer, but I used to be an actress as well, so taking someone voice, or even an imaginary one is something I can do well (just so you know).
Your Writing is Poor
As a blogger and a writer, I see too many blogs which writing is poor.
It could be the grammar, the punctuation, the formatting, etc.
Or a combination of all of them.
Poor writing will never be able to pull customers to your business, because people tend to trust experts, and it would be difficult for them to see you as an expert if you can't write properly.
If your writing is poor, but can't hire someone to write for you, your need study other popular blogs and learn from them.
How is their writing style compare to yours?
If you were a potential customers, would you rather read their blog, or yours?
If you have a successful business, but writing is not your forte, why don't you hire a freelance writer who could write fabulous blog posts for you?
Many successful business who have other things to do than spend long hours writing for their blog, do just that!
They hire qualified writers to write for them.
It's a wise investment.
So, they can concentrate on what they do best, while the writer is paid to do what he or she does best.
Since the writing style is tailored for their target market, their blog becomes way more profitable.
In Conclusion
If you're not too sure about what type of specific content you need for your target market.
If you don't have the time to come up with top notch valuable content on a weekly basis.
If you can't really find your voice to write content that attracts readers and incite them to become customers or clients.
Or if your writing is simply too poor to compete with other blogs out there…
You may want to hire someone to write for you.
If not, you might want to at least consult with someone that could take you in the right direction.
Please, leave you comment or questions below!
If you're struggling with your blog content, click the banner below to contact me…