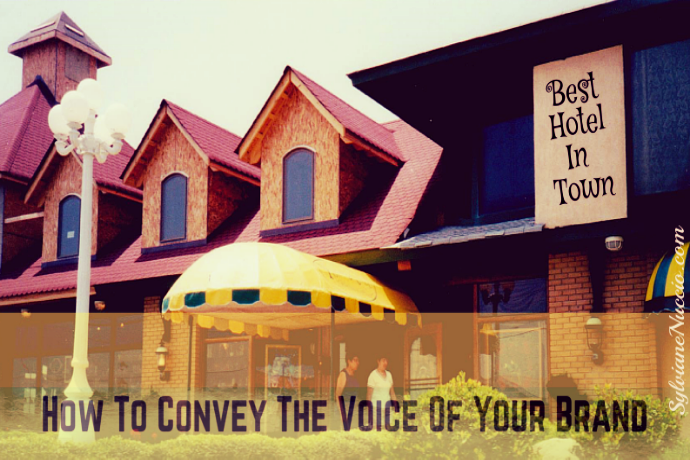 Are you a business owner?
Were you told that you need to have a blog to promote your business?
If yes, you were told correctly.
If you don't have a blog promoting your business and your brand, today, you are missing out on many potential customers.
But for the sake of the topic at hand here, let's say that you are well aware of the fact that you should have a blog linked to your business, but you're not quite sure how to convey the voice of your brand with your writing.
What do you do?
If you would like to find out, I invite you to read this whole article, and you will have a much clearer idea about how it's done.
If not, you can always contact me with your questions.
If you feel that you don't have the writing skill or the time to write the type of content that would help you gain more targeted customers, I'm here to tell you that's not the end of the world. There are other methods that many business owners are using right now.
For example, they hire someone to write for them.
But in the meantime, let me give you some advice about creating content to conveys the voice of your brand, so you'll be able to spread your reach and attract more customers.
Your Content is a Means to an End
The first thing that you need to keep in mind is that the content of your blog is a means to an end, not the end.
You are using your content to inform and educate your potential customers in such a way that they will get to know about you, about your business, and about how you do business.
The content that you will write for your blog will become that bridge between you and them.
The craftier your content, the more potential clients you will be able to attract to your business.
This actually has a name. It's called content marketing.
If done well, it's very powerful. But if done wrong, it will simply go nowhere.
That's why it's very important that you understand from the get-go, that your content is a means to an end, and not the end.
What Does this Mean Exactly?
It means that through your valuable information you will be able to promote what you do, and what your business is about.
Through the content that you'll deliver on a regular basis, you will start building connections, not only with potential clients or customers, but also with other business owners who own businesses that are not in direct competition with yours, but rather complementing yours.
For example, you are a dentist and you want to start a blog to build trust with your potential clients.  You may want to let them know of all the modern technology and options that are available to them nowadays.
You also want to educate them on the painless treatments that you have, and maybe also about your payment plans that work with any type budgets, and so on.
If you were a dentist creating valuable content to voice your brand, you wouldn't want promoting and share your blog ONLY to your target audience, but you should also try connecting and sharing your content with periodontists, orthodontists, endodontists, or prosthodontist.
While those specialists are in your fields, they are not your competitors.
Then you could go one step further.
You could connect with generalists, and another type of doctors as well.
All such connections could lead to potential clients for you. And you could lead to potential clients for them.
That's called smart networking. And this can be done with any type of brand and businesses.
But it works only if you have a solid content base.
It's practically impossible to do if you have no valuable information to share in the first place. The best way to share value online is through well-crafted content.
What Makes a Well Crafted Blog Post?
A well-crafted blog post is made up of several different elements, that we are going to analyze one by one in this article.
1 – Your Blog Post Needs to be Online Reading Proof
What does this mean?
It means that if you were to write a blog post the same way you would write an essay or even a letter, you would have a very hard time getting readers interested in your online article.
A typical effective blog post should have the following:
Short sentences
Short paragraphs
Breaking grammar rules that don't work on blogs
Start sentences with words such as; and, or, because, and but
Use the pronoun "you"
Be about your potential customer
Written in a conversational style
Try to remember these basic blog writing rules when you write for online readers.  If you do you, will attract more and more readers over time.
It's very important that you understand those online writing rules because they make a huge difference to the reader.  If your writing style is not inviting, they simply won't read your content.
2 – Use Emotional Words
If you are to write online, you need to know that emotional words work and make people take action.
However, they don't make up for bad writing. You should ALWAYS remember that.
Here are some examples of emotional words…
It's one thing to say, "this is good writing," and it's another to say "this is dazzling writing."
It's one thing to say, "I'm OK," and it's another to say, "I feel fantastic."
It's one thing to say, "he was happy," and it's another to say, "he was thrilled."
Which words feel more powerful to you?
Which words trigger your emotions most?
You tell me.
Even though it may seem simple, knowing how to use emotion-trigger words is an art.  That's why some companies pay copywriters thousands of dollars to write sales copy that converts.
Because they understand that it's worth the money to pay two or three thousand dollars to write a professional sales copy that will bring them hundreds of thousands of dollars (maybe millions) than writing their own bad copy that will bring them not much at all.
Now, let me tell you a secret.  Those copywriters are not reinventing the English language, but they know what emotional words to use and where.
That's what good copy is all about.
However, you don't have to be a top copywriter to write great content.  Speaking from the heart and some good practice can do miracles.
And we're not talking about sales copy either, but blog articles.
So don't feel that you have to know all the tricks of a copywriter either. Just learn to use power words whenever possible and you'll be fine.
 3 – Be Creative
Writing blog posts week after week to promote your brand and your business the correct way is not always easy.
It's a simple concept, but it's not easy, that's why many companies hire professional writers to take care of that part of their business, so they can concentrate on what they do best.
If you do decide to take on the blogging and writing side of your business, you should write down any ideas that come to mind as they come.
The best way to do this is to have a notepad or a recorder with you at all time, so you could take notes or your ideas as soon as they come to mind.
Then the way you present your ideas can also be written in different formats such as:
How to articles
Interviews
Roundups
Reviews
Personal stories related to business
Informational and educational articles
And whatever ever else you may see fit.
There are many different ways to keep a valuable content blog that your potential clients and customers will benefit from, and even become in expectation of, but you will need to put your creative hat on.
You need to learn how to convey your brand with insightful content.
4 – Remember to Use Basic SEO
You do not need to be an expert in SEO to write content on your blog, but you should know some basic SEO tactics, so your articles will be search engines friendly and easy to be found by your potential customers.
Here are some basic SEO tips to keep in mind:
Use your keywords in the URL of your blog post
Use your keywords in your title/headline
You're your keywords within the first 100-150 words of your article
Use related keywords naturally within your content
Link the images of your post to your keywords
Link to authority sites when appropriate
These are just basic SEO tips.  If you feel up to it, you can search for more information about this topic online.
5 – Post Regularly
Once you start your blog, posting articles regularly is key.
Nothing will confuse people and turn them off more, than posting sporadically any day of the week, when you feel like it, or when you have time for it.
This is another reason why may companies hire writers.  This way they can rest assured that their content will fall on their laps on time each week. Like a clock.
There is no right or wrong, as far as how often you should post, but the ideal is 1 to 3 times a week.
If you post once a week, that's perfectly fine, but you need to pick a day and stick to it.
If for any reason you had to change that day at some point, you should announce it to your audience, so your readers would know what to expect.
6 – Hire Someone
There you have it!
The basic MUST DOS of blogging for business owners who want to promote and voice their brand, so they can expand their reach far and wide.
But if you feel overwhelmed and would rather have someone else do all the work for you, you can contact me, and I'll be happy to help you with your writing, and take that weight off of your shoulders.
Please, leave your comments or questions in the commenting section below!