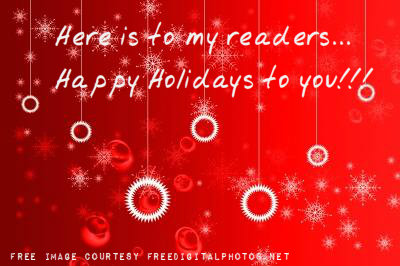 On this last post of the year I wanted to give  a big thank you to the readers and supporters of this blog.
Starting towards the middle of last year and especially throughout this year I have built great online relationships with great bloggers and on this last post of the year I wanted to dedicate my article to you guys.
So, here it is to you… the people who are nice enough to come regularly to my blogs always leaving great comments that add to the value of my posts.
When I decided to do a bit less of affiliate marketing because I had many articles that were doing their job without me doing much anything anymore, I decided that it was time to start getting involved more with my blogs which eventually switched the course of my online business all together.  This is what prompted me to start visiting other blogs and try building relationships with other blog owners.
If you are not on this list, it's probably because I haven't known you as long, but you will be next year!
So Here We Go…
Back in 2011 I decided that it was time for me to take blogging more seriously and I started to browse lots and lots of blogs.  Some of such blogs are long gone from my memory, but that's how some great relationships started…
A year and a half ago I landed on Barry Wells' blog.  The reason I did is because I read a blog post about guest blogging where the blogger was talking about having written a guest post for Barry Wells' blog.  As soon as I read that I was hopping at Barry Wells' blog to check him out and see if I could write a guest post for his blog as well.
I got to know him, and eventually I wrote a guest post for his blog, and he was my first blogger interview.  Since then I have followed some of Barry's great internet marketing/tool related advice, one of which is a great password protection tool that I've got very recently.
From the very day that I my guest post was featured on Barry's blog a lady named Sonia Winland from Logallot saw me there and invited me to guest post on her blog.  Since then I guest posted three times on her blog in two different categories and she was nice enough to pick me as one of her bloggers spotlight in her fantastic series.
One day I read on one of Barry's posts that he was going to interview a lady named Adrienne Smith.  Back then, I had never heard of Adrienne, but sure enough I checked her out instantly.
As soon as I read my first post on her blog, I liked the woman.  She sounded very honest and down to earth.  The rest is history.  I've been on Adrienne's blog twice a week ever since.  I have posted an interview of her recently on this blog, and by an amazing twist of fate I had a guest post featured on her blog that same very day!  That post has got a mile long comment section of 133 replies. You've got to love that!
Through Adrienne I was introduced to a Facebook comment group where I met more awesome people.
The first person who landed on my blog as soon as I joined that group was Carol Lynn Rivera.  She is definitely "Adrienne's direct competitor" as far as coming to ALL my three blogs every week and leaving great meaningful comments.
I myself haven't missed any of her posts either since then.  By the way, Carol writes and the type of interviews she's got on her blog would make blogs like ProBlogger or CopyBlogger jaleous. Yes, her blog posts are outstanding and full of valuable information.
Soon after Carol I met Donna Merrill.  Donna Merrill blogs about internet marketing and personal development at Donna Merrill Tribe.  Donna and I connected really well, because we have a lot in common in both the internet marketing and personal development area.
Donna was nice enough to invite me to post on her blog not long ago and interviewed me through a Google Hangout with her husband.   As for me, I was thrilled to interview her about her personal development business and insight gifts.
Another very sweet lady I met in this same Facebook group is Sue Price who lives in sunny Australia and with whom I hang out every week through the wonder of technology.  Sue blogs also about both internet marketing and personal development.
Sue is a Certified Financial Planner, so when she blogs about finance and money she knows what she's talking about.  Sue became a very familiar figure on all my blogs as well and I am now a familiar figure on hers as well.
Another person I don't want to forget. A great loyal follower of my blogs is Mayura from Mayura4Ever. Mayura has excellent step by step tutorials that will teach you how to use any kind of internet tools and platforms.  Mayura really leaves passionate comments, and who wouldn't like that?
A while back I connected with a professional writer who writes excellent pieces about family and life in general, and I'm sure her name is familiar with many of you.  Her name is Harleena from Aha-Now.com.  Harleena is a regular visitor of my personal development bog and I don't miss any of her post either.
More recently I met more people through the wonder of the online world and platforms.  One of them is a very strong personality lady named Barbara Charles which you can find on BarbaraCharles.org.  Barbara is part of my weekly Google hangout group.
Another fun lady who knows a thing or two about affiliate marketing and which I also hang out with on Google every week is Raena Lynn from Raena Lynn.com.  Raena has comic talents, but she doesn't know it. She cracks me up all the time.
There is a great business woman who lives in my country and with whom I connect a while back named Annie Andre.  Just like me Annie has a French language background and she now lives abroad in France and teaches other interested people to do the same. If you'd like to live abroad but don't know how, she's the person for you.
I've interviewed Annie on my travel blog earlier this year.
Here are other few new people who I want to know more…
I hope you enjoy this! Let me know…