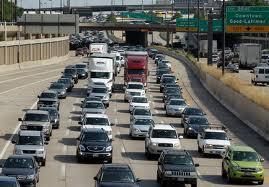 You know how we always say content is king?  Is it really?
Well, of course posting valuable content on your blog is important, because without it who is going to want to come to your blog, right?
That's true, but is content all there is?  The answer might surprise you.
I have been observing traffic on my blog very closely all throughout the year as well as some other blogs, and my conclusion is this. Great content alone won't get you traffic.  That's right. I know this goes against what I used to believe, but this is the conclusion I came to while observing blog traffic.
Don't get me wrong, I'm not saying that valuable content is not important, but what I'm saying is that content alone is not enough to bring you traffic that stays and improve over time.
On the other hand, however, once you've built traffic to your blog, even if your content isn't always that great at times you will still get traffic to that post.  I'm not just saying this. I'm saying this, because it's what I've been able to observe while visiting dozen of blogs on a weekly basis.
Does this mean that you should just try to attract traffic, and forget about the quality of your blog? No.  I will never promote mediocre content, but what I'm saying here is your content not sufficient to bring you huge traffic.  You need to go out there to other blogs and social media platforms to meet people.  You need to make a name for yourself, and once you do, traffic will always come, no matter what you write.  Yes, that's right.  Even if your content is not always great, I can assure you that you will still pull up that traffic.
Why do Expensive Name Brand Products Sell And What this has to do with You?
Have you ever wonder why brand name products that are way more expensive than store brands or unknown brands?  It's because people trust the name.
Are you aware that some of such non-brand products are made in the very same factories as the brand ones?  This means that more often than not what you're buying with a brand name sticker or what you're buying without a brand name sticker is pretty much the same product.  So, obviously it's not the product that makes a difference here, but the name.
The same thing happens with you. If you create a brand name for yourself, people will come for you, more than the content itself.
This is why you need to create, to build a brand name for yourself.  This is the best way to attract traffic to your blog or site.
Is Approachable Linked to your Name?
So, how can you establish that traffic? How can you make people like and trust you like a good old brand that sells because of its name alone?
Start by visiting other blogs…
Visiting other blogs regularly is very important.  As a matter of fact, in my case it has been the most important action I have done to attract traffic to my blog so far.
I followed the very good advice of my friend, Adrienne Smith who is probably one the best example in the blogging sphere that I know of.  She always visits back someone who comes to her blog, and she will try to get to know you.  Those two qualities should be common among bloggers, but it's actually not, that's why she doesn't have too many competitors in this area.
I can think of a few great bloggers right now who are really missing on something huge.  Yes, they do have great blogs with valuable content, but do you know what's missing with them? What's missing with them is a darn nice personality. Every times I go to those blogs I'm thinking, they have a good blog, but I wish they were nice too!
Do you want people think like that about you? I know I don't.  Some of the bloggers that I'm talking about have some good traffic.  Yes, they do.  But not to the extent that they should.
Don't Take your Visitors for Granted
Why am I saying this?  Well, I did a little experimentation of my own and came out with the realization that such "not so nice bloggers" have no more traffic than they had a year ago.  Yes, that's right! I know I can't get into their Google Analytics, but I am referring to the comments on their blog. When I started visiting those blogs about a year and a half ago, their blog posts had about the same amount of comments (and sometimes more) back then than they do now.
Now, to prove my point, if you look at Adrienne's blog (yes, again) a year and a half ago, you can see that her blog comments has doubled today.  For example, last May (2011) her most commented on post had 87 comments, This April (2012) her most commented on post has 147 comments.
As for my own blog (the one you are on right now), last May I had virtually NO traffic yet, and my comments where close to none existent.  Today, however, as I mentioned in my last post my traffic has dramatically increased averaging around 40 comments right now (sometimes less sometimes much more).
So, if I compare my blog to those already "seemingly" successful blogs that I started visiting about a year and half ago which were also averaging around 50 comments per blog post while I had zero, I have now reached up to them.
What's the Moral of that Story?
This is not a blog comment challenge post, but it goes to tell you that you are more responsible for the traffic of your blog than your content is.  You could own the best store in town full of stuff that I like, but if you are very unfriendly, never acknowledging me when I come to your store with a customer service that sucks, I'm going to check around for another store.
Then, since there are so many stores out there, I will  find one that has the same great stuff  you've got, but the owner of that store is much friendlier than you, and his/her customer service is great.  Not only I will start going to that store, but I will refer some of my friends too.
Eventually, that store clientele of the nice owner will grow, while the clientele of the unfriendly owner will not.  They might still get their older customers that are so used to their store, but they will have a hard time to keep the new ones.
Does that make sense?
My guess is that's what has happened to those blogs. Yes, they have great content, but they are totally oblivious of what really brings the traffic to their blog which is building relationships with you visitors with acknowledgment and respect.  What do you think?