Do you know how much Rosetta Stone cost?
Well, the last time I check Rosetta Stone more closely to learn Italian, I found that the price tag was some 500 bucks, and that wasn't even for everything I would have needed to be "fluent" in Italian.

For that I guess I would have to live in Italy for a while, but I mean, you know, to manage pretty well in the language and be able to have a decent discussion with a native I would have to spend at least $1000.  Well, I don't need it that bad!
Recently, however, a friend told me that he was learning French on his iPhone with an app called Duolingo, (not an affiliate link) and he asked me if I knew about it.  I told him that I had never heard of of duolingo.
I really got interested right away as he was showing me how it worked and told me that Duolingo was being compared to Rosetta Stone.
Duolingo a Free App
That's right, Duolingo is a free app that you can use on you Android, iPhone or computer, but is not just another free app, if it has been compared to Rosetta Stone, and also, it has a purpose that I will mentioned below.
When Duolingo came out you could learn only English and Spanish, but they quickly added other language such as French, German, Italian, Portuguese, and maybe more (not sure), but you can always check if they have the language of your choice.
Just Download the App or Register
To get Duolingo all you have to do is either download the app on your smart phone or register online with your email address. You can also register through Facebook if you wish, but I wouldn't advise that if the last thing you need is another app on your Facebook account.
Once you've registered you will see the screen below.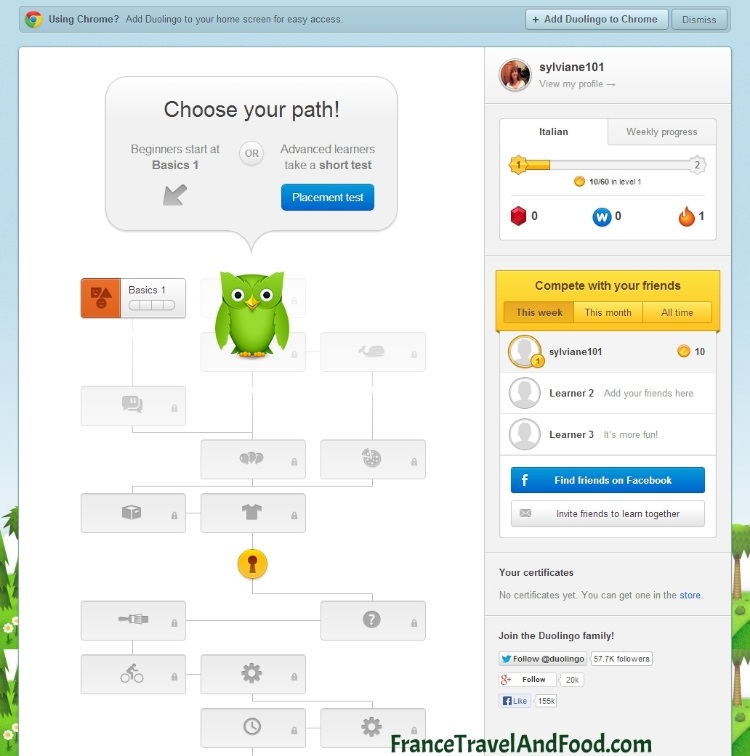 You will, then, have 60 levels, or what they call a "a skill tree." Each day you will have a new lesson to go through. You'll be able to go at you own space.
When you answer wrong the system will have you start over. If you answer wrong for times, you'll have to repeat that lesson.
What's the Other Genius Idea about Duolingo?
Do you know why Duolingo is Free while so valuable at the same time?
It's because Duolingo translates the web.  Yes, that's right!
Every time you translate a sentence in your duolingo app that translation is used to translate the web out there! We could say that your phrase translations as you go along and learn are recycled.
Duolingo is free because it puts you to work rather than ask you for money. Your work as you play and you play as you learn a new language! How genius is that!
How to Process on Duolingo
1 – Register with the language you want to learn.
2- Start at the basics even if you feel that you know some of the language, or you'll get lost very fast.
3 – Even though Duolingo allows you to skip some steps, my advice to you is DON'T!  Follow the process so you won't miss anything of importance.
4- Have a lot of fun while you learn French or any other language you may choose.
I Chose Italian – What about you?
Of course, I don't need to learn French, so my language is Italian. As some of you know I have close ties with the Italian language, and I know I can learn it very easily because I speak French and Spanish.
If you want to learn a new language, please, get that super-duper free app called Duolingo and have fun!
Let me know what you think in the comments below.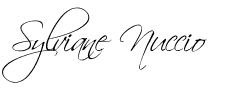 If you found this information valuable and would like to share it, you should add the RSS feed of this blog to the social media sharing platform of your choice.
The feed is https://www.sylvianenuccio.com/feed/
Don't forget to add "via @NewFranceTravel" to tweet, so I can thank you.