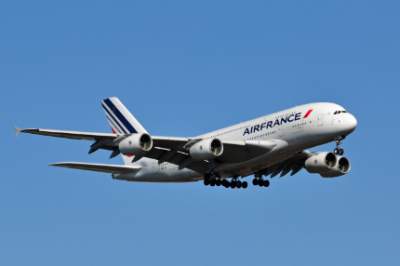 Have you ever flown to France, or maybe even elsewhere with Air France airline? If yes, I would love to hear your feedback once you've read this article.
I have personally flown with Air France a few times, and I have to say that among all the airlines out there, it's one of the top ones.
No, I haven't flown all the airlines of course, but a few big ones such as; Continental, TWA, American Airlines, Delta, and Air Inter (a French national airline company).
As a matter of fact, Air France is officially one of the top airline companies out there, and was the primary user with British Airways of supersonic plane, now retired, Concorde.  Unfortunately, it's not always the most  affordable airline, I have to admit, especially between April and September.
In this post, I wanted to give you some guidance as what it would be like to fly with Air France, how much it would cost you and more.
But first here is something you might not know…
France is an Aircraft Designer and Builder
Let's not forget that France is one of the European countries that is responsible for the design and building of the main rival of Boeing, which is the Airbus.
Actually the largest plane in existence today, the Airbus A380, flown today mostly by Qantas, Emirates, Lufthansa, and Air France, and which can fit about 800 passengers was design mostly by French engineers and is assembled in Toulouse, France.
Parts of this airplane are built in Spain, the UK, Germany and Belgium, before being brought back to France for final assembly. Here is a little rundown of the Airplane plant in Toulouse.
The first test fight of this huge plane, also happened in the south of France in the city of Toulouse in April 27, 2005 with French test pilots.  The test flight lasted 4 hours, and was a success. The first commercial flight of the Airbus 380 happened 2 years later in 2007. (See the takeoff and landing of the test flight in the video below).
Air France Crews
Air France flies from and to just about any country in the world, even in the less inviting ones which in such case, only volunteer crews fly those planes to. It's not part of their regular schedule and they have to agree to fly passengers there on their own free will. No pilot or flight attendant could be fired for refusing to fly to a country that has been labeled as dangerous territory. I thinks that pretty cool.
Back in the early 1990's I heard a lot of first hand Air France stories because my best friend at the time was one of its flight attendants, and she was telling me about the tough training that both the pilots and flight attendants go through on a regular basis.
Air France likes to say that they have excellent well trained pilots flying those million dollar planes, and that's nice to know.
In order to be a Pilot or flight attendant on Air France you need to speak French (of course), and English as a second language.  When my mom and aunt used to come see me in the US every year, they favorite flights were with Air France and Lufthansa, the German big airline company, expect that since they didn't speak either German or English, so Lufthansa made was more of a challenge for them.  At least they didn't have that problem with Air France.
 Air France Food
I've read customer's review saying that the food in Air France wasn't as great as they had expected on a long flight, and while that may be true, as far as my own experience goes I can tell you that I still ate better on Air France flights than any other flights I've been on. But air plane food is air plane food, you know. don't expect to eat like in a French restaurant either.
My mother an aunt who have flown either Air France or Lufthansa for 13 years in a row, always told me that the food in Air France was better still.  However, the service and everything else was pretty much the same.  Air France was for the most part a bit more pricey than Lufthansa, though.
Air France Is Not Cheap!
I would like to tell you that Air France is a cheap airline, but the price of an airline also goes along it reliability. So, it's always something to consider.
If you were to book a round trip for France right now, and took advantage of the special winter discounts you might be able to get a round trip New York – Paris for about $950 and a round trip Los Angeles – Paris for about $1,100.  However, you should expect to double those amounts if you travel between April and September.
As a matter of fact, I suggest that you do what my frequent flyer mom used to do, which always shop around with other airlines. In most cases Lufthansa was cheaper for her. While the food is better with Air France that's still well worth it, isn't it?
Your Turn Now!
So,  have you ever flown with Air France, and how was it for you. Please, let us know all the details.
Photo credit: WikiMedia