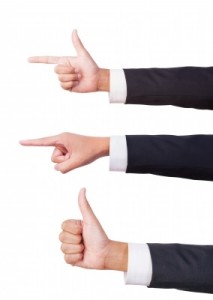 Are you aware that when you travel to a different country or to a different culture, not only the language is different, but a lot of the gestures as well? Yes, gestures are pretty much part of a culture.
Granted the hand shake is pretty much used the world over, but what about all those other gestures that people use on a daily basis to express things?
For example, Korean and Japanese people bend over slightly to say hello. It's a very distinct gesture of theirs; whilel Chinese don't.
France has quite a few gestures of its own as well. Here are 10 typical French gestures that you would see people use in France, and which are not common or not existent here in the US.

# 1 – Un, deux, trois (counting on our fingers 1,2,3…)
When counting on their fingers, French do not start with the index finger, but with the thumb.  Also, when using their finger to say "there is one…" they are showing the thumb, not the index finger.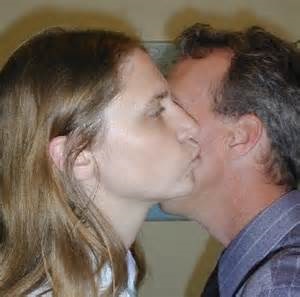 # 2 – La Bise (the kiss on the cheek)
La bise is actually not only French as it's common in most Europe. La bise is when people touch cheek to cheek while making a kiss sound with the mouth.  The mouth is not supposed to touch the cheek.  Now if you want to be very loving, like kissing your kids or parents, or someone very close you can make mouth cheek contact.
La bise is used to say, hello, good bye, and show appreciation such as thank you.
If you want to see some bises in action, check out the videos in my previous post, there're many of them.
# 3 – Il a un verre dans le nez (literally means "he has a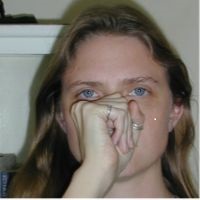 glass in the nose" common slang for he's drunk)
If you are talking about someone who has drank a bit too much or is actually drunk, you are going to close your fist and make a rotation gesture in front of your nose.
#4 – Il a du nez (literally means "he has nose"slang for "he has insights or intuition)
Just tap the tip of your nose with your index finger as you say that!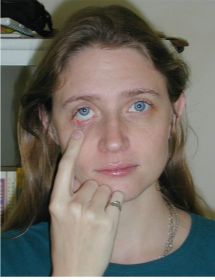 # 5 – Mon Oeil (literally "my eye" meaning, no way, I don't buy it)
When doubting something to the point of not believing it we say "mon oeil" as we gently pull the lower lid of one eye down. This is the polite, but very much used version of "my butt" or "my ass" in France.
# 6 – Je ne suis pas sure Shred of shoulders (I'm not sure, maybe)
Shredding your shoulders in France doesn't mean the same thing as it does here. In France it simply mean OK maybe, but I'm not sure, as you wish.
# 7 – Ça me barbe (literally means "it beards me" meaning I'm bored or annoyed)
To express this we rub the back of our hand against our cheek in a rather fast back and forth fashion.
# 8 – Y'a du fric "there's lots of money" or "it cost lots of money"

"fric" is the slang word for "argent"(money)
This gesture is rubbing the fingers of your right hand together with the palm of your hand facing up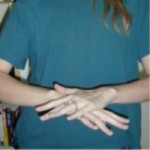 # 9 – Barrons-nous (Literally meant "let's scratch ourselves" French slang for let's go or let's get out of here)
To express this, people usually tap their left wrist with opposite hand in a fast motion.
# 10 – The Bad Gesture! Le Bras d'Honneur!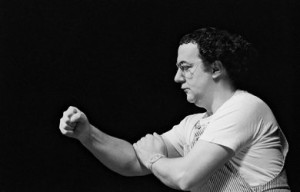 There is no showing of the finger in France the way people do here in the United States, but they is an equivalent which is closing your fist and taping your farm with your hand has you lift your arm in the air.
It's called "un bras d'honneur", which means an arm of honor, while it's the worst insulting gesture in France.  Go figure!
There are many more gestures out there, but here are 10 typical ones pertaining to the French!
 Watch my spontaneous video telling you a little bit more about all these! No editing!
Please, leave your comments below!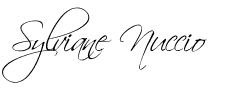 I hope you enjoyed this post, and will start applying those tips now. Please, let me know what you think and add your thoughts down below in the comments.
If you found this information valuable and would like to share it, you should add the RSS feed of this blog to the social media sharing platform of your choice.
The feed is https://www.sylvianenuccio.com/feed/
Don't forget to add "via @NewFranceTravel" to tweet, so I can thank you.